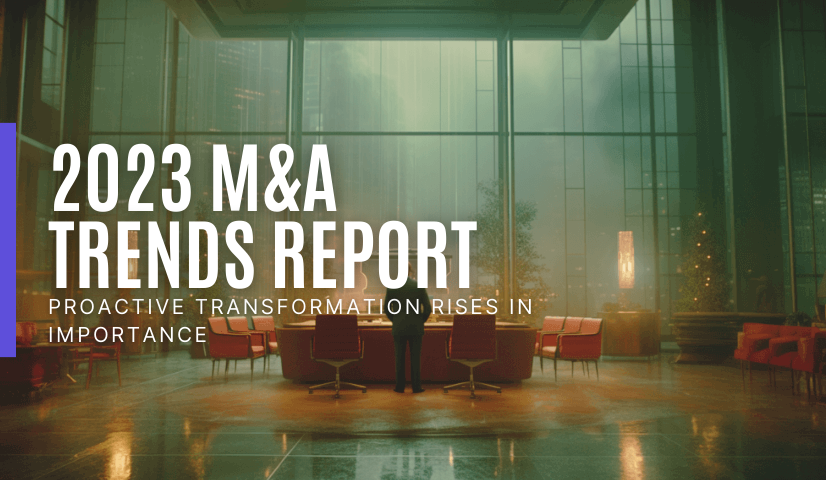 Closing a deal is the end of one challenge and the beginning of another. When not well envisioned or executed, an acquisition can end up falling short of projected synergy target realization—or even destroying shareholder value.
The risk of deals failing to achieve projected premiums puts a spotlight on post-merger integration, with more companies now pulling transformation efforts earlier in the process while others are assigning longer integration time horizons than in the past. New thinking about the timing and importance of transformations is the second of five key insights from Deloitte's 2023 M&A Trends Survey "Navigating Uncertainty."
The survey of 1,400 U.S.-based senior corporate and private equity firm executives relays their expectations for dealmaking activity this year and their experiences with recent transactions as they manage economic, supply chain, and regulatory challenges.
Nearly all surveyed corporate M&A leaders (90%) and private equity leaders (93%) responded that achieving desired M&A outcomes depends either "moderately" or "highly" on successful transformation—including transformation initiatives they "pull forward" to the periods before and during deal execution. This marks a significant year-over-year increase in that priority. About one-third (32%) of companies said they are likely to conduct business transformation before dealmaking, compared to less than 25% who responded similarly in 2021. Private equity organizations have embraced that even more—almost four out of five now pull transformation activity ahead of transactions.
Companies across industries said they had restructured working capital, organizational structure, legal entities, or other core elements since the pandemic. Looking at specific industries, almost 75% of energy and utility respondents, and more than 50% from the telecommunications sector, reported similar initiatives. Three out of five of all respondent organizations had done so already, and more than 25% are considering it now. Most companies undertaking restructuring initiatives seek revenue improvements of 10%, 20%, or more. And those taking on that challenge prior to a transaction grew to 33% of corporate respondents in 2022 from 25% in 2021, and to 39% from 30% among private equity respondents.
Most companies would do well to embrace this trend in any environment, but in today's volatile and uncertain context, there's little argument against getting your organization lean and agile. As a result, proactive, early comprehensive transformation has become an important strategy for dealmakers to consider and execute upon before, during, and following transactions.
For the latest insights on this topic, register for the Deloitte Dbriefs webcast on June 21, "Navigating uncertainty: Building transformation competence."
Click here to read the full 2023 M&A Trends Survey.