Key Takeaways
The global intelligent transportation market, valued at USD 109.8 billion in 2022, is projected to reach over USD 381.1 billion by 2032, showcasing a Compound Annual Growth Rate (CAGR) of 13.3% from 2023 to 2032.

Artificial Intelligence is at the forefront of transforming transportation, with self-driving vehicles and intelligent traffic management systems leading the way. These innovations promise safer roads, reduced congestion, and enhanced overall efficiency in transportation systems.

AI in transportation holds promise for safer roads, efficient public transportation, and new mobility solutions. However, concerns about job loss, data privacy, and cybersecurity challenges accompany the widespread adoption of AI in this sector.
The Role of Artificial Intelligence in Transforming Global Transportation
According to the survey, the global intelligent transportation market is valued at USD 109.8 billion in 2022 and is expected to reach over USD 381.1 billion by 2032, with a CAGR(Compound Annual Growth Rate) of 13.3% from 2023 to 2032. The future of transportation is rapidly evolving, and artificial intelligence plays a critical role in its transformation. As the world becomes more interconnected, AI will revolutionize how people get around, making transportation systems more intelligent, safer, and efficient. From self-driving cars to intelligent traffic management systems, AI is expected to transform the transportation landscape, bringing many benefits to individuals and society. One of the most critical advances in AI-driven transportation is the development of self-driving cars. Self-driving cars, buses, and trucks are no longer a distant dream but a reality already being tested on roads around the world; companies such as Tesla, Waymo, and Uber are investing heavily in the research and development of self-driving cars, intending to make them a common sight on the roads shortly. These vehicles use artificial intelligence algorithms to process data from various sensors, enabling them to navigate complex environments, avoid obstacles, and make real-time decisions on the road.
Figure. The Growth Rate of Intelligent Transportation Is Quite High
(Source: Precedence Research)
Another promising application of AI in transportation is the development of intelligent traffic management systems. These systems use AI algorithms to analyze real-time traffic data, predict congestion patterns, and optimize traffic sign timing. By doing so, they can help reduce traffic congestion, improve road safety, and minimize the environmental impact of traffic. Cities such as Los Angeles, Singapore, and London have already begun implementing AI-driven traffic management systems, and their success may encourage more cities to follow suit. The widespread adoption of self-driving cars promises to make our roads safer, as human error is the leading cause of traffic accidents. According to the World Health Organization, more than 1.35 million people die in road traffic accidents yearly, and millions are injured. Artificial intelligence-driven vehicles have the potential to significantly reduce these numbers, in addition to helping to reduce traffic congestion and improve overall transportation efficiency. 
Public transportation will also benefit from advances in artificial intelligence. AI-driven systems can optimize schedules and routes to make public transportation more efficient and reliable. Moreover, AI can predict maintenance needs, enabling transportation authorities to address potential problems before they become critical, thereby reducing downtime and improving overall service quality. Also , AI can play an essential role in progressing new modes of transportation, such as super high-speed rail and flying cabs. These future transportation systems rely on advanced AI algorithms to ensure secure and capable operations, paving the way for a new era of mobility. However, the widespread adoption of AI in transportation also raises concerns about job loss, data privacy, and cybersecurity. As self-driving cars become commonplace, there are concerns that drivers may lose their jobs to automation.  The large amounts of data collected by AI-powered transportation systems may raise privacy concerns, and the reliance on technology may make these systems vulnerable to cyberattacks as well.
Intelligent Transportation Attracts International Tech Interest
Google, Amazon, and Apple have long been in the automatic driving market. For example, in 2017, Microsoft participated in Baidu's Apollo self-driving development program through its cloud business. Then, in 2018, Microsoft partnered with a self-driving test site in Michigan, United States, to provide cloud and network security services. In 2019, Microsoft helped make LG's autonomous driving software smarter by automatically uploading driving data through its Azure Data Box service. In October 2020, it invested in autonomous driving startup Wayve, which signed an agreement with Microsoft to develop data-driven solutions using Microsoft Azure. In December 2020, dSPACE, an automated driving simulation and verification company, announced a comprehensive solution on Microsoft Azure to facilitate customers' data development for ADAS and automated driving. In January 2021, the company partnered with GM and Honda to bring $2 billion to Cruise.
           (Source: coinrank)
Microsoft's investment in Cruise in 2021 underscores its increased aggressiveness in self-driving, and Cruise's fundraising has been quite outstanding over the past few years. In 2018, Cruise received a $2.25 billion investment from Softbank Vision Fund, and GM also partnered with Honda to develop the Cruise self-driving car. By 2019, GM, Softbank, Honda, and Pucci Group jointly invested in Cruise again, amounting to as much as $1.15 billion. Cruise's road to attracting money continues, and in 2021 alone, it has received more than $57 billion in investment from investors such as GM, Honda, Microsoft, Walmart, and others. In 2022, Cruise received another $1.4 billion investment from Softbank. Currently, Cruise is holding $13 billion, making it one of the most lucrative self-driving companies. In terms of business model, Cruise is developing in two directions: one is to provide automated driving solution technology for car manufacturers, and the buyers are  very stable, and the other business model is to serve as RoboTaxi's automated driving hailing solution, which is co-created by GM, Honda, and Cruise. The self-driving taxi designed specifically for RoboTaxi has no steering wheel, brakes, or throttle, and even the rearview mirror has been eliminated. It looks like a minibus. The car is built with a screen to facilitate human-machine interaction; the sensors are arranged around the car, including radar, millimeter wave radar, and cameras—the overall cost of up to 300,000 to 400,000 U.S. dollars.
Other technology companies are also offering solutions. Japan's NEC, as one of them, has found that many of the world's largest cities, in particular, suffer from traffic congestion due to a lack of public transportation systems. As a result, much of the general travels by motorcycle and car, adding constraints to an already overloaded and paralyzed road network. The knock-on effect has been that public transportation has become more unreliable and overcrowded, causing many people to move away from such public services. However, many of these cities do have systems planned or under construction. With the deployment of new infrastructure, such cities have a unique opportunity to leapfrog legacy technology systems and adopt intelligent transportation systems. NEC offers legacy and innovative transportation services, including fleet and parking management systems, smart command centers, fare collection services, and passenger information systems. NEC's many transportation solutions have been adopted by local authorities worldwide who are upgrading their infrastructure to improve the overall public transportation experience and encourage travelers and commuters to stay away from buying a car.
Intel's approach is to leverage technological advances such as artificial intelligence, Internet of Things (IoT) devices, and 5G edge networks. By sending selected data to the cloud for analysis, cities can continuously improve traffic management, road maintenance, and sustainability. Cities can also leverage digital-born technology to create virtual city models with actual data to constantly evaluate and enhance their current infrastructure, discovering several benefits of intelligent transportation:
Various Types of Equipment to Support Smart Road Technology
Speed sensors, acoustic sensors, IP CCTV cameras, intelligent traffic lights, condition and weather monitoring systems, and digital signage. When these devices collect and analyze data in near real-time, cities can realize plenty of benefits.
Streets Are No Longer Congested
For the Americans that congestion costs 99 hours of their time and $1,377 a year, smart road technology can help prevent congested traffic by tracking vehicles and adjusting traffic signals based on traffic conditions.
Improving Traffic and Pedestrian Safety
Pedestrian fatalities have increased by 46% over the past decade, while all other traffic-related fatalities have increased by only 5%. Intelligent roadside devices deployed at intersections can provide alerts that enhance the safety of vulnerable users, including pedestrians, cyclists, and motorcyclists.
Enhanced Parking and E-payment
E-tolling can reduce congestion by automatically collecting tolls on highways and bridges using automatic number-plate recognition and vehicle tracking without causing vehicles to stop or slow down.
Intel also has success stories, such as the German industrial manufacturer's collaboration with Intel Labs on the Providentia ++ (P++) project to improve autonomous driving through infrastructure-based sensor fusion. Additionally, to help city authorities and transportation solution providers implement smart city applications that leverage 5G networks and edge services, Capgemini Engineering and Intel have partnered to create the Capgemini Engineering Intelligent 5G RSU solution, the solution is in conjunction with application developers, enterprises, operators, and device makers, the Smart RSU solution enables intelligent transportation applications like traffic management, EV charging, smart lighting, and connected vehicle services , which simplifies smart city and transportation technology barriers through Capgemini Engineering's ENSCONCE MEC platform. Finally, as a member of the 5G Automotive Association (5GAA), Intel is working with policymakers, automakers, manufacturers, and infrastructure owner-operators to deploy digital infrastructures, such as Cellular Vehicle-to-Car(C-V2X), worldwide. This 5G-compliant technology helps connect vehicles, infrastructure, and other road users for safe mobility.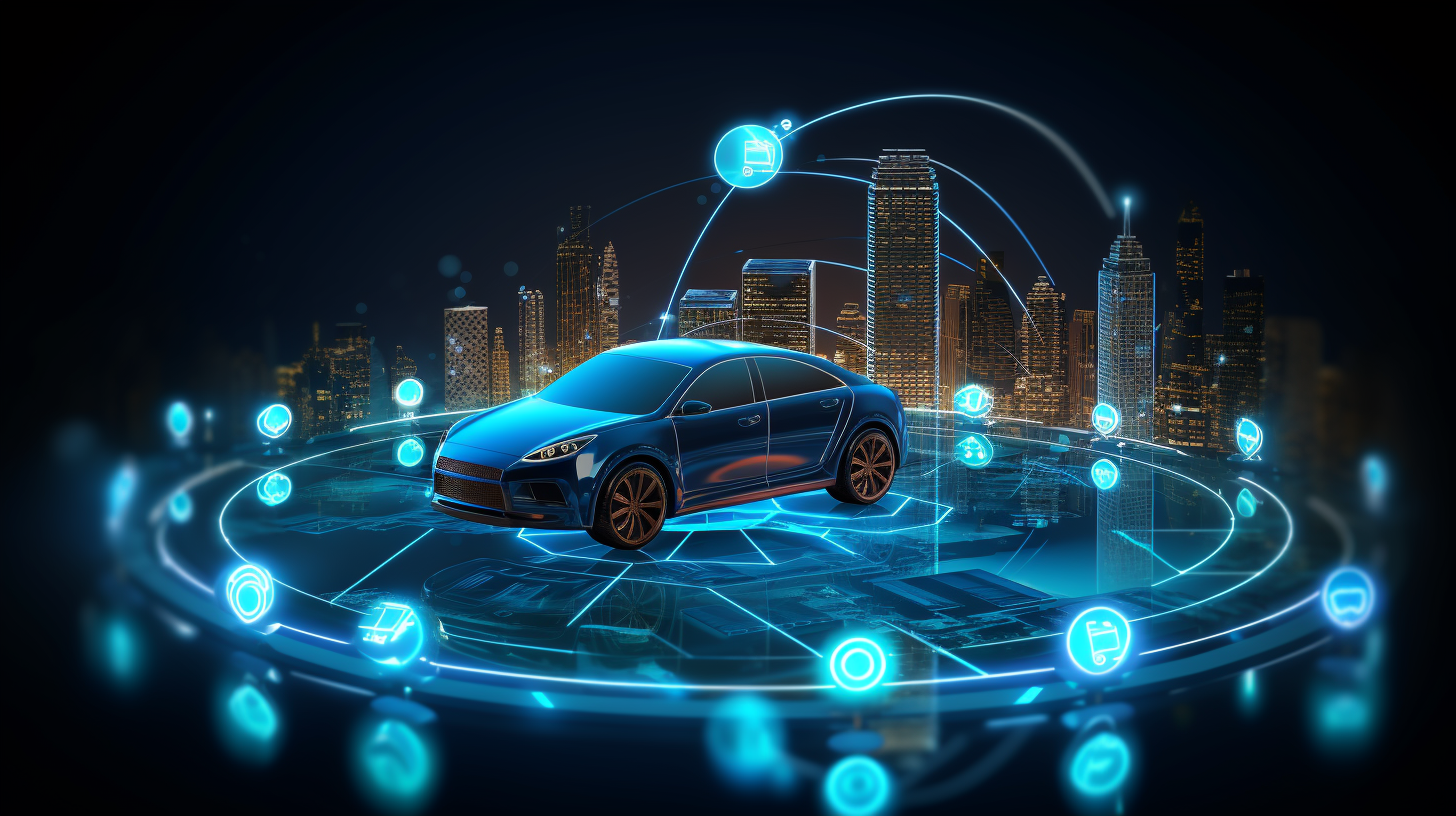 Distribution of New Entrepreneurs by Region and Introduction
Startup investment is a crucial area for promoting smart transportation, and many new rising stars have already been created through early-stage investment in the field, including Cruise, Waymo, Pony.ai, Plus.ai, ECARX, Momenta, and many others in the self-driving car segment. Among them, Waymo received the highest investment of $2.5 billion in June 2021 from investors such as parent company Alphabet, a16z, Canada Pension Plan Investment Board, Fidelity Management Research, Magna International, Mubadala Investments, Silver Lake Capital, T. Rowe Price Associates, Temasek, and Tiger Global Fund. The investment will be used to drive self-driving technology and team development. Cruise, on the other hand, received a $750 million investment from Walmart in April 2021, which will help Walmart's efforts to develop a fast, low-cost, and scalable last-mile delivery ecosystem. Velodyne Lidar Inc., Luminar, Innoviz, Aeva, and Ouster have gone public through SPAC in the optical sensors segment. At the same time, Argo AI has announced the development of a LiDAR sensor capable of sensing distances of up to 400 meters, which breaks the record for the industry's longest sensing distance for all-optical sensors. On the electric vehicle front, Rivian, Tesla's top competitor, has recently received another US$2.5 billion in funding from Amazon, Ford, and T. Rowe Price and is planning to set up a new factory in the United States to speed up production of its electric vehicles. In terms of sharing platforms, in addition to DiDi Global's listing in the U.S., Grab has also gone public through the SPAC merger.
Under the trend of intelligent and sustainable development, transportation technology innovation is booming. Fast Company has selected ten transportation technology companies with the most innovative energy in 2022, among which self-driving cars are still the main focus, and several companies are introduced below.
BYD was founded in 1995, upholding the development philosophy of "technology is king, innovation is the foundation," and has achieved all-round development under its R&D strength and innovative development model. BYD has been playing a pivotal role in many fields, such as batteries, electronics, and new energy vehicles, and its mission is to manufacture affordable batteries for electric vehicles. BYD officially launched the Blade battery in 2020, a minor lithium iron phosphate(LFP) battery. The most significant difference is that it breaks away from the traditional battery module design by stretching the single cell and fixing it to the frame of the battery pack, which raises the utilization of battery space from 40% to 60%, increases the overall energy density by 50%, and reduces the cost by 30%, and is less prone to catch fire. It is much safer than other products on the market. Thanks to its innovative technology, BYD set a new monthly sales record in April 2022, with nearly 106,000 units sold, taking the top spot in global sales of new energy vehicles. BYD ranked third in the latest list of global automotive companies by market capitalization with a total market value of US$128.81 billion, trailing behind Tesla and Toyota. The same year, BYD ranked 20th among the world's top 50 innovative companies.
Founded in 2016 and headquartered in California, United States, the self-driving trucking company Plus announced plans in May 2021 to go public through SPAC at a valuation of $3.3 billion. Besides, it was announced in January 2020 that its L4-class self-driving truck completed its first long-haul freight mission when it was loaded with 40,000 pounds (approximately 18 tons) of cream and completed a 4,500-kilometer trip in three days. The truck loaded 40,000 pounds (18 tons) of cream and traveled 4,500 miles in three days. In the same year, Amazon purchased 1,000 automated truck driving systems from Plus and up to a 20% stake in the company to address the trucking industry's labor shortage and mitigate delivery delays and rising transportation costs, and PlusDrive will supply 7,000 heavy-duty trucks to China FAW Group. Plus is accelerating the global commercialization and deployment of its fully autonomous platform in the U.S., China, Europe, and other parts of Asia, as well as entering into volume production of automated trucks.
Founded in 2012, Superpedestrian, a shared electric scooter company in the United States with key team members from MIT, is best known for creating the Copenhagen Wheel, a product that turns a bicycle into a hybrid vehicle. In addition to this product, the company sells complete scooters and scooter-sharing systems and platforms. The Copenhagen Wheel includes sensors, built-in controllers, and accompanying software that simplifies shared bike management. Superpedestrian has more than 35 patents in AI, electrification technology, and automated safety features. Its core technology is the vehicle's intelligent safety system, which involves sensors, microprocessors, and an AI network on its scooters that continuously performs safety checks and automatically adjusts performance to avoid malfunctions. Superpedestrian's electric scooters can travel up to 98 kilometers on a single charge, which is three times the industry average level, allowing it to offer its services in cities and towns where other providers are reluctant to do business. In 2021, Superpedestrian launched its first large fleet of electric scooters in 50 cities worldwide, including Seattle, Madrid, and Los Angeles. The company is deploying 5,000 scooters in these cities, many in neighborhoods that traditionally lack mobility options. The scooters are equipped with onboard "Pedestrian Defense" systems that detect and correct a range of unsafe driving behaviors in real-time, as well as geo-fencing that prevents them from driving onto sidewalks and causing other hazards.
Founded in 2014, FreeWire, a United States EV charging technology company, specializes in fixed and mobile fast charging technology featuring fast and widespread deployment for charging electric vehicles. Unlike traditional installation of fixed fast charging stations that require extensive electrical upgrades to support the connection between the charging station and the primary power grid, FreeWire's removable charging devices require no complexity and use only low-voltage power, allowing operators to simply use existing general power outlets so that drivers can enjoy the convenience of fast charging. FreeWire's step-up charger provides fast charging anywhere. It can charge even in the event of a grid failure by utilizing the existing low-voltage grid infrastructure to provide high-power DC charging, along with an integrated lithium-ion battery. FreeWire's proprietary battery-integrated charging technology, Boost Charger, uses a 160kWh integrated lithium-ion battery and silicon carbide switch technology to develop the service  that combines charging infrastructure, grid infrastructure, and energy storage into one solution. The device can charge two vehicles simultaneously with up to 75 kW of power per vehicle while reducing charger installation costs by 20 percent and operating costs by 70 percent. FreeWire is accelerating the development and manufacturing of a new silicon carbide ultra-fast charging station and energy storage product, which have been fully operational by the summer of 2022. Meanwhile, FreeWire has partnered with Bell Energy, a Japanese commercial solar developer, to deploy Japan's first battery-integrated Boost Charger, an essential step in developing Japan's fast charging network and the electrification of its vehicles and fleet as a whole.
HopSkipDrive, a student ride-sharing platform in the United States, was founded in 2014. In addition to scheduling rides eight hours in advance and booking regular rides through its app, HopSkipDrive matches children with drivers, and parents can track their children's whereabouts throughout the ride, providing a safe and transparent service for school districts and parents and thus winning the order from schools. The company has signed about 150 new contracts for 2021 as demand for using HopSkipDrive's service rises as schools open after the pandemic's peak. The company differs from its ride-sharing platform competitors in that the service is not on-call but requires reservations. For the safety of transporting and caring for children, the company runs background checks on its drivers, each of whom is required to have their fingerprints taken and meet with the parents of the children. Vehicles also need to be inspected regularly. In addition, all drivers are required to have at least five years of childcare experience. Currently, 99% of the drivers on the platform are female and over the age of 23.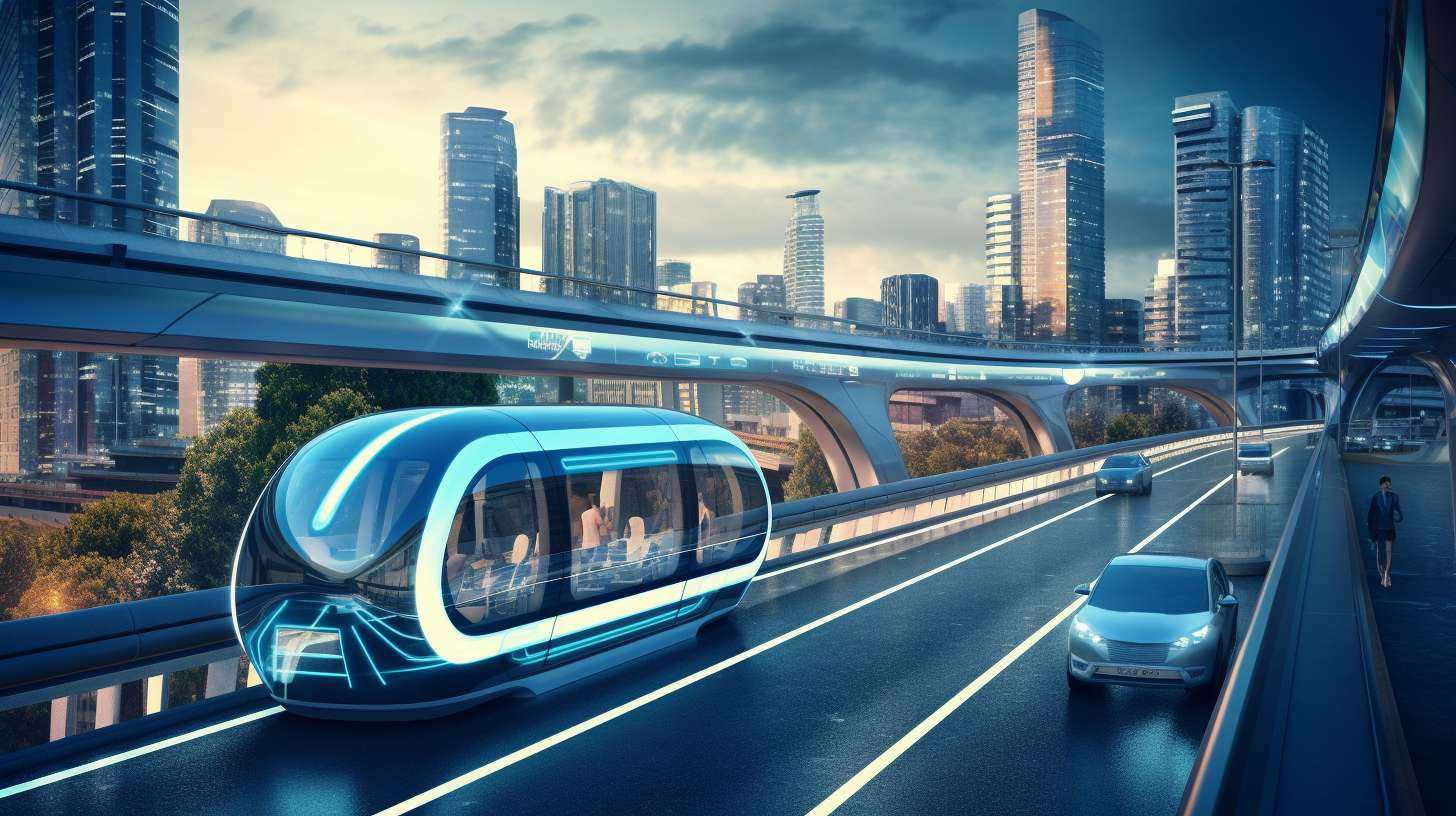 Future Prospects
The growth of the smart transportation market is driven by various factors, including an increase in traffic volume, government initiatives to reduce greenhouse gas emissions, an increasing number of city projects, and the growth of megacities, urbanization, and population. As urbanization accelerates and city construction becomes more complex, the demand for intelligent transportation solutions is expected to grow. The growing number of IoT and connected devices, especially in smart city projects, also contributes to the market expansion. Smart mobility, including transportation, is a key driver of innovation in modern city centers. Efficient, flexible, and comprehensive transportation networks are essential for smart mobility, especially as cities are expected to accommodate 65% of the world's population by 2040. Travel management prioritizes healthy modes of transportation such as walking and cycling, reducing carbon emissions, and optimizing traffic flow.
Traffic congestion is a significant problem in urban areas due to population growth and inadequate road design. Many highly urbanized cities are adopting smart mobility solutions such as instant mobility and traffic information to address these challenges. 
Although the smart mobility market has great potential, it also faces challenges, such as a need for standardized strategies. Using various components from multiple manufacturers can lead to compatibility issues and varying communication protocols between countries, hindering global acceptance of the product. The Asia-Pacific region is expected to be the fastest-growing market for intelligent transportation. Countries like China, Japan, and Australia actively invest in intelligent transportation networks and technologies. China's 14th Five-Year Plan proposes a new state-of-the-art integrated transportation system, which aims to achieve smart, green transportation and improve the overall efficiency and quality of service in the transportation industry, which are essential drivers for smart cities.
With the rapid development of digital technology and software, changes in consumer behavior will change the revenue model and value chain of the automotive industry. Although these changes are diverse, they can be mainly distinguished into two main categories. The big change is the time that consumers are willing to spend on vehicles. Many people are already spending more and more time in their cars, and it is likely to increase with the advent of self-driving cars and computer-controlled cars. People who were previously unable to use cars, such as the elderly, the disabled, and users who do not like to drive manually, will have the opportunity to benefit from the emergence of electric vehicles. At the same time, work-life balance has become more important. The travel experience becomes more critical and consumers will be willing to spend more time in their vehicles.