Key Points

BYD and Tesla, both companies known for their high-profile presence on Wall Street, have once again defied bearish sentiments and witnessed a surge in their stock prices, driven by strong sales performance. The market skepticism surrounding their prospects has been proven wrong.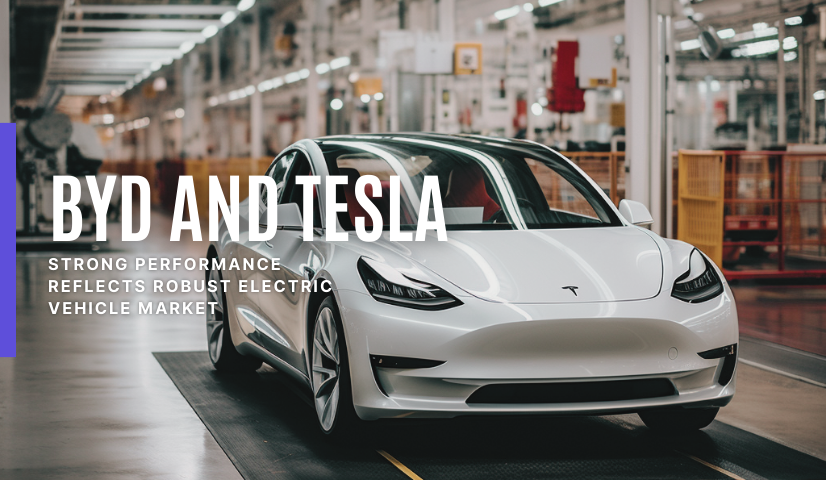 The electric vehicle (EV) market is charging ahead at an astounding pace, and industry leaders BYD and Tesla are accelerating towards unparalleled success. In this blog post, we'll delve into the impressive performances of both companies, unveiling their remarkable sales figures and market dominance. Get ready to explore the electrifying world of EVs, fueled by unprecedented growth and record-breaking achievements!
BYD's Unprecedented Sales Growth
BYD, a Chinese powerhouse in the EV realm, has taken the market by storm. Between April and June, their sales skyrocketed, surpassing 700,000 vehicles. This figure nearly doubled the sales from the same period last year, marking a groundbreaking quarterly record. Notably, BYD's recent filing showcased an outstanding achievement in June, with 253,046 new energy vehicles sold—an impressive 89% year-on-year increase and their best monthly sales performance ever. New energy vehicles include battery electric vehicles and plug-in hybrid electric vehicles, reflecting BYD's versatile product lineup.
Tesla's Exemplary Quarter
Tesla, the renowned pioneer of EVs, left competitors in the dust with an extraordinary performance in the same period. The company produced close to 480,000 vehicles and delivered over 466,000 units. Analysts initially projected Tesla's deliveries to reach 445,925 vehicles by June 30, 2023. However, the company surpassed all expectations, outperforming predictions by a substantial margin. With an impressive delivery figure of 466,140 vehicles in the second quarter of 2023, Tesla continues to set the benchmark for the entire industry.
BYD and Tesla: Driving the Electric Vehicle Industry
BYD and Tesla hold undisputed positions as global EV leaders, propelling the industry forward with their groundbreaking innovations. While Tesla maintains its stronghold in global EV sales, BYD has solidified its status as a premium brand in China—a testament to their unwavering commitment to excellence. May witnessed BYD's pure electric vehicle sales surpassing 119,000 units, more than double the previous year's figure. This remarkable feat highlights the rapid adoption and rising demand for EVs, fueled by the unwavering efforts of BYD and Tesla.
The EV market is not without its share of speculation, as investment banks Goldman Sachs and Morgan Stanley recently expressed mixed views on Tesla's trajectory. Goldman Sachs downgraded Tesla's investment rating from "buy" to "neutral." Analyst Mark Delaney cited the challenging pricing landscape in the automotive industry and the recent surge in Tesla's stock as reasons behind the move. Meanwhile, Morgan Stanley's Adam Jonas adjusted Tesla's investment rating, presenting a bullish scenario of $450 and a bearish scenario of $90. Despite these divergent perspectives, Tesla's stock price has remained stable following a substantial surge from its 52-week low, reflecting investor confidence.
Warren Buffett's Stake Reduction
Warren Buffett's Berkshire Hathaway reduced its stake in BYD, making headlines in the EV arena. The recent filings on the Hong Kong Stock Exchange revealed the sale of 2.5325 million H-shares at an average price of HKD 266.85 per share, amounting to approximately HKD 676 million. This marked the 12th reduction in Berkshire Hathaway's stake since August 2022, reducing the current stake to 8.98% from its previous 19.92% on August 24, 2022. However, despite this development, BYD's Hong Kong-listed shares have displayed remarkable resilience, surging approximately 37% this year and outperforming the Hang Seng Index.
BYD and Tesla's robust sales performances underscore the exponential growth of the EV market. BYD's exceptional sales figures and Tesla's impressive deliveries manifest the surging global demand for electric vehicles. While Tesla faces varying opinions