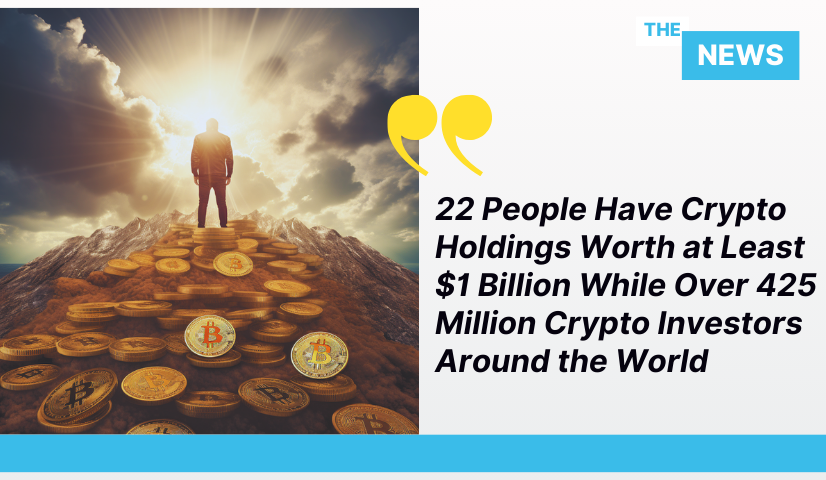 Key Takeaways

A report by Henley & Partners reveals that more than 425 million people worldwide own cryptocurrency.
While crypto investments are widespread, concerns about safety and returns persist, with 75% of Americans unsure about its reliability.
Singapore ranks as the best country to live for crypto investors, followed by Switzerland
The Global Crypto Landscape
In a rapidly evolving digital landscape, cryptocurrency has become a global phenomenon. According to the recent Crypto Wealth Report by Henley & Partners, over 425 million people across the world are actively engaged in cryptocurrency investments. This staggering number underscores the widespread adoption of digital currencies.
Cryptocurrency, including Bitcoin and various altcoins, has emerged as a popular investment choice. Even as the crypto market experiences shifts from its peak popularity, it remains a common asset class. For instance, a report from the CFA Institute and the Financial Industry Regulatory Authority's Investor Education Foundation revealed that over half of Generation Z individuals (aged 18 to 25) have invested in cryptocurrency.
Safety and Reliability Concerns
Despite the growing number of cryptocurrency users, concerns about safety and reliability persist. A survey by Pew Research in April found that 75% of Americans are uncertain about the safety and dependability of cryptocurrency investments, as well as the tools available for them. Additionally, 45% of those surveyed reported that their crypto investments did not meet their expectations, with only 15% expressing satisfaction.
However, some investors have achieved remarkable success with cryptocurrency, accumulating holdings worth millions or even billions of U.S. dollars, as per Henley & Partners' report.
Crypto Millionaires and Billionaires
Henley & Partners' report highlights that approximately 88,200 individuals possess crypto assets valued at a minimum of $1 million. This group represents less than 1% of the overall crypto user base. Of these, about 40,500 individuals hold their investments in Bitcoin, constituting nearly 46% of the total.
Fewer individuals fall into the category of "centi-millionaires," with crypto holdings exceeding $100 million. Only 182 such investors exist, and 78 of them focus their investments on Bitcoin.
Remarkably, a mere 22 individuals boast crypto holdings worth at least $1 billion, with only six of them choosing Bitcoin as their primary crypto asset. This proportion is notably smaller compared to crypto millionaires and centi-millionaires.
For context, at the time of the report, the total value of the cryptocurrency market stood at $1.18 trillion.
Henley & Partners' report also introduces the Crypto Adoption Index, which evaluates factors such as public adoption of cryptocurrency, regulatory environment, taxation, infrastructure, innovation, and economic factors related to crypto use. This index aims to identify appealing investment migration program options for crypto investors.
Singapore secures the top position in the overall index, followed by Switzerland and the United Arab Emirates. Notably, the U.S. and the U.K. rank fifth and seventh, respectively.
Countries like Australia, Canada, Malta, and Malaysia also feature in the top 10, highlighting their appeal to crypto investors. Factors like tax-friendliness, public adoption, and infrastructure significantly influence these rankings.
Despite concerns, cryptocurrency investments continue to gain momentum, especially during the Covid-19 pandemic, driven by the surge in retail trading apps. However, experts advise caution due to the asset's high volatility, and many countries have yet to fully regulate crypto investing and trading, exposing users and their investments to potential risks.