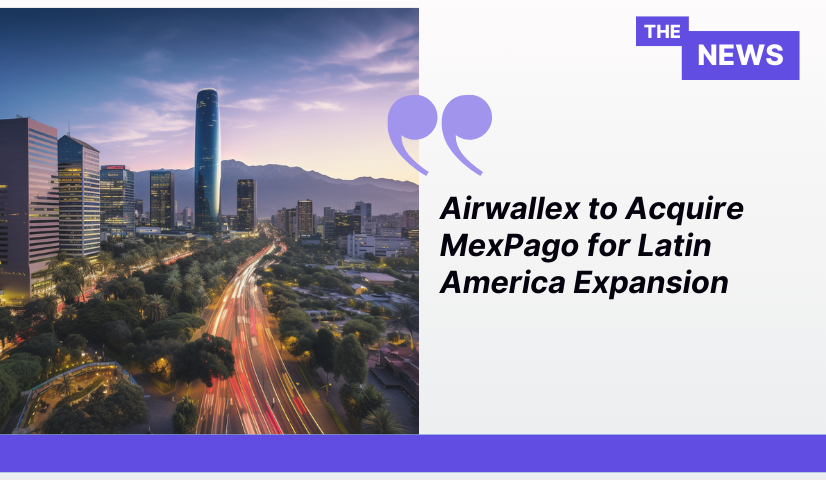 Key Takeaways
Airwallex aims to expand its footprint in Latin America with the acquisition of MexPago.
The move capitalizes on Latin America's younger population and increasing online penetration.
Expanding Latin American Presence
Global fintech leader Airwallex has unveiled its plans to acquire MexPago, a payments company based in Mexico, as part of its broader strategy to extend its reach in Latin America. The acquisition aligns with Airwallex's business model of providing cross-border payment services, predominantly catering to small and medium-sized enterprises (SMEs).
This strategic move comes at a time when Latin America is witnessing a surge in the fintech industry's attractiveness. Factors such as a predominantly young population and increased online penetration have made the region a lucrative market for financial technology firms.
A Strategic Approach to Tackle Geopolitical Uncertainty
Jack Zhang, the CEO of Airwallex, highlighted the importance of expanding into Mexico, characterizing it as a strategic move to address geopolitical and economic uncertainties, particularly in the context of U.S.-China relations. He explained that the strategic location of Mexico facilitates both the inflow and outflow of money, offering a unique advantage in the current global trade landscape.
"U.S. people export to Mexico to sell to the consumer there," Zhang stated. "Because of the supply chain, you can also export out of Mexico to other countries like the United States. You get both the inflow and outflow of money."
Amid escalating U.S.-China trade tensions, the trade dynamics between China, the U.S., and Mexico have shifted, making Mexico a favorable market for investment. The geographical proximity to the U.S., lower labor costs, and a well-established supply chain make Mexico an attractive destination for businesses.
Positioning in a Growing Fintech Landscape
Airwallex is a global player in the fintech industry, operating in various markets worldwide, including the U.S., Canada, China, the U.K., Australia, and Singapore. The company, originating in Australia, ranks as the second-most valuable unicorn in the country, following design and presentations software startup Canva.
The company has built a substantial presence in the market by processing more than $50 billion in transactions annually. Additionally, Airwallex has forged strategic partnerships with major players like American Express, Shopify, and Brex, enhancing its international service offerings.
Navigating Challenging Fintech Terrain
The fintech sector has faced challenges in recent times due to rising interest rates, which have made it costlier for startups to secure funding from investors.
Airwallex, however, has successfully raised over $900 million in venture capital to date from prominent investors like Salesforce Ventures, Sequoia, Tencent, and Lone Pine Capital. The company's last valuation stood at $5.6 billion.
Zhang stated that Airwallex is at a stage of maturity where it is contemplating an initial public offering (IPO). The company is setting ambitious revenue targets, with the goal of reaching $100 million in annual recurring revenue (ARR) for its software business in the next year or two.
As Airwallex seeks to capitalize on the acquisition of MexPago and expand further in Latin America, it reinforces its presence as a global fintech powerhouse and prepares for the next stage in its journey.
Fintech Companies Target Latin America
Airwallex is not alone in recognizing the potential of Latin America. Other fintech companies are actively exploring opportunities in the region, where more than 156 million people are between the ages of 15 and 29. This demographic represents a significant portion of the population and is inclined toward digital-native financial solutions, making Latin America an appealing market for fintech growth.
For instance, SumUp, a British payments company, has been operating in Latin America since 2013 and plans to further expand its presence in the region. The company has seen remarkable success in countries like Chile and is considering entering additional markets in the coming months.
The fintech sector's burgeoning prospects in Latin America align with the preferences of digitally native consumers and a level of mistrust in traditional banking institutions, creating an environment ripe for fintech innovation and growth.