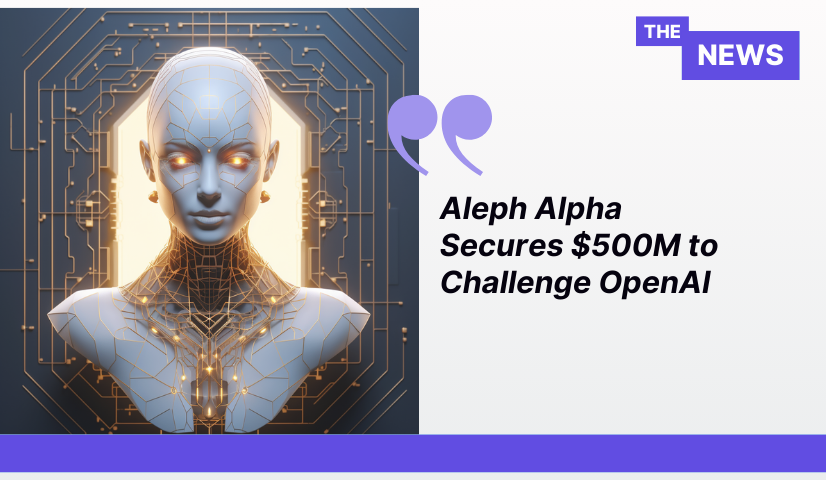 Key Takeaways

Aleph Alpha, a German startup, secures $500 million in a series B funding round, with prominent backing from Bosch, SAP, and Hewlett Packard Enterprise.
The company emphasizes the concept of "data sovereignty" by ensuring that AI models' data is grounded in Europe, aligning with European efforts to assert control over data storage and processing.
Aleph Alpha Raises $500M in Series B Funding Round
Aleph Alpha, a German startup, has announced a remarkable achievement in the form of a $500 million funding round, marking its second major investment round, commonly known as a series B round. This substantial amount of funding comes from notable supporters, including Bosch, SAP, and Hewlett Packard Enterprise. Such significant funding in a series B investment round is notably uncommon in the industry.
The recent fundraise primarily attracted investments from German companies. Enterprise IT giant SAP, Schwarz Group, the parent company of Lidl, and consulting firm Christ&Company Consulting participated in the funding round. Park Artificial Intelligence and Burda Principal Investments also contributed to Aleph Alpha's financial growth.
While the exact valuation resulting from this fundraise was not disclosed, it underscores the significant interest and support that Aleph Alpha has garnered within the industry.
Focusing on Data Sovereignty
A central theme in Aleph Alpha's mission is the concept of "data sovereignty." This concept asserts that data stored in a particular country should be subject to the laws of that nation, emphasizing the need for localized data control.
In a European context, "data sovereignty" is a response to the desire to ensure that data used to power AI models remains grounded within Europe's boundaries rather than relying on data stored in the United States. The notion of data sovereignty has found favor among prominent European politicians and lawmakers, who seek to assert control over data storage and processing to reduce dependence on external jurisdictions.
Jonas Andrulis, CEO and founder of Aleph Alpha, expressed the importance of their approach, highlighting that Aleph Alpha remains the preferred choice for companies that prioritize data sovereignty. The company's models are already proficient in communicating in multiple languages, including German, French, Spanish, Italian, and English. Their training data incorporates a vast collection of multilingual public documents from the European Parliament.
Advancing AI in a Thriving Landscape
The recent $500 million funding round for Aleph Alpha reflects the dynamic nature of the venture capital landscape in AI. Venture capital investors actively support companies focused on developing advanced AI models, particularly generative AI, which can provide human-like responses to a wide array of queries.
OpenAI, a significant player in the field and backed by Microsoft, secured a remarkable $10 billion in funding. Similarly, Inflection, an AI startup co-founded by the creators of DeepMind and LinkedIn, raised $1.3 billion. These investments illustrate the strong interest in advancing AI capabilities.
Aleph Alpha's substantial funding highlights the growing importance of AI and the demand for innovative solutions that promote data sovereignty and independence in data storage and processing.