Key Points
In a significant move, Alibaba Group Chairman and CEO Zhang Yong has announced his decision to step down from his role as Chairman and devote his attention exclusively to his position as Chairman and CEO of Alibaba Cloud Intelligence Group. The decision, communicated across the company, emphasized the smooth progress of Alibaba's self-transformation and the emergence of the innovative 1+6+N business clusters. The board of directors has approved Cai Chongxin as the new Chairman of Alibaba Group, while Wu Yongming will continue serving as Chairman of Taotian Group.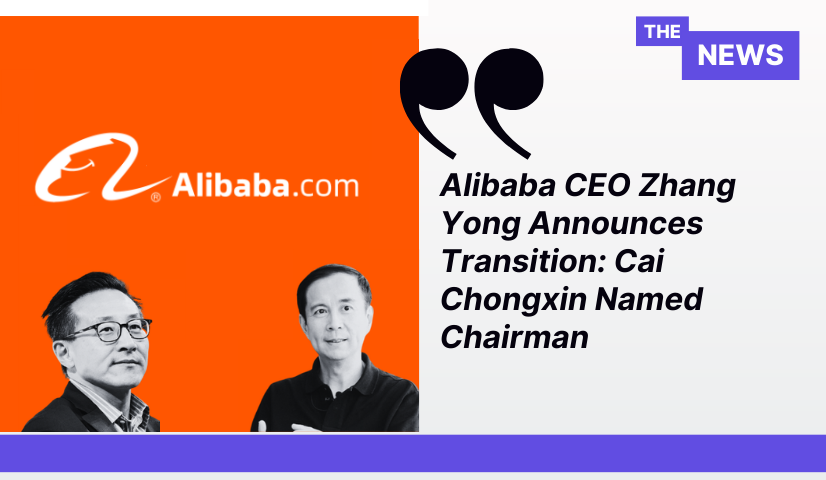 Alibaba's Cloud Intelligence Expansion Sparks Leadership Transition
Zhang Yong expressed confidence in Alibaba's ongoing journey of self-renewal, with the new business clusters taking shape and their respective boards already operational. Various business units are pursuing listing and financing plans, solidifying Alibaba's role as a center for innovation and incubation.
Cai Chongxin: A Founding Partner Takes the Reins
Cai Chongxin, one of Alibaba Group's founding partners, has been appointed as the new Chairman of Alibaba Group Holding. Born in Taiwan in 1964, Cai holds dual citizenship of the Republic of China and Canada. He graduated from Yale University with a degree in Economics, where he developed a friendship with fellow alumnus and Alibaba co-founder, Jack Ma. Cai joined Alibaba in 1999, leaving behind a $700,000 annual salary job to join the newly established company for a monthly salary of 500 Chinese yuan.
Cai Chongxin's Impact and Achievements
Jack Ma has expressed profound gratitude to four individuals for Alibaba's success, with Cai Chongxin being the person he is most appreciative of. Initially, Alibaba's partnership structure consisted of only two permanent partners: Jack Ma and Cai Chongxin. Cai's instrumental role in Alibaba's achievements and his unwavering commitment to the company have been highly regarded.
In 2018, Cai Chongxin made headlines with his acquisition of a 49% stake in the Brooklyn Nets basketball team for $3.375 billion, becoming the NBA's first Chinese owner. With a net worth of $11.6 billion in 2021, Cai ranked as the 10th richest NBA owner and the only Chinese billionaire on Forbes' 2021 Global Billionaires List, securing the 189th position.
Strategic Focus on Cloud Intelligence and New Ventures
Cai Chongxin's appointment as Chairman aligns with Alibaba's strategic emphasis on cloud intelligence and its commitment to exploring new business opportunities. This leadership transition signifies Alibaba's intention to further develop its cloud capabilities and drive innovation in the technology industry.
Under Cai Chongxin's leadership, Alibaba Group's future promises continued growth and expansion into new frontiers, solidifying its position as a global leader in e-commerce, cloud computing, and technology-driven innovation.