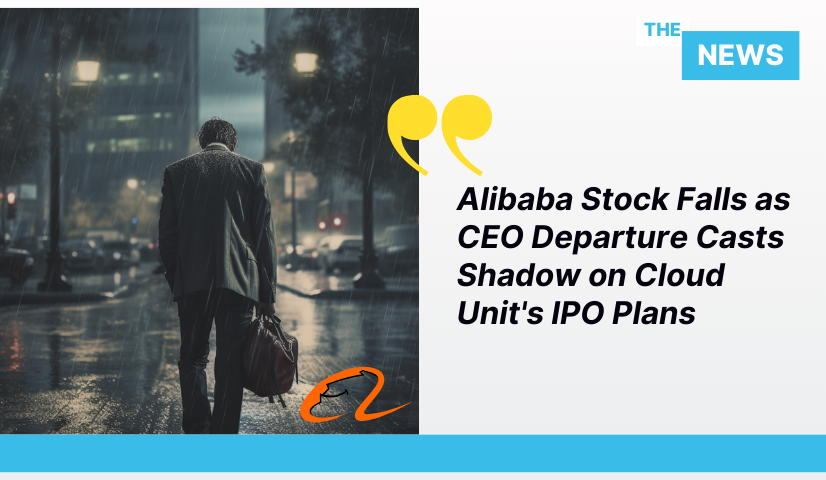 Key Takeaways

Alibaba's stock dipped over 4% in Hong Kong after CEO Daniel Zhang left the company's cloud computing unit, sparking concerns about the subsidiary's IPO and regulatory hurdles.
The Cloud Intelligence Group, Alibaba's significant revenue source, is preparing for a substantial IPO but may face regulatory scrutiny due to data security and geopolitical concerns.
Alibaba's Cloud Unit Faces Leadership Shake-Up
Alibaba Group's stock experienced a decline of more than 4% in Hong Kong as investors reacted to the unexpected departure of Daniel Zhang, the former group CEO, from the company's cloud computing unit. Zhang's decision to step down has raised questions about the unit's ability to navigate challenges ahead of its planned initial public offering (IPO) in the coming year.
Just two months ago, Zhang had shifted his focus to the cloud unit, leaving other roles behind. Now, Eddie Wu, the new group CEO, will take on the role of acting CEO and chairman of the Cloud Intelligence Group. The unit has been grappling with sluggish sales growth, making the leadership transition a critical moment as it prepares for its IPO.
The Importance of Alibaba's Cloud Unit
The Cloud Intelligence Group serves as Alibaba's second-largest revenue source, trailing only its domestic e-commerce segment. This unit houses significant assets, including the generative artificial intelligence model Tongyi Qianwen and the messaging app Dingtalk. However, it faced a revenue decline of 2% in the first quarter of the year due to factors like delayed projects.
Despite the recent challenges, analysts estimate that it holds a 34% market share, making it China's largest cloud provider. With an estimated IPO value ranging from $41 billion to $60 billion, the cloud unit is poised for a significant public offering. However, the substantial amount of data it manages has raised concerns about regulatory scrutiny and data security amid growing geopolitical tensions.
Zhang's Departure and IPO Plans
Alibaba affirmed its commitment to proceed with the planned spinoff of the cloud unit, which will be executed by an as-yet-unannounced management team. The company had initially aimed to complete this process by May 2024. Analysts like Alicia Yap from Citi suggest that Zhang's departure may impact Alibaba's share price in the short term until a successor is named. Concerns also exist about potential delays or changes in the spinoff plans.
Zhang, who had taken charge of the cloud unit in December, faced significant challenges during his tenure, including an extended system outage. However, his leadership was marked more by a period of heightened regulatory scrutiny. His departure now provides an opportunity for the cloud business to start anew, according to Vey-Sern Ling, Managing Director at Union Bancaire Privee.
Alibaba's Stock Reaction and Outlook
Following the announcement of Zhang's departure, Alibaba's stock experienced a decline of up to 4.4%, reaching HK$86.85, its lowest since August 23. While some view Zhang's exit as an opportunity for the cloud unit, Ling suggests that Alibaba's stock remains susceptible to macroeconomic and geopolitical pressures.
Eddie Wu, one of Alibaba's 18 co-founders, has taken the helm as acting CEO and chairman of the cloud unit. He is expected to bring fresh energy to the business and potentially steer it through the challenges it faces, particularly with government and state-owned enterprise clients.
Analyst Li Chengdong believes that Zhang's departure was likely a personal decision, acknowledging that the cloud unit's lackluster growth during Zhang's leadership may have prompted this move. Wu's appointment is seen as a positive development for Alibaba, as he is closely aligned with Alibaba's co-founder, Jack Ma.