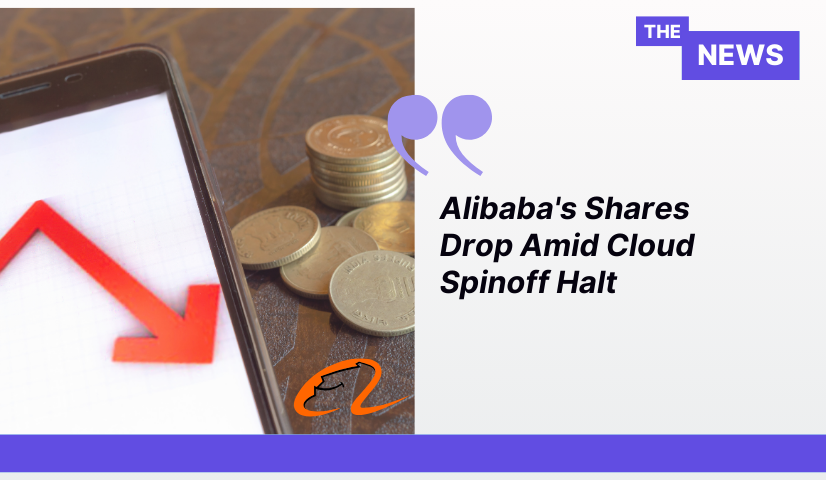 Key Takeaways

Alibaba's shares fall after halting Cloud Intelligence Group spinoff.
U.S. chip export restrictions cited as a key reason for the decision.
Alibaba's Strategic Shift in Cloud Business
Alibaba experienced a significant decline in its share value following the announcement that it would not proceed with the full spinoff of its Cloud Intelligence Group. This decision came after U.S. chip export restrictions, which have impacted the Chinese e-commerce giant's ability to obtain critical chip supplies from American companies.
Following the announcement, Alibaba's shares tumbled nearly 10% in Hong Kong trading, with U.S.-listed shares closing over 9% lower. This downturn reflects broader market concerns as Alibaba's Hong Kong-listed shares are also down about 15% year-to-date, underperforming the Hang Seng index.
Background of U.S. Chip Export Restrictions
The recent U.S. restrictions on selling advanced artificial intelligence-focused chips, including Nvidia's H800 and A800 models, have created uncertainties for Chinese firms like Alibaba. These limitations have significantly influenced Alibaba's strategic decisions regarding its cloud computing arm.
In light of these challenges, Alibaba has shifted its focus to developing a sustainable growth model for its Cloud Intelligence Group under the current circumstances. This approach departs from its initial plan to publicly list the division, which competes with global players like Amazon Web Services and Microsoft Azure.
Corporate Restructuring and Management Changes
Alibaba's decision is part of a broader restructuring into six individual business units, one of the most significant shake-ups in the company's history. This reorganization includes holding off on listing its Freshippo retail chain and plans to list its Cainiao smart logistics division in Hong Kong.
Leadership and Financial Performance
Under the new leadership of CEO Eddie Wu and Chairman Joe Tsai, Alibaba reported net income and revenue for the September quarter that met market expectations. Tsai reassured investors of Alibaba's strong financial position, emphasizing the company's focus on organic growth rather than "financial engineering."
Alibaba also announced its first-ever annual cash dividend, signaling a shift in its shareholder value strategy. The company is undertaking a strategic review of its businesses, prioritizing core sectors for long-term focus and research while exploring options for noncore businesses.
Alibaba's Role in the Chinese Economy
Alibaba's performance is often seen as an indicator of the health of the Chinese consumer. Despite a tepid economic rebound post-Covid-19 lockdowns, Alibaba recorded growth in its key online shopping platforms. The company also invests in strategic innovative businesses and focuses on AI-driven product experiences.
Alibaba faces intense competition in the tech sector, both domestically from companies like Tencent and Baidu, and internationally from U.S. giants like Meta, Microsoft, Google, and OpenAI. Its plans to focus on AI and strategic business areas reflect its ambition to remain a key player in the global technology market.