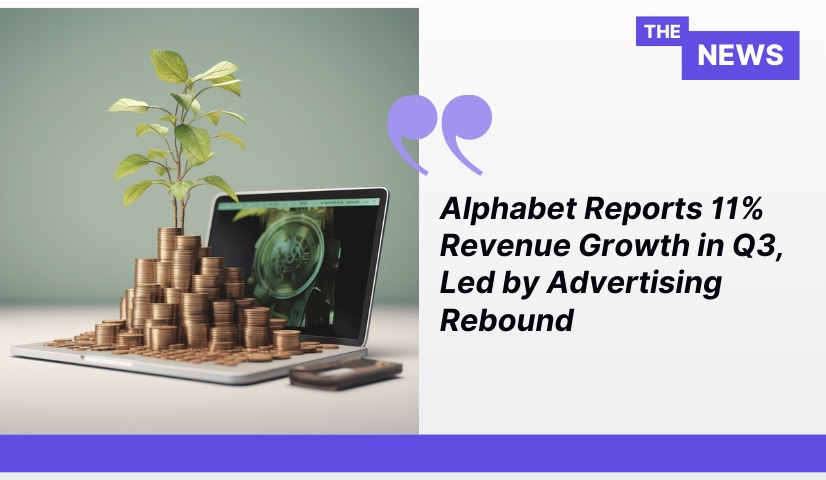 Key Takeaways
Alphabet's Q3 revenue grows by 11% due to an advertising rebound, marking double-digit expansion after four consecutive quarters of single-digit growth.
The cloud business falls short of expectations but still records 22% YoY growth, with an operating profit of $266 million.
Alphabet's Q3 Revenue Surges
Alphabet has reported an 11% increase in revenue for the third quarter, signaling a rebound in advertising revenue and marking the first time in over a year that the company has experienced double-digit expansion. Despite the promising results, the company's shares dropped nearly 7% in extended trading, primarily due to its cloud business failing to meet analysts' expectations.
Here are the key financial figures from Alphabet's Q3 earnings report:
Earnings per share: $1.55 per share, surpassing expectations of $1.45 per share.
Revenue: $76.69 billion, outperforming expectations of $75.97 billion.
The company also provided the following numbers:
YouTube advertising revenue: $7.95 billion, exceeding expectations of $7.81 billion.
Google Cloud revenue: $8.41 billion, falling short of expectations of $8.64 billion.
Traffic acquisition costs: $12.64 billion, nearly meeting expectations of $12.63 billion.
Advertising Rebound and YouTube's Success
The robust revenue growth witnessed in the third quarter follows four consecutive quarters of single-digit expansion. In particular, Google's core advertising business demonstrated strong performance, with advertising revenue reaching $59.65 billion, up from $54.48 billion during the same period in the previous year. YouTube advertising revenue also exceeded analyst expectations, reaching $7.95 billion. During an investor call, Alphabet CEO Sundar Pichai highlighted the success of "Shorts," YouTube's TikTok competitor, which has grown to 70 billion daily views, up from over 50 billion at the beginning of the year.
Cloud Business Growth and Profitability
While Alphabet's cloud business fell short of analysts' estimates with $8.41 billion in revenue, missing expectations by a margin of more than $20 million, it remains a key area of investment. The company aims to compete with major cloud providers such as Amazon Web Services and Microsoft Azure. The cloud business saw a remarkable 22% year-over-year growth, double the rate of expansion for the company as a whole. Notably, the cloud business shifted from an operating loss of $440 million during the same period in the previous year to a profit of $266 million.
Addressing Cloud Profitability
While the cloud business has shown significant growth, investors are looking for profitability. Lee Munson, Chief Investment Officer of Portfolio Wealth Advisors, emphasized the importance of improving the cloud's profitability, stating, "It's a third-rate cloud platform. We need to see it make money." Ruth Porat, Alphabet's Chief Financial Officer, acknowledged the strong growth in the cloud across various sectors but also mentioned that the expansion rate reflected the impact of customer optimization efforts, indicating that some clients may be adjusting their spending habits. Ruth Porat also shared her intention to step down from her role as CFO and take on the new role of Chief Investment Officer.
Challenges and Cost Reductions
Amidst Alphabet's efforts to regain growth momentum, the company faced challenges that led to significant cost-cutting measures. This year, Alphabet announced a workforce reduction, affecting approximately 6% of its full-time workforce. During the third quarter, the company conducted targeted layoffs in various business units, impacting divisions such as the news division and the self-driving car unit, Waymo. The layoffs were part of Alphabet's broader strategy to streamline operations and optimize its cost structure.
Before the after-hours trading drop, Alphabet shares had gained 47% year-to-date, outperforming the S&P 500, which posted an 11% increase during the same period.