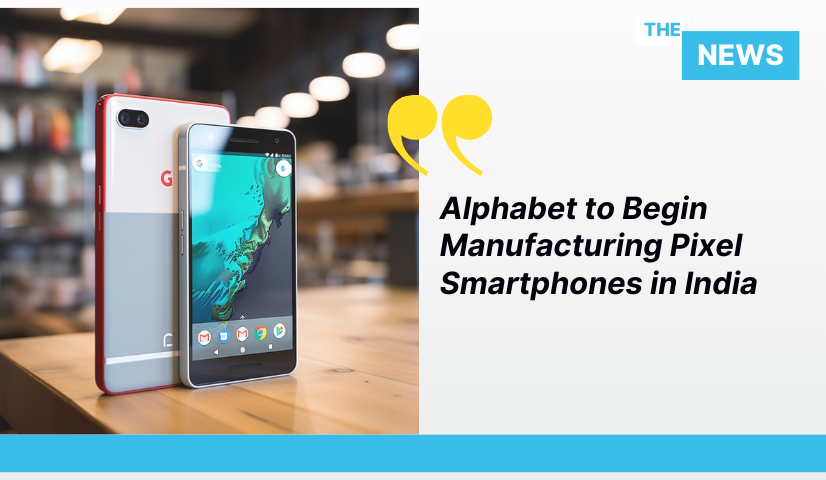 Key Takeaways
Alphabet, the parent company of Google, announces its plan to manufacture Pixel smartphones in India.
The move aligns with India's "Make in India" initiative and signifies a commitment to the Indian market.
India's Role in Smartphone Manufacturing Grows
Alphabet, the parent company of Google, has disclosed its intention to commence the manufacturing of Pixel smartphones in India. This announcement reflects a broader shift in the global smartphone manufacturing landscape and coincides with India's "Make in India" initiative.
Rick Osterloh, the Senior Vice President of Devices and Services at Google, made this revelation at a recent Google event. He indicated that the devices are slated to be launched in 2024, commencing with the release of the Pixel 8.
Prioritizing India as a Key Market
Osterloh affirmed India's status as a priority market for Pixel smartphones and emphasized Alphabet's commitment to delivering top-notch hardware and the integrated software experience that Pixel devices are known for. This move is seen as a strategic step to cater to the Indian consumer base and bolster local manufacturing.
The Indian government has been vigorously promoting the "Make in India" initiative, aimed at turning the country into a significant manufacturing hub. This endeavor has attracted global tech giants, including Apple and now Alphabet, to participate in local manufacturing efforts.
A Competitive Landscape for Smartphone Manufacturers
The move by Alphabet follows a broader trend in the smartphone industry, with many companies exploring opportunities in India. Apple, in particular, has been vocal about India becoming a crucial growth market for the company. Recent data from market researcher Counterpoint suggests that Apple is projected to account for 7% of all smartphone sales in India from July to December 2023, up from 5% in the first half of the year.
Moreover, the U.S. memory chip company Micron Technology has also unveiled plans to establish its first semiconductor manufacturing facility in India. This reinforces the country's growing significance in the tech and electronics manufacturing sector.
As Alphabet gears up to locally produce its Pixel smartphones, it sets the stage for enhanced market presence and a more competitive landscape for the smartphone market in India.
India's Growing Role in Tech Manufacturing
Alphabet's decision to manufacture Pixel smartphones in India aligns with the broader transformation of the country into a technology and electronics manufacturing hub. India's advantageous labor force, expanding infrastructure, and government incentives have made it an attractive destination for tech companies seeking to leverage local manufacturing capabilities. This development reflects the dynamic evolution of India's role in the global tech industry.