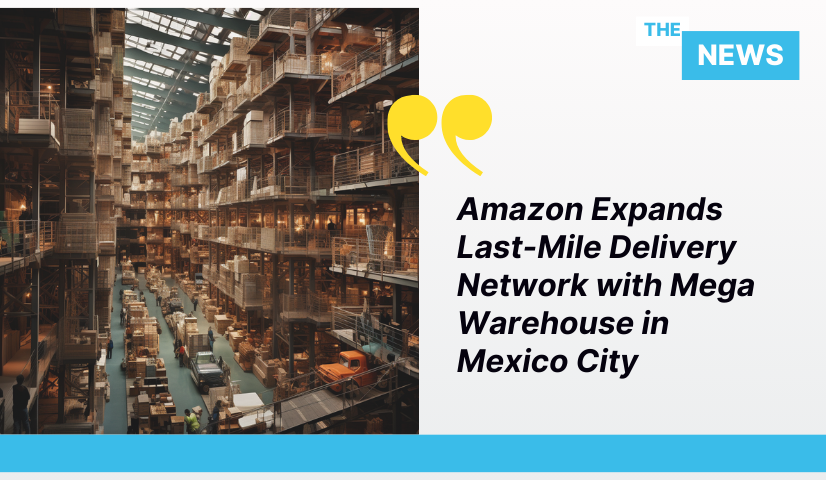 Key Takeaways

Amazon has opened its largest last-mile delivery center in Latin America, a 30,000 sqm facility in Mexico City, as part of its strategy to offer faster deliveries.
The expansion in Mexico City reflects Amazon's commitment to operating distribution centers near customers and strengthening its presence in Latin America's second-largest economy.
Amazon's Strategic Expansion
Amazon, the global e-commerce giant, continues to expand its presence in Latin America with the inauguration of its largest last-mile delivery center in the region. The new facility, located in Mexico City, measures an impressive 30,000 square meters (over 322,000 square feet) and is a key element of Amazon's strategy to optimize delivery services.
Having entered the Mexican market in 2015, Amazon has demonstrated its commitment to becoming a prominent player in Latin America's second-largest economy. The company has invested a substantial 52 billion pesos (approximately $3 billion) to attract more customers and compete effectively with rivals like Mercado Libre and Walmart.
Enhancing Last-Mile Deliveries and Extensive Warehousing Network
The Mexico City site is now Amazon's largest "delivery station" in Latin America. These delivery stations focus on the crucial last-mile delivery process, ensuring faster and more efficient service to consumers. While Amazon operates larger "fulfillment centers" exceeding 92,900 square meters (one million square feet), the last-mile delivery centers are strategically positioned to serve densely populated areas.
Amazon's commitment to Mexico is evident through its network of approximately 40 warehouses across the country. These facilities provide direct employment to more than 8,000 people and indirectly support an additional 32,000 jobs.
.
Proximity to Urban Centers
The expansion in Mexico City is particularly significant, given that the region is home to around 22 million people, making it one of the most densely populated urban areas in Latin America. Amazon's decision to operate a major facility here underscores its aim to serve customers where they are.
Amazon's Contribution to Job Creation
U.S. Ambassador Ken Salazar praised Amazon's efforts to create jobs in Mexico, including in economically disadvantaged regions of the country. This job creation aligns with President Andres Manuel Lopez Obrador's development initiatives, reaching even the most remote areas.
While Amazon did not disclose specific details about the investment in the new facility or its workforce size, the company's continued expansion and investment in Mexico reflect its commitment to serving the growing demands of Mexican consumers.
In conclusion, Amazon's inauguration of its largest last-mile delivery center in Mexico City marks a strategic move to enhance its delivery capabilities and strengthen its presence in Latin America's dynamic e-commerce landscape. This expansion reinforces Amazon's dedication to providing faster and more convenient services to its customers in Mexico.