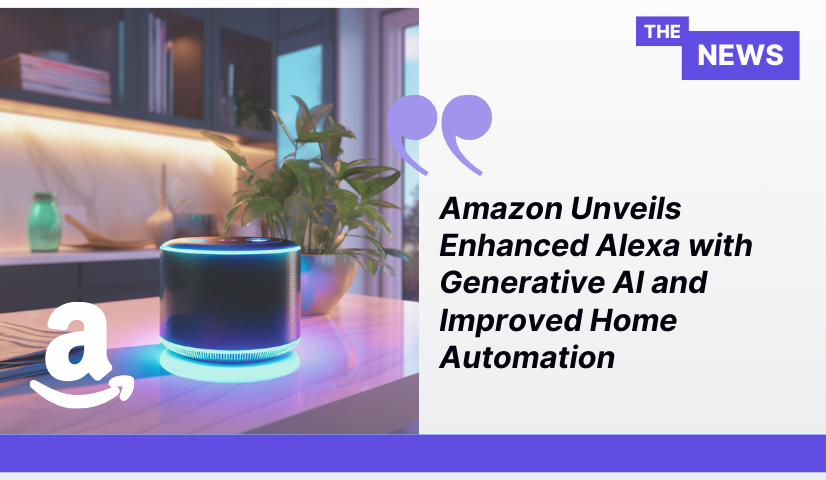 Key Takeaways

Amazon reveals an updated Alexa voice assistant featuring generative AI, allowing for more natural conversations and message composition.
The company showcases new features in smart home automation, including enhanced voice commands and a digital floor plan feature called "Map View."
Amazon has unveiled an enhanced version of its Alexa voice assistant, incorporating generative AI to improve conversational capabilities. The tech giant, known for its annual devices event, showcased this upgrade, alongside innovations in smart home automation, during the event held at its new second headquarters in northern Virginia.
Alexa's Smarter Conversations
In his final keynote address, Amazon's devices chief, Dave Limp, demonstrated the capabilities of the updated Alexa. The new version is equipped with generative AI, making conversations more natural and human-like. Users will no longer need to rely on wake words to prompt Alexa's responses. Instead, the AI-powered assistant will engage in more intuitive conversations and learn from each interaction. This feature, known as "Let's chat," will be available as an early preview for existing Echo owners in the coming weeks.
Additionally, the new Alexa will be capable of composing and sending messages on behalf of users. It can craft messages, such as invitations or notifications, providing greater convenience in communication.
Amazon also showcased its commitment to improving smart home automation. With upcoming Alexa updates, users can make more conversational requests, such as instructing Alexa to create a specific ambiance with their smart lights or requesting assistance with cleaning. For example, users can say, "Alexa, there's a mess in here," prompting a robot vacuum to activate and clean the area.
Limp referred to these improvements as "AI hallucinations," emphasizing that Alexa's AI models have been fine-tuned to work seamlessly with various smart home applications, ensuring accurate execution of commands.
Another new hardware announced includes an updated Echo Show 8 smart speaker that utilizes computer vision to adjust its display based on the user's position in the room. This ensures that users receive the most relevant information on the screen. The device is priced at $150 and will be available for shipping in October.
Additionally, Amazon unveiled a $120 Fire TV soundbar, available immediately, and two new Fire TV Sticks featuring faster performance and upgraded processors.
Moreover, a new feature called "Map View" appeared in the event as well, which is basically for the Alexa App and Echo Hubs. It provides users with a digital floor plan of their home, simplifying the management of smart home devices. Amazon could gain valuable insights into how people organize their smart homes by collecting data from this feature, but it's opt-in only. Users can select which rooms to include in their floor plan, with the ability to delete the data at any time. This feature not only enhances user convenience but also offers valuable insights into how people organize their smart homes.
Amazon's latest developments in Alexa, featuring generative AI and improved home automation, reflect the company's commitment to enhancing user experiences and simplifying smart home management. These innovations reinforce Amazon's position as a leader in the AI and smart home technology space.