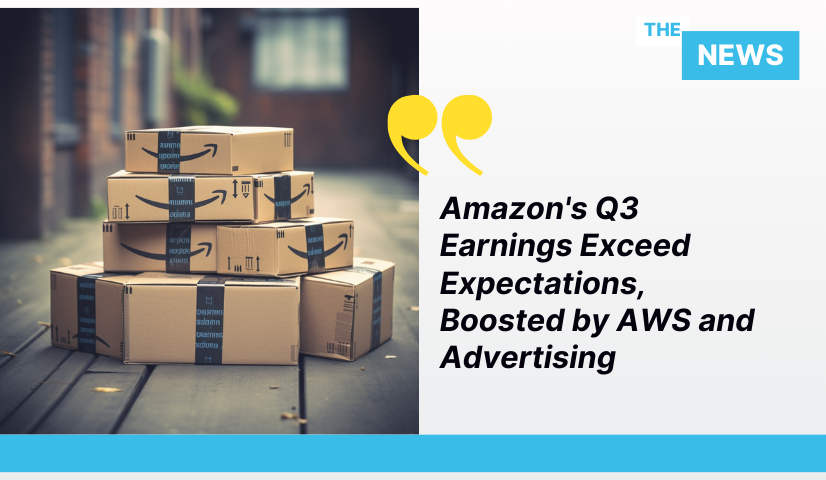 Key Takeaways
Amazon's Q3 earnings per share were 94 cents, surpassing expectations of 58 cents.
Q3 revenue reached $143.1 billion, higher than the expected $141.4 billion, with significant growth in AWS and advertising.
Amazon's Q3 Surpasses Estimates
On October 26, Amazon released its Q3 financial results, exceeding analysts' expectations. The company's earnings per share reached 94 cents, surpassing the predicted 58 cents, according to LSEG (formerly known as Refinitiv). Q3 revenue amounted to $143.1 billion, higher than the expected $141.4 billion, as reported by LSEG.
• Notable Segment Performances
Two significant segments within Amazon's business were closely monitored in Q3:
1. Amazon Web Services (AWS): AWS generated $23.1 billion in revenue, slightly below the expected $23.2 billion. Although it fell short of estimates, AWS remains a substantial contributor to Amazon's overall revenue.
2. Advertising: The advertising segment delivered $12.1 billion in revenue, surpassing expectations, which anticipated $11.6 billion. This segment has been a vital growth driver for Amazon.
Positive Q4 Sales Projections and Robust Q3 Revenue Growth
Amazon anticipates strong sales in Q4, which includes the crucial holiday season. The company's guidance range for Q4 sales is between $160 billion and $167 billion. While analysts were expecting $166.6 billion in revenue, the mid-point of Amazon's projection stands at $163.5 billion. This represents a 9.6% growth compared to the previous year's Q4 revenue of $149.2 billion.
Amazon experienced a 13% surge in revenue during the third quarter, signifying a rebound in the business after a challenging 2022 marked by inflation and rising interest rates. The notable growth suggests that Amazon is successfully navigating and accelerating its operations.
Over the past year, Amazon has been in a cost-cutting mode, acknowledging that its expansion during the pandemic was overly aggressive. The company has undertaken measures such as laying off 27,000 employees since the previous fall and discontinuing unprofitable ventures.
CEO Andy Jassy, who took over from founder Jeff Bezos in mid-2021, emphasized that these cost-saving efforts are yielding positive results. He highlighted improvements in the cost-to-serve and delivery speed in Amazon's Stores business, the continued stabilization of AWS growth, robust growth in Advertising revenue, and a significant increase in overall operating income and free cash flow.
E-commerce Business Recovery
Sales in Amazon's core e-commerce business continued to rebound, growing by 7% year over year in the third quarter, following a 4% growth in the previous quarter. This performance is partially attributed to Amazon's Prime Day promotion, which the company described as its "biggest ever" sale.
Amazon's net income more than tripled to $9.9 billion, or 94 cents per share, compared to $2.9 billion, or 28 cents per share, in the same period the previous year. This increase includes a pre-tax valuation gain of $1.2 billion from Amazon's investment in electric car company Rivian.
Comparison with Tech Peers
Amazon's Q3 results follow better-than-expected performances from tech giants Alphabet and Meta earlier in the week. However, shares of both Alphabet and Meta experienced declines following their earnings reports due to various concerns.
Amazon's digital advertising segment remains a bright spot, with third-party sellers and large brands increasing their ad spending to enhance visibility in a highly competitive marketplace. Ad revenue recorded a remarkable 26% growth compared to the previous year, outperforming Google and Facebook in ad growth.
Cloud Market Share and Cost Optimization
In the cloud services market, Amazon's AWS appears to be losing some market share. AWS's growth for the quarter was 12%, while Microsoft's Azure and Google Cloud both reported stronger growth at 29% and 22%, respectively. Despite some cost optimization from AWS customers, Amazon is seeing an uptick in new workloads, indicating a shift in the cloud market.
Amazon's focus on cost-cutting efforts is evident in its improved profit margin. The company reported an operating margin of 7.8%, the highest since early 2021.
During a conference call with analysts, CEO Andy Jassy expressed optimism about the future of AWS, highlighting an increase in the pace and volume of closed deals in the cloud unit. Several new deals signed in September are expected to contribute to a strong Q4.
Amazon's Q3 results demonstrate its resilience and ability to adapt to the evolving market landscape, with robust growth in AWS and advertising, despite stiff competition and cost-cutting efforts.