Key Points
Andreessen Horowitz (a16z), the legendary Silicon Valley venture capital firm, recently announced its plans to open its first international office in London this fall. The move aims to support cryptocurrency startups in the UK at a time when the United States has been implementing various crackdown policies on cryptocurrencies.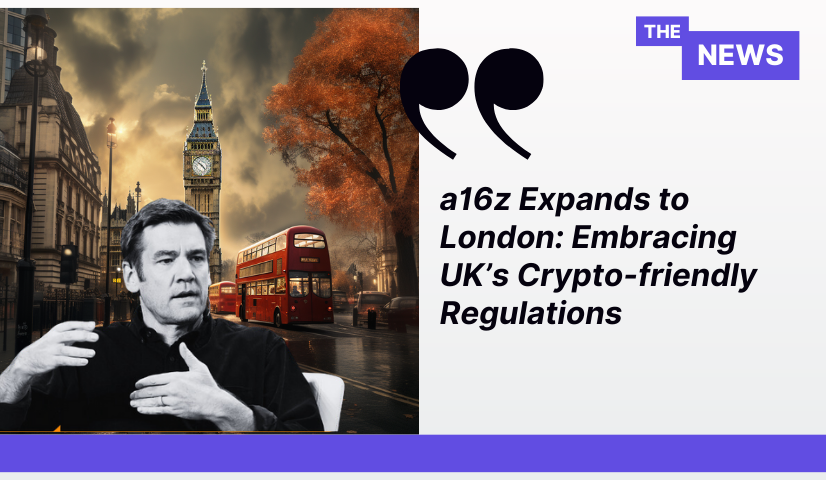 Chris Dixon, a partner at a16z, pointed out that the regulatory environment in the UK offers a clearer path for cryptocurrency companies compared to the United States. In an interview with Fortune magazine, he directly criticized the Biden administration's approach, stating, "The Biden administration's current approach is basically trying to kill the technology." In contrast, the UK's regulatory policies are relatively more defined, with Dixon stating that "the UK is on the right track when it comes to cryptocurrency regulation."
UK Prime Minister Rishi Sunak expressed his excitement about a16z's decision to establish a presence in London, stating:
"As we solidify the UK's position as a tech superpower, we must embrace innovations like Web3 supported by blockchain technology, enabling startups to thrive here and drive economic growth. This success is built on a foundation of proper regulation and safeguards to protect consumers and foster innovation. While there is still much work to be done, I am determined to unlock the potential of this technology and make the UK the center of the Web3 world.

That's why I'm thrilled that world-leading investor Andreessen Horowitz has decided to open their first international office here in the UK—it demonstrates our world-class universities and talent, as well as our strong business competitiveness."
One of the four partners, Sriram Krishnan, will also be relocating to the London office, and additional employees will join them. This marks a16z's first overseas office. Furthermore, a16z plans to establish a cryptocurrency startup school in London in the spring, offering a 12-week training program for founders in the crypto space.
In recent times, the US government has been intensifying its regulatory oversight of the cryptocurrency industry, with platforms like Binance and Coinbase becoming targets of scrutiny. SEC Chairman Gary Gensler even expressed the view that the US does not need more digital currencies, causing a sharp decline in the crypto market.
However, it is worth noting that Chris Dixon stated that a16z will continue to make significant investments in the US and engage in ongoing communication and collaboration with the government and regulatory bodies to drive clearer regulations for the cryptocurrency industry. He believes that "ultimately, the US will do the right thing."
Andreessen Horowitz's decision to open an office in London underscores the firm's strategic move to leverage the UK's more favorable regulatory environment for cryptocurrencies. As the US cracks down on the industry, a16z's contrarian approach highlights its commitment to supporting and nurturing innovative crypto startups.