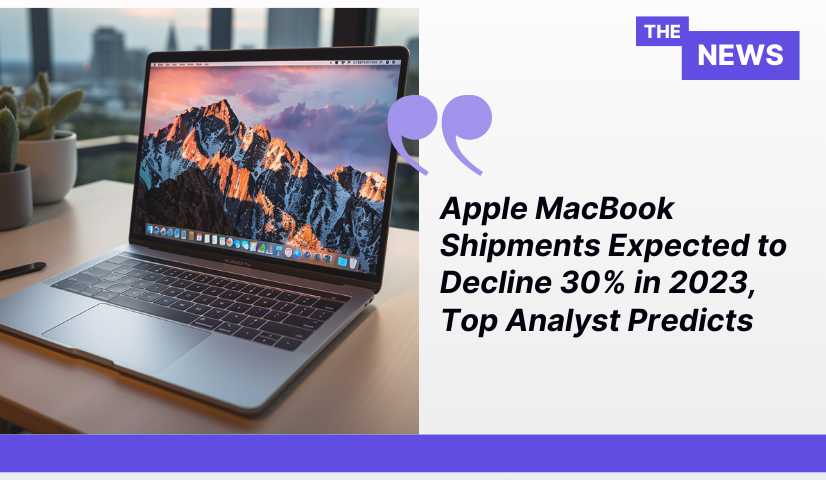 Key Takeaways
Apple's MacBook shipments are forecasted to decrease by 30% in 2023, amounting to 17 million units, as per top analyst Ming-Chi Kuo.
The waning consumer appeal of Apple's mini-LED and silicon, along with shifting work-from-home trends, contributes to declining demand for MacBook computers.
Diminished Demand for 15-inch MacBook Air
Apple is expected to witness a substantial decline in MacBook shipments for the year 2023, with a 30% year-over-year decrease, according to prominent Apple analyst Ming-Chi Kuo. Kuo's analysis points to a decrease in demand for Apple's MacBook products, primarily driven by shifting consumer preferences and work patterns.
Ming-Chi Kuo's insights highlight that the 15-inch MacBook Air, which was initially met with expectations of success, has experienced a significant reduction in demand. This dip in interest has become more pronounced following the back-to-school shopping season. The declining demand for the 15-inch MacBook Air has contributed to the overall contraction in MacBook shipments.
Work-from-Home Trends and Consumer Appeal Factors
One of the key reasons behind the decline in MacBook shipments is the shift in work patterns, with an increasing number of people transitioning back to traditional office spaces and opting for desktop computing solutions over laptops. As work-from-home trends diminish, the demand for portable laptops has seen a corresponding decrease. Moreover, consumer interest in Apple's mini-LED technology and silicon has waned, affecting the appeal of MacBook products.
Apple's Fourth Quarter Performance
Historically, Apple's fourth quarter has been an essential period for the company, marked by increased consumer purchases of electronic devices as part of their holiday shopping. However, Ming-Chi Kuo anticipates that MacBook shipments during this quarter will be notably lower than in previous years.
Apple's Response: Inventory Clearance and Strategy Refinement
As a response to the projected decrease in MacBook shipments and in preparation for next year, Ming-Chi Kuo suggests that Apple will not introduce any new products during the fourth quarter. This decision allows Apple to focus on clearing existing inventory and developing new product and marketing strategies to regain momentum in the laptop market.
Apple has not provided an official statement or response regarding these predictions as of the time of this report.
Despite these challenges, Apple continues to innovate and adapt its product offerings to the evolving needs of consumers. The tech giant remains a dominant force in the industry, with its range of products and services influencing the global technology landscape.