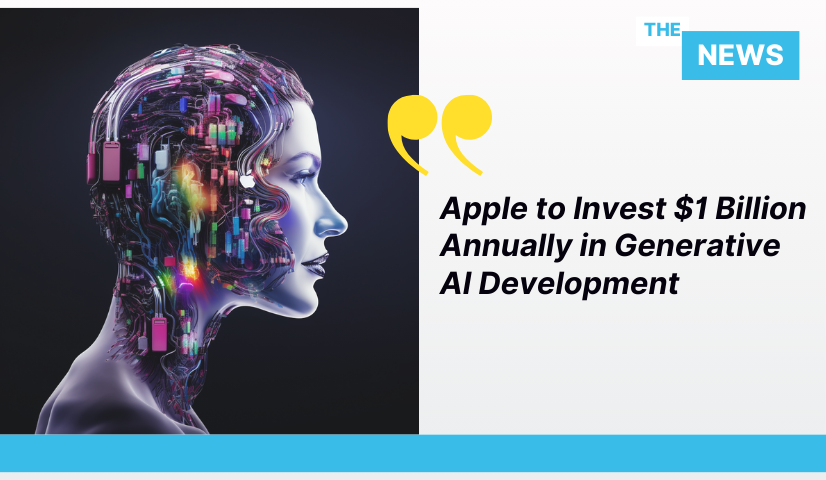 Key Takeaways
Apple plans to allocate $1 billion per year to enhance its generative artificial intelligence (AI) capabilities, aiming to compete with rivals like Google, Microsoft, and Amazon.
While Apple already utilizes AI in various products, it has yet to release a generative AI product similar to ChatGPT or Google Bard, but the company is working on incorporating AI into Siri, Messages, Apple Music, and developer tools.
Apple Accelerates Generative AI Investment
Apple is set to allocate $1 billion annually to advance its generative artificial intelligence (AI) products, as reported by Bloomberg. This substantial investment comes as Apple strives to narrow the gap with competitors who have already introduced AI products and features, including industry leaders like Google, Microsoft, and Amazon.
Although Apple currently incorporates AI into various aspects of its products, it has yet to launch a generative AI product on par with offerings like OpenAI's ChatGPT or Google's Bard. Apple primarily utilizes AI for purposes such as enhancing photos and autocorrecting text.
The company has made significant progress by developing its large language model (LLM) framework known as Ajax. Moreover, there are rumors of an in-house chatbot internally referred to as Apple GPT. Despite these achievements, neither the Ajax framework nor the Apple GPT chatbot has been integrated into Apple's product lineup.
Integration Across Apple's Ecosystem
Apple's generative AI endeavors are focused on seamlessly integrating AI into various aspects of its ecosystem, enhancing user experiences. Some key areas of application include Siri, Messages, and Apple Music.
With Apple Music, the company seeks to leverage AI for auto-generating playlists, similar to Spotify's functionality enabled through its collaboration with OpenAI. This addition could provide users with personalized playlists tailored to their preferences, enhancing music discovery.
Additionally, Apple is exploring the integration of AI into Xcode, its development environment for creating applications. This move could benefit app developers by offering AI-assisted features, simplifying the development process and potentially enhancing app functionalities.
Driving the AI Initiatives
Apple's AI initiatives are spearheaded by a team of prominent executives. These include John Giannandrea, Senior Vice President of Machine Learning and AI Strategy, who plays a pivotal role in shaping the company's AI direction. Craig Federighi, Senior Vice President of Software Engineering, contributes to the technical aspects of AI integration. Eddy Cue, Head of Services, oversees the deployment of AI in various services and products within Apple's ecosystem.
As the company intensifies its investment in generative AI, it aims to remain competitive in the AI landscape, particularly in a market where voice assistants, music streaming, and application development tools are increasingly reliant on AI-driven features. Apple's $1 billion annual commitment underscores its determination to catch up with AI advancements made by rivals and enhance its own products and services through AI integration.