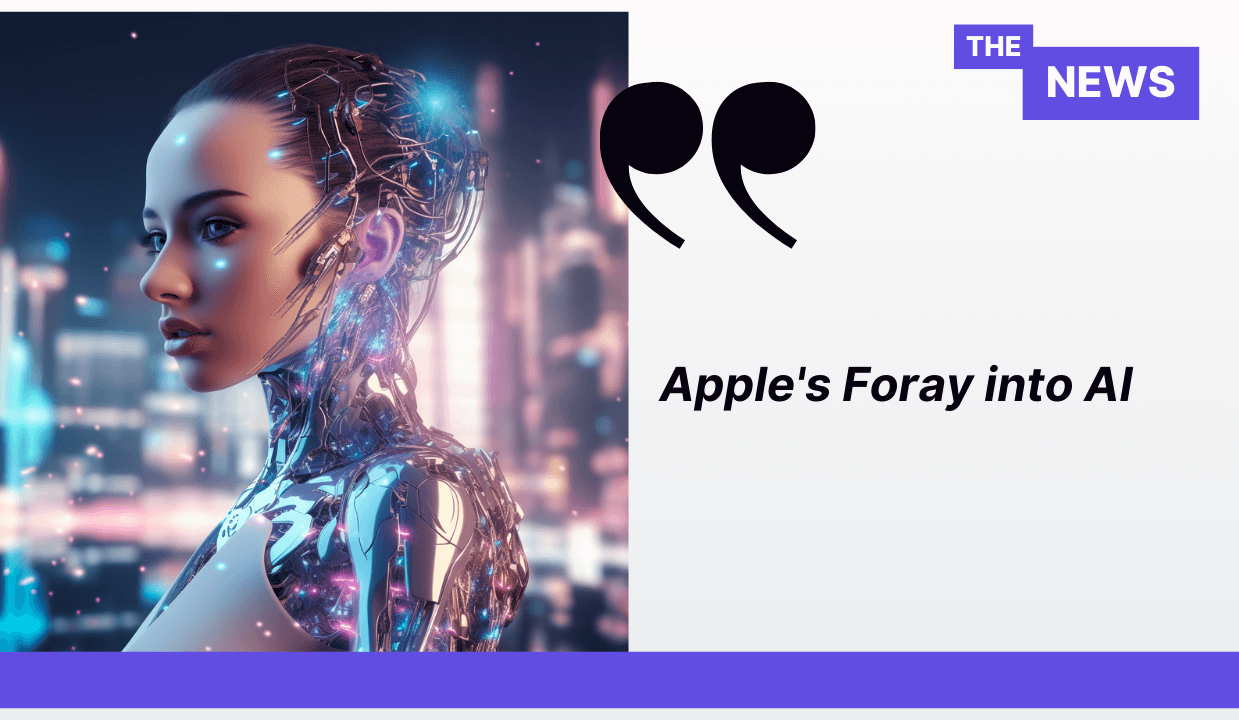 Key Takeaways

Apple is gearing up to challenge major players like OpenAI and Google in the field of artificial intelligence (AI). The company is developing a chatbot internally known as "Apple GPT," which is set to revolutionize the AI landscape. Although Apple has plans for a significant AI-related announcement next year, the exact strategy for releasing the service to consumers is yet to be determined.
"Apple GPT" – The Next Generation Chatbot
According to a report by renowned Apple journalist Mark Gurman of Bloomberg, Apple is making strides in the development of AI tools to compete with OpenAI, Google, and other industry giants. Internally referred to as "Apple GPT," this chatbot aims to redefine user interactions and offer a seamless AI experience. While Apple hasn't finalized its consumer release strategy, it is set to make a groundbreaking AI-related announcement in the near future.
Building the Foundation with "Ajax"
To establish a robust foundation for "Apple GPT," Apple has constructed its framework codenamed "Ajax." Running on the Google Cloud and employing the Google JAX machine learning framework, Ajax serves as the backbone of Apple's large-scale language model. Spearheaded by John Giannandrea, Apple's AI and machine learning executive, and Craig Federighi, the company's senior vice president of software engineering, this project holds immense promise.
Apple's Quest for AI Talent
As part of its AI endeavors, Apple has been actively recruiting talents in the field of generative AI. On their recruitment webpage, the company is specifically seeking engineers with deep expertise in large-scale language models and generative AI. While CEO Tim Cook has shown cautiousness regarding generative AI chatbots, he has acknowledged using ChatGPT himself and expressed keen interest in the technology.
Apple's Unique Approach and Privacy Focus
While major tech companies, led by Microsoft+OpenAI, Google, and Meta, are rapidly releasing generative AI products, Apple has taken a distinct approach. In their recent WWDC (Worldwide Developers Conference), the company deliberately avoided using the term "AI" in multiple AI-related feature announcements, substituting it with phrases like "machine learning." However, it's evident that Apple is not willing to fall behind in the generative AI race.
Apple's longstanding commitment to consumer privacy and security is well-known, and this carries over to its efforts in the AI domain. The report highlights Apple's dedication to addressing potential privacy concerns associated with AI.
With "Apple GPT," Apple is venturing into uncharted territory in the world of AI. The company's commitment to innovation, coupled with its focus on privacy and user experience, sets the stage for a promising future. As the AI landscape continues to evolve, Apple's entry is bound to introduce new possibilities and redefine the way users interact with technology. The world awaits Apple's significant AI-related announcement with anticipation as the company carves its niche in this rapidly advancing field.