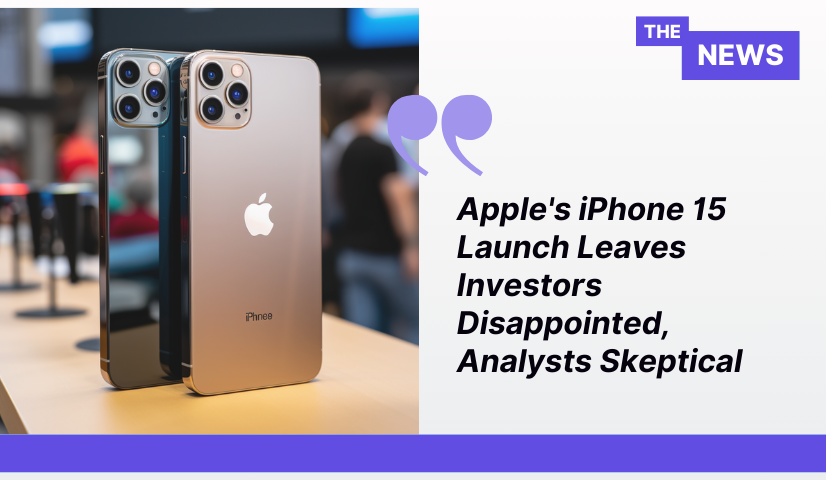 Key Takeaways

Apple introduced its iPhone 15 models with a notable absence of a price increase for the iPhone Pro, contrary to analyst expectations.
Analysts express skepticism about the potential for strong iPhone sales to boost Apple's stock, with concerns over revenue decline and potential lackluster sales in China.
Apple's iPhone 15 Launch and Market Reaction
Apple, the world's most valuable company, revealed its highly anticipated iPhone 15 models, and the outcome left both investors and analysts less than thrilled. While the event largely followed expectations, the absence of a price increase for the iPhone Pro was an unexpected deviation. However, Apple did raise the starting price for the Pro Max by $100. On the day of the announcement, Apple's stock (ticker: AAPL) experienced a 1.7% decline to $176.30.
Historically, Apple stock has seen an average 5% increase in the three months following an iPhone release, according to Dow Jones Market Data. However, in premarket trading the day after the launch, Apple stock was down 0.5% to $175.47.
Analyst Assessments and Concerns
D.A. Davidson analyst Tom Forte doesn't anticipate a significant boost in Apple's stock following the latest phone launch. He expressed doubt about the company's ability to rely on strong iPhone sales to drive share prices higher, particularly given management's guidance for revenue decline in the September quarter despite the iPhone 15's release date of September 22. Forte also cited concerns about potentially lackluster sales in China and reiterated a Neutral rating on Apple stock with a $180 price target.
KeyBanc analysts, led by John Vinh, shared a similar sentiment, describing the product launch as "slightly negative" for the stock. They pointed to the absence of an expected price increase for the Pro model and features that may not motivate consumers to upgrade. Despite this, they maintained an Overweight rating and a $200 price target.
Evercore ISI analysts labeled the event "mildly disappointing" and believed that a price increase for the Pro model could have countered the impact of Huawei's recent smartphone launch. They maintained an Outperform rating on the stock with a $210 price target.
However, not all analysts viewed the launch negatively. Wedbush analyst Dan Ives raised his price target on Apple stock to $240 from $230, maintaining an Outperform rating. He anticipates a surprising upgrade cycle over the next year, with a greater proportion of consumers shifting toward the Pro models. This shift, in a 75% to 25% split, compared to the 60% to 40% in recent years, could significantly impact the company's average selling price. Ives expects the iPhone 15 to provide momentum heading into the crucial holiday season.
Citi analysts also found positives in the flat pricing strategy, suggesting it could boost unit sales amid a challenging macroeconomic environment. They noted Apple's focus on maximizing gross profit per unit from consumers migrating to premium phones. They maintained a Buy rating on Apple stock with a $240 price target.
In summary, Apple's iPhone 15 launch has elicited mixed responses, with some analysts expressing concerns while others remain optimistic about the company's prospects, particularly regarding consumer shifts toward premium models and overall pricing strategies.