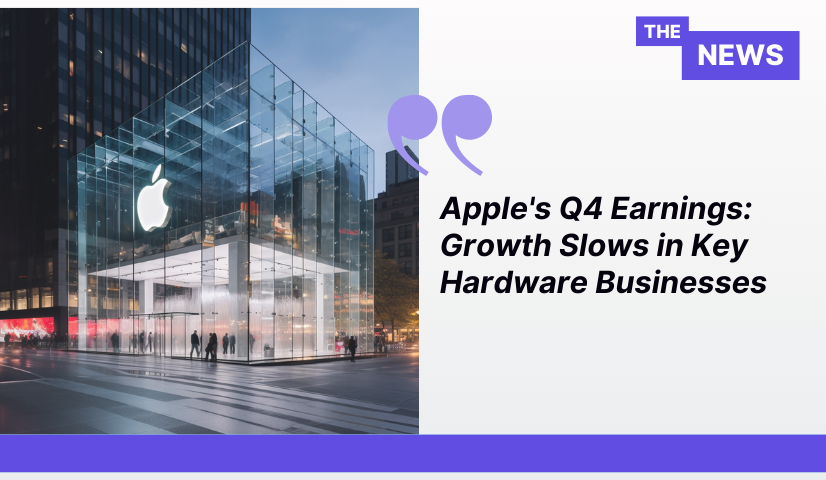 Key Takeaways

 Apple's fiscal Q4 report showed weaker performance in Mac, iPad, and Wearables businesses, while iPhone sales improved.
The company expects its current quarter's revenue to be similar to last year, suggesting challenges for the holiday season.
Apple's Earnings: A Mixed Bag for Q4
Apple's fiscal Q4 earnings report brought both positive and challenging news for the tech giant. While the company exceeded analyst expectations, there were clear signs of slowing revenue growth in crucial hardware segments, raising concerns about the upcoming holiday season.
Apple CEO Tim Cook shared that the iPhone 15 had a better start than its predecessor, the iPhone 14, during the same period last year. This positive news suggests that iPhone sales continue to hold up well.
However, Apple's overall revenue for the quarter declined by about 1% compared to the previous year, amounting to $89.5 billion. This marks the fourth consecutive quarter of revenue shrinkage, a concerning trend.
Apple's CFO, Luca Maestri, provided insight into the performance of crucial hardware segments, which showed areas of concern. The Mac, iPad, and Wearables businesses faced ongoing challenges despite a relatively optimistic outlook for iPhone sales.
No Official Revenue Guidance
Apple no longer provides specific revenue guidance, as it ceased doing so in 2020. Instead, Maestri indicated that the company's revenue for the current quarter would be "similar" to the previous year. This statement implies that Apple anticipates challenges during the crucial holiday season.
The stock market's initial response to Apple's report was negative, with the company's stock price dropping 3.4% during extended trading.
Below Wall Street Expectations
CFO Luca Maestri emphasized that the final quarter of the calendar year will span the usual 13 weeks, in contrast to the previous December quarter, which lasted 14 weeks. Maestri highlighted that the additional week in the previous year contributed approximately 7% to the total revenue.
"Despite having one less week this year, we expect our December quarter total company revenue to be similar to last year," Maestri stated.
Wall Street analysts had higher expectations, with sales for this December quarter estimated at around $123 billion, reflecting approximately 5% growth. In comparison, revenue for the same period last year reached $117.15 billion.
Key Partnerships and Market Expansion
The recent renewal of Qualcomm's supply agreement with Apple, extending until 2026, has significantly bolstered the company's position in the market. Additionally, Qualcomm is embarking on a renewed venture into the laptop market with support from Microsoft. These strategic collaborations provide Qualcomm with an extended reach and influence in the tech industry.
Despite concerns over the smartphone market, data reveals that global smartphone shipments declined only 0.1% in the quarter ending September. This resilience can be attributed to strong demand in emerging markets and a robust premium phone market. Qualcomm's positive outlook is aligned with this broader trend of recovery in the consumer electronics market.
Mixed Signals for Hardware
While Maestri expressed optimism regarding the iPhone's growth "year over year on an absolute basis," the outlook for Apple's other hardware businesses is less promising. Mac sales are anticipated to "significantly accelerate from the September quarter." Mac revenue fell by nearly 34% in the September quarter of the previous year, so any improvement suggests a decrease from last year.
Both Apple's iPad and Wearables businesses recorded a decline annually in the September quarter, and the company expects further declines this quarter. iPad revenue experienced a 10% drop, with the absence of new iPad models released this year.
Services Business Remains a Bright Spot
Amid the challenges in hardware, Apple's services business continues to shine. This segment includes App Store sales, online cloud storage, AppleCare warranties, advertising, licensing deals with Google, and subscriptions like Apple Music. The company expects the average weekly revenue to maintain double-digit solid growth, similar to the September quarter when services grew by 16%. This serves as a beacon of hope for Apple during this holiday season.
Apple's mixed earnings report underscores the need for diversified revenue streams, with services playing an increasingly crucial role in maintaining growth and financial stability.