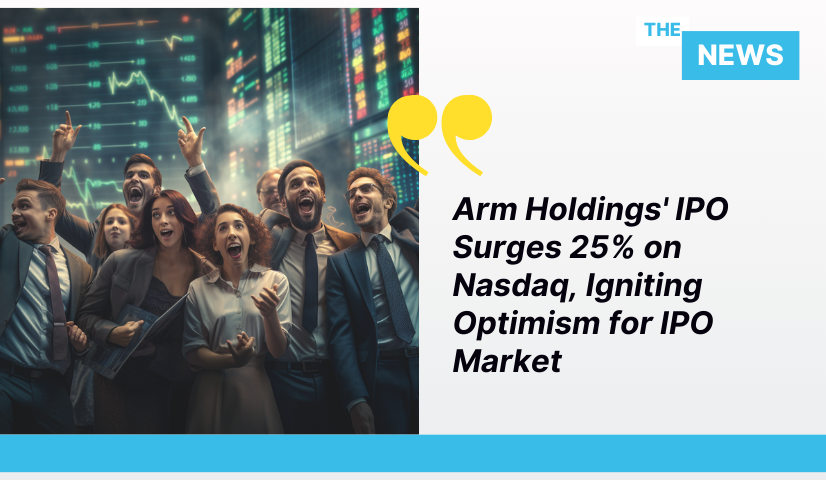 Key Takeaways

Arm Holdings achieves a 25% surge above its IPO price on Nasdaq, marking a return to public markets and indicating renewed interest in IPOs.
The successful IPO could stimulate a wave of stock market launches in 2024, with several companies scheduled for upcoming IPOs, including Instacart, Birkenstock, and Klaviyo.
Arm Holdings' Strong IPO Performance
Shares in SoftBank's Arm Holdings soared nearly 25% above their Nasdaq debut price, closing at $63.59, following their return to public markets after a seven-year absence. The IPO had priced at $51, giving Arm a market valuation of $65 billion. This impressive performance has reignited optimism for the IPO market, which had faced challenges due to geopolitical tensions and higher interest rates over the past two years.
Market participants view Arm's IPO as a success and a positive sign for the IPO pipeline, indicating that investor demand for IPOs may be rebounding. Several companies, including Instacart, Birkenstock, and Klaviyo, are scheduled to go public in the coming weeks. The success of these IPOs could potentially trigger a wave of stock market launches in 2024, according to bankers and analysts.
Arm's Valuation and SoftBank's Strategy
Arm achieved a valuation of $54.5 billion after pricing its IPO at the top end of the marketed range. This move allowed SoftBank to net $4.87 billion while retaining a 90.6% stake in Arm. SoftBank initially took Arm private in 2016 for $32 billion but faced regulatory roadblocks in its attempt to sell Arm to chipmaker Nvidia in a $40 billion deal in 2020. The company then pivoted towards an IPO, despite challenges, including discussions with the British government regarding Arm's listing location.
Although Arm's IPO debut signifies a valuation lower than its previous $64 billion, it does not diminish SoftBank CEO Masayoshi Son's enthusiasm for Arm's future. The focus remains on the long-term price outlook rather than immediate gains.
Arm plays an essential role in the tech hardware ecosystem, with its chip designs powering nearly every smartphone globally. Despite a 1% drop in annual revenue, attributed to slumps in smartphone and personal computer markets, Arm still has potential for sales growth. The company now reaps a 5% royalty rate on chips using the latest technology, compared to 3% with the previous version. This shift is more likely to benefit premium phones that utilize Arm's advanced technology.
Market Evaluation and Impact on IPOs
Analysts compared Arm's valuation to circuit designer Cadence Design Systems, highlighting that Cadence trades at 35 times of 2025 earnings, while Arm, priced at $51 per share, trades at 29 times earnings. Investors have increasingly emphasized profitability over the past year, favoring profitable companies over cash-burning startups that fetched lofty valuations in 2021.
While Arm's strong debut may encourage other technology firms to proceed with their IPOs, it does not necessarily signify a return to the exuberant IPO market of 2021. Sectors such as biotech are expected to remain inactive for one to two years until interest rates decrease, making stocks more attractive relative to bonds.
NASDAQ's Potential Benefits
Arm's successful IPO also benefits the Nasdaq, which secured the listing. It provides the exchange with short-term publicity and the potential for long-term growth in recurring revenue from annual listing fees collected from listed companies. This boosts the Nasdaq's revenue through various services offered to these listed companies.