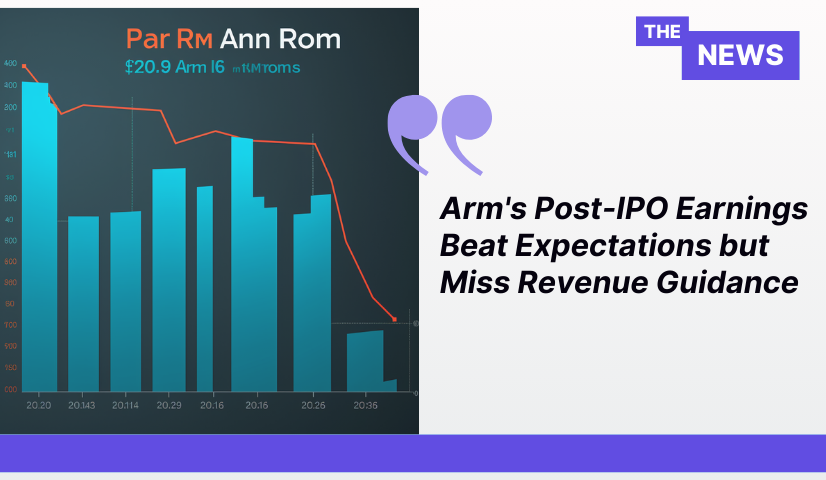 Key Takeaways

Arm reports better-than-expected earnings for its second fiscal quarter, surpassing consensus estimates for earnings and revenue.
The company's licensing business has doubled in size over the past year, demonstrating strong potential, while its post-IPO share-based compensation impacts reported net loss.
Arm's Strong Earnings Post-IPO
Semiconductor technology company Arm has unveiled its first earnings report following its initial public offering (IPO). The results surpassed Wall Street's sales expectations, signalling a positive start for the newly public company. However, the company's revenue guidance didn't meet market expectations, leading to a decline in its share price.
For Arm's second fiscal quarter ending September 30, the company reported earnings per share of 36 cents (adjusted) and revenue of $806 million. Both metrics exceeded consensus estimates, with revenue notably surpassing the $744.3 million expected by LSEG (formerly Refinitiv).
Despite the strong earnings report, Arm's shares dropped by over 7% in extended trading, primarily due to the company's revenue guidance falling short of investor expectations. The company anticipated earnings per share between 21 and 28 cents for the current quarter, with revenue ranging from $720 million to $800 million. These figures were slightly lower than the market consensus, which had expected 27 cents per share and revenue between $730 million and $805 million.
Challenges of Post-IPO Share-Based Compensation
Arm reported a net loss of $110 million, equivalent to 11 cents per share. This loss was attributed to one-time share-based compensation exceeding $500 million triggered by the recent IPO. The company expects future share-based compensation to range between $150 million and $250 million per quarter. Despite this impact, Arm's total revenue demonstrated a significant 28% increase annually during the quarter.
Diverse Reach and Revenue Streams
Arm is a significant player in the semiconductor industry, with its intellectual property found in nearly every smartphone, many PCs, and various other chips. During the quarter, the company recorded more than 7.1 billion Arm-based chips shipped, underscoring its extensive reach.
The company generates revenue through royalties and licensing sales. Royalties involve chipmakers paying Arm for access to build Arm-compatible chips, while licensing sales offer more comprehensive chip designs, saving chipmakers time and effort. Arm's quarterly royalty revenue was $418 million, reflecting a 5% decline from the previous year. However, its licensing sales were $388 million, marking an impressive 106% increase from the same period in the prior year.
This growth in licensing sales is a positive sign for Arm, demonstrating the potential for selling more technology to its current customers.
Challenges and Opportunities Ahead
Arm attributed its strong licensing sales to several long-term agreements with technology companies, indicating potential growth in this segment for future quarters. However, the company also cautioned that the broader economic landscape might influence future licensing growth.
Arm's IPO marked a significant transition for the company. Previously owned by SoftBank, Arm's planned acquisition by Nvidia was halted by regulatory concerns in 2022. The company, founded in 1990, specializes in developing technology for low-power chips.
Arm is now working with companies like Google, Meta, and Nvidia to develop artificial intelligence-capable chips, underscoring its presence in cutting-edge technology developments. While it navigates the post-IPO landscape, Arm faces opportunities and challenges as it capitalizes on its strong licensing business and manages share-based compensation impacts on its financial performance.