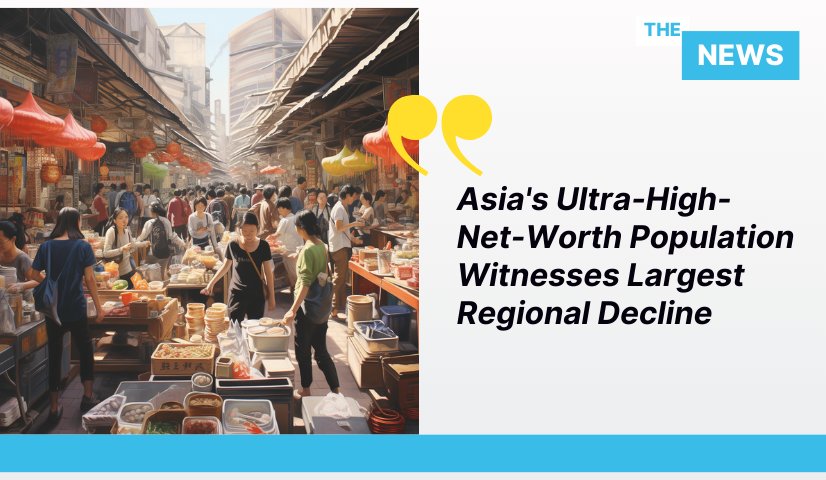 Key Takeaways

Asia experienced the most significant decline in its ultra-high-net-worth (UHNW) population in 2022, with an 11% reduction, primarily due to China's COVID lockdown and the war in Ukraine.
Europe recorded the second-largest drop in UHNW individuals, down by 7.1%, mainly influenced by Russia's invasion of Ukraine and inflationary shocks.
Asia's UHNW Population Decline
Asia witnessed a substantial decline in its ultra-high-net-worth (UHNW) population, marking an 11% drop in 2022, the most significant decline of any region globally. Altrata's recent report attributed this decline to various factors, including China's stringent COVID lockdown measures and the ongoing war in Ukraine. Additionally, regional supply chains faced disruptions, further impacting the ultra-wealthy in the region.
Tech-heavy markets in Asia, such as South Korea and Taiwan, bore the brunt of compromised exports and consumption resulting from the war and supply chain disruptions. These challenges contributed to the decline in the UHNW population. UHNW individuals are those with a net worth exceeding $30 million, as defined by the study.
Wealth Comparison: Asia vs. Europe
Despite the decline, Asia's combined net worth of its super-rich population remained substantial at $12.13 trillion, surpassing Europe's total of $11.73 trillion. Europe recorded the second-largest regional decline, with a 7.1% fall in the number of high net worth individuals. The report identified the "direct fallout" from Russia's invasion of Ukraine as a significant factor contributing to this decline. Inflationary pressures resulting from Moscow's manipulation of energy supplies further exacerbated the situation.
North America's Declined and Gains in Other Regions
North America, known as the world's largest ultra-wealth market with a combined net worth of $16.47 trillion, also experienced a decline, albeit a milder one, with a 4% fall in its UHNW population to 142,990 individuals. This decline was primarily attributed to the aggressive rate-hiking cycle initiated by the U.S. Federal Reserve in March 2022, driven by soaring inflation rates.
In contrast, the Middle East, Latin America, and the Caribbean saw remarkable increases in their UHNW populations. The Middle East recorded a 15.7% surge in ultra-rich individuals, mainly driven by a spike in commodity prices. Latin America and the Caribbean experienced a 17.5% rise.
Among the top 10 UHNW locations mentioned in the report, only India witnessed a rise in its UHNW population. India's robust economic growth, with a 7.8% expansion in the June quarter, underpinned a 3% increase in its UHNW individuals. India is among the world's fastest-growing economies in 2022.
Globally, the ultra-wealthy population declined by more than 5.4%, marking the first annual decrease in four years. A surge in inflation triggered aggressive monetary policy tightening, leading to a reevaluation of capital market risk and returns. Despite recent volatility, Altrata anticipates a rise in the global UHNW population over the next five years, reaching 528,100 individuals from the current 395,070. Asia is expected to contribute significantly to this increase, while North America will continue to lead as the world's top super-wealthy region.