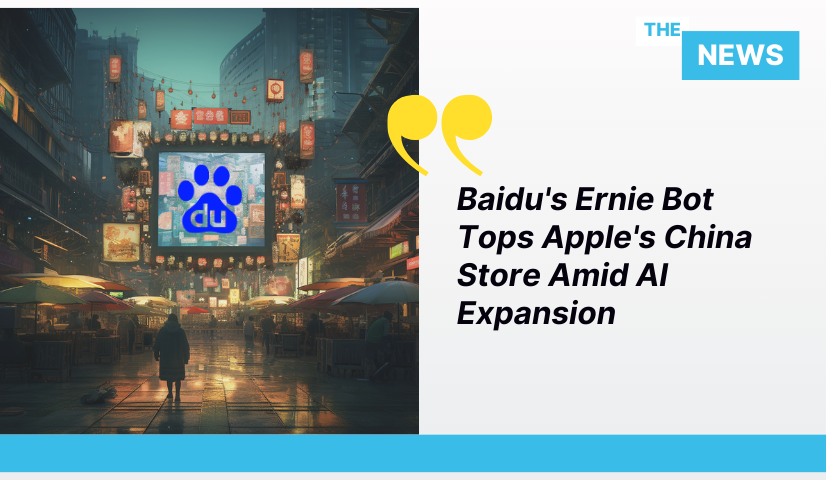 Key Takeaways

Baidu's Ernie Bot dominates Apple's China store, reflecting AI chatbot expansion.

China greenlights AI chatbots' public launch, boosting tech shares.

Accelerated AI efforts align with China's competition drive against the US tech sector.
Baidu's Ernie Bot: A Dominant Force on China's App Store
Baidu's Ernie bot has emerged as the reigning champion on Apple's app store in China, following the tech giant's announcement of the chatbot's public release. This milestone resonates as Baidu's Hong Kong-listed shares surge by over 3% in morning trade.
The ascent of Ernie bot signals a pivotal green light from Beijing and underscores a more lenient stance on artificial intelligence (AI) policies. Introduced on March 16, Ernie bot's initial access was confined to Baidu's business partners and early waitlist members, surpassing 1.2 million individuals. Notably, the prior requirement of entering a Chinese ID number for access was lifted, granting broader availability.
China's AI Scene: Navigating Policy and Innovation
In response to OpenAI's ChatGPT's worldwide popularity, Chinese companies rapidly unveil generative AI projects. Baidu's Ernie bot and similar innovations gained prominence. However, access to ChatGPT remains restricted in China, in line with Google and Facebook limitations.
Despite regulatory control, China's leadership emphasizes fostering domestic technology, with AI taking center stage. An "interim regulation" for managing generative AI services came into effect on August 15, offering a more innovation-friendly approach. The rules exempt AI tech development from regulations if the product isn't accessible to the general public.
AI Race: Competition and Industry Dynamics
As China allows Baidu and others to launch AI chatbots, tech shares, including Baidu and SenseTime, surge. This aligns with China's strategic focus on nurturing its AI industry to compete with the United States. Companies like Baidu and SenseTime have introduced their AI chatbots, reflecting China's growing AI push.
China's landscape has shifted, enabling companies to enhance AI products' features and extend marketing, without requiring prior government approval for products targeting businesses. This flexibility propels AI testing expansion.
AI's Future in China: Opportunities and Consolidation
China's accelerated AI adoption is poised to reshape the industry. Industry experts foresee potential consolidation as companies with robust data and technical capabilities advance. Greenlighting AI products reflects China's intent to foster innovation and remain competitive globally.
The first-mover advantage could enable fine-tuning and rapid product enhancement. Analysts anticipate the AI sector to evolve, fostering a wave of innovation and technological prowess.