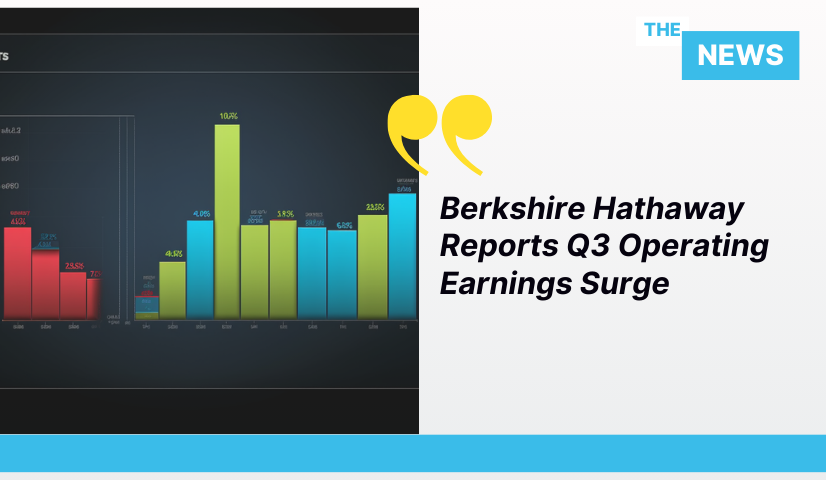 Key Takeaways

Berkshire Hathaway reports a substantial increase in Q3 operating earnings, driven by its wholly-owned businesses.
The conglomerate holds a record level of cash at $157.2 billion due to a lack of attractive investment opportunities.
Warren Buffett's company posted investment losses of $24.1 billion, primarily attributed to a decline in its Apple stake.
Berkshire Hathaway's Strong Q3 Earnings
Berkshire Hathaway, led by Warren Buffett, has reported impressive operating earnings for the third quarter, reflecting substantial growth in profits from its wholly-owned businesses. The conglomerate's quarterly operating earnings reached $10.761 billion, marking a 40.6% increase from the $7.651 billion earned in the same quarter the previous year.
At the end of September, Berkshire Hathaway held a record amount of cash, totalling $157.2 billion. This figure exceeded the high of $149.2 billion set in the third quarter of 2021. The company's substantial cash holdings reflect a lack of attractive dealmaking opportunities for Warren Buffett, often referred to as the "Oracle of Omaha."
Warren Buffett's strategy has involved investing in short-term Treasury bills with at least 5% yields, taking advantage of surging bond yields. The conglomerate's investments in such short-term Treasury bills amounted to $126.4 billion by the end of the third quarter, a significant increase from approximately $93 billion at the end of the previous year.
Share Buybacks and Stock Performance
During the quarter, as Berkshire Hathaway's Class A shares reached a record high, share buyback activity slowed down. The company spent $1.1 billion to repurchase shares, bringing the total buybacks for the nine months to approximately $7 billion. Berkshire Class A shares have shown strong performance, rallying nearly 14% over the year. However, they experienced a 6% decline from their peak after reaching an all-time high on September 19.
Geico and BNSF Performance
Within Berkshire Hathaway's insurance empire, Geico, often considered the crown jewel, reported another profitable quarter with underwriting earnings of $1.1 billion. The auto insurer is undergoing a turnaround effort to regain the market share it had lost to competitors, primarily Progressive.
On the other hand, BNSF, the conglomerate's railroad division, faced a 15% decline in earnings during the quarter due to lower volumes and increased costs.
Investment Loss and Long-Term View
Berkshire Hathaway reported a substantial investment loss of $24.1 billion in the third quarter, primarily due to a significant Apple stake decline. While this may concern some investors, the company urged them to look beyond quarterly fluctuations in its equity portfolio. It emphasized that such short-term variations often provide misleading figures for net earnings per share, particularly for those with limited knowledge of accounting rules.
Challenges and Uncertainties
Berkshire Hathaway acknowledged the negative economic impacts of the pandemic, geopolitical risks, and inflation pressures. The conglomerate highlighted that its operating businesses had been affected to varying degrees by actions to mitigate the economic consequences of COVID-19 and geopolitical conflicts. Supply chain disruptions and government measures to combat inflation also posed challenges. However, Berkshire stated that it's difficult to reasonably estimate the long-term economic effects of these events at this time.