Key Points

The Wall Street Journal reported today, citing anonymous sources, that the Biden administration is contemplating a new export ban on artificial intelligence (AI) chips to China. The US Department of Commerce may implement these sanctions as early as July, raising concerns over national security.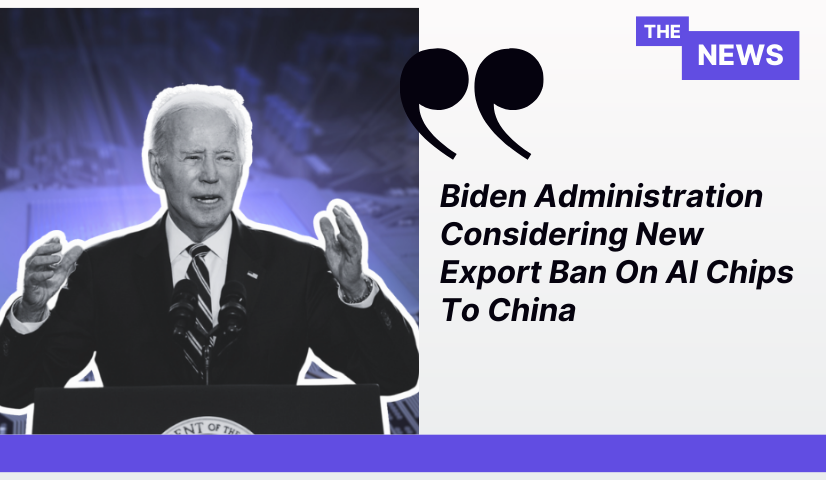 Concerns over China's AI Technological Dominance
The United States is deeply concerned about China's rapid development in AI technology and fears falling behind. In October of last year, the US announced export control measures to block Nvidia and Advanced Micro Devices from exporting advanced AI chips to China. Consequently, Nvidia was unable to ship a substantial number of its A100 chips to China, let alone its latest and more powerful H100 chips introduced this year.
However, according to insider sources, the new regulations being developed by the US Department of Commerce for July might even prohibit the sale of A800 chips to China without permission. Additionally, the Biden administration plans to restrict companies from providing cloud services to AI enterprises in China. This move aims to prevent Chinese companies from circumventing Washington's export control measures.
China's Underground Market for A100 and H100 Chips
Shenzhen's Huaqiangbei has gained the titles of "China's Electronics First Street" and "Parallel Import Street" due to its reputation as a hub for electronic components and products. If you are looking for any electronic parts or products, there is a 99% chance you'll find them there. Foreign media outlets have visited this location and witnessed the circulation of top-of-the-line A100 and H100 chips. However, the prices are twice the market rate. During interviews, local Chinese suppliers even shared information about the sources of chip supply.
Nevertheless, these limited quantities of AI chips circulating in the Chinese market do not seem to have raised concerns within the US government. The influx of these chips alone is far from sufficient to meet China's goals of building a new AI ecosystem or establishing complex language models.