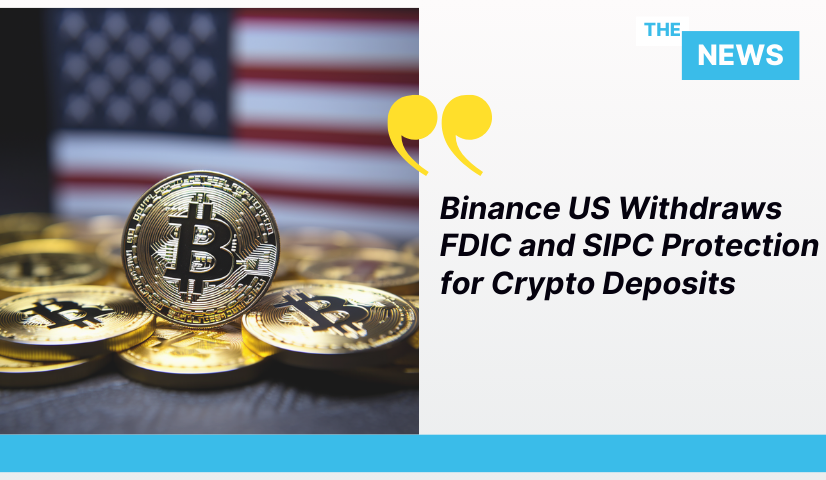 Key Takeaways
Binance US discontinues FDIC and SIPC protection for crypto deposits, requiring users to convert their funds to digital assets for withdrawals.
The move aligns with regulatory concerns, echoing the FDIC's warning about the unique risks of cryptocurrencies and the lack of insurance for crypto-based deposits.
Reevaluating Safety Measures
In a significant policy shift, Binance US, a major cryptocurrency exchange, has announced the removal of Federal Deposit Insurance Corporation (FDIC) and Securities Investor Protection Corporation (SIPC) protection for cryptocurrency deposits. Users were informed of this change via email. The new terms of service stipulate that users must convert their U.S. dollars into digital assets, such as stablecoins like USDT or USDC, or other cryptocurrencies before making withdrawals.
Diverging from Previous Claims
This move marks a stark departure from Binance US's earlier claim in 2019, where it asserted that it provided FDIC insurance coverage of up to $250,000 per account. It also contrasts with the approach of rival exchange Coinbase (NASDAQ:COIN), which continues to offer FDIC insurance up to $250,000, contingent on the accuracy of customer information.
Aligning with Regulatory Warnings
The decision appears to be in line with the FDIC's recent warning within its Annual Risk Review, highlighting the unique risks associated with cryptocurrencies and the absence of deposit insurance when using crypto-based service providers. As per the updated policy, user accounts and digital assets, previously held in pooled custodial accounts, will no longer benefit from FDIC insurance.
The policy revision underscores the fact that digital assets lack the legal tender status or government backing that traditional currencies enjoy. This change comes as Binance US faces mounting regulatory scrutiny from the Securities and Exchange Commission (SEC) and other challenges. The platform has been criticized for limited compliance with a consent order associated with a lawsuit.
Binance CEO's Perspective
Binance CEO Changpeng Zhao, popularly known as "CZ," has expressed his discontent with these regulatory actions. Meanwhile, the SEC has reprimanded Binance.US for inadequate document production related to its operations.
In a related development, Stephen Ehrlich, the former CEO of Voyager Digital, faced charges from the Commodity Futures Trading Commission (CFTC) for falsely claiming FDIC insurance on customer accounts. FDIC insurance was originally established during the Great Depression to safeguard bank depositors, and this move by Binance US signifies a substantial shift in the cryptocurrency industry's approach to safety measures.