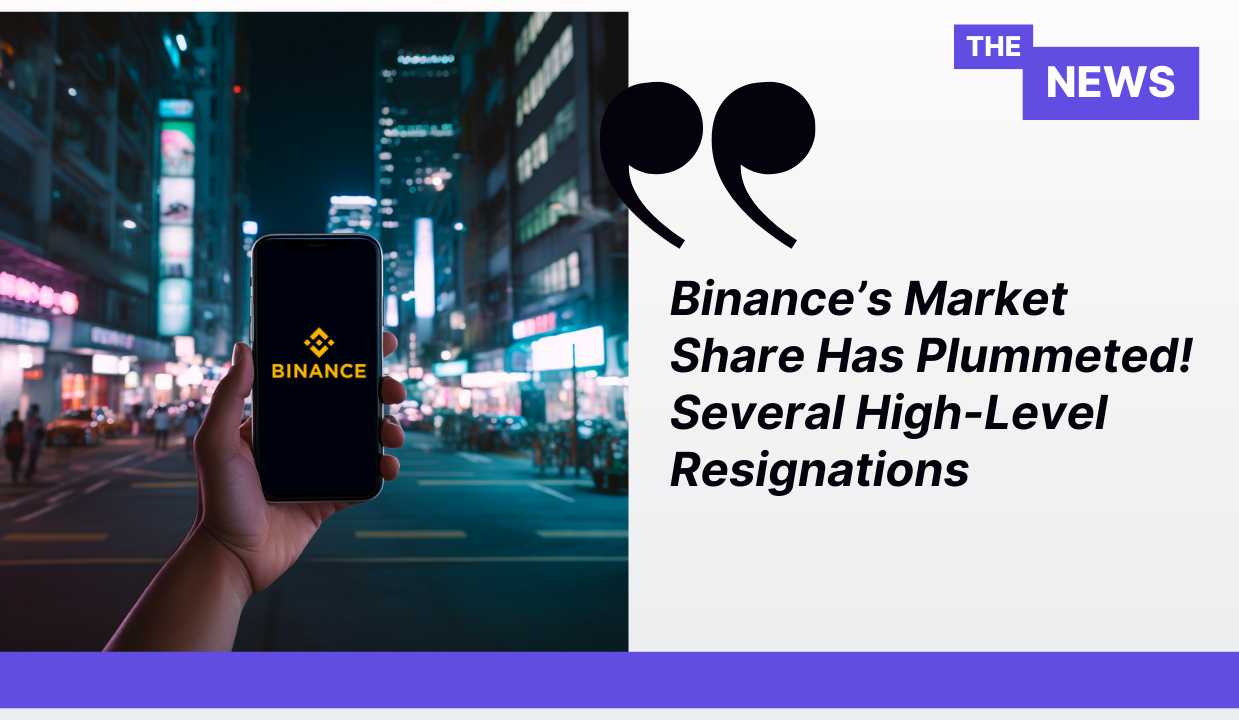 Key Takeaways

Binance has faced a series of challenges this year, including increased regulatory scrutiny in the United States. These challenges have hindered Binance's compliance efforts in Europe, leading to the closure of several European markets, such as the Netherlands, the United Kingdom, and Belgium. As a result, Binance's market share has decreased from 72% in January to 58% currently.
Key Departures and Speculation
Amid these critical times, Binance is experiencing the departure of at least three high-level executives. Han Ng, the Chief Legal Officer, Patrick Hillmann, the Chief Strategy Officer, and Steven Christie, the Deputy Chief Compliance Officer, are among those leaving the company. Additionally, Matthew Price, the Director of Advanced Investigations, and Steve Milton, the Vice President of Global Marketing and Communications, have also recently departed. While Binance's CEO, CZ, and Hillmann have downplayed these departures as routine personnel changes, notable cryptocurrency researcher Adam Cochran has raised concerns about their timing.
Speculations and Possible Investigations
Adam Cochran suggests that these high-level departures may be more significant than initially portrayed. He points out ongoing investigations by the Department of Justice and indicates that lawyers and compliance officers typically resign only when there are serious issues at hand. This speculation adds to the uncertainty surrounding Binance's current situation.
In addition to the high-level departures, rumors of layoffs at Binance have circulated since early June, with estimates suggesting a workforce reduction of around 20%. With a current total of 8,000 employees, this could result in approximately 1,600 individuals leaving the company. Binance has stated that these actions are part of normal organizational adjustments, but recent reports suggest that layoffs have indeed occurred, including among employees in the United States.
The combination of regulatory challenges, high-level departures, and potential workforce reductions has raised concerns about Binance's future stability. Adam Cochran highlights the importance of addressing key questions and avoiding complacency in the industry to prevent further difficulties. The coming weeks will likely shed more light on Binance's ability to navigate these challenges successfully.