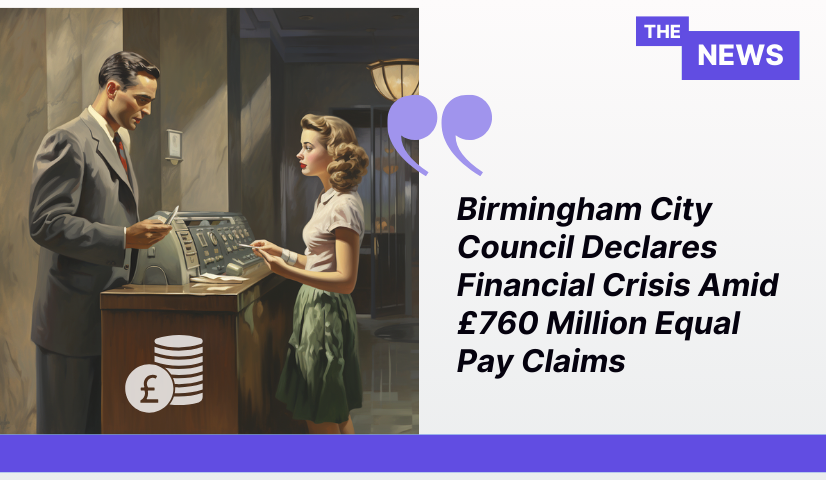 Key Takeaways

Birmingham City Council, Europe's largest local authority, has declared a financial crisis, primarily driven by historic equal pay claims totaling £760 million.
The council, serving over 1 million residents, faces severe financial strain alongside other UK local authorities grappling with rising social care costs and reduced income.
Birmingham City Council's Financial Crisis
Birmingham City Council, the largest local authority in Europe, has issued a section 114 notice, effectively declaring itself in a state of financial crisis. The Labour-run council, responsible for serving over one million residents in the UK's second-largest city, attributes this crisis to "unprecedented financial challenges."
A significant contributor to this crisis is the necessity to settle historic equal pay claims, amounting to a staggering £760 million. This sum surpasses the council's annual budget for providing essential services.
The council acknowledges that it implemented "rigorous spending controls in July" but deems the section 114 notice a necessary step toward stabilizing its financial position.
Financial Stress Across Local Authorities
Birmingham City Council's predicament mirrors the financial stress experienced by local authorities across England and Wales. Rising social care costs, soaring inflation, and declining income have created a total funding gap expected to reach £2 billion or more in the current financial year, as reported by the Local Government Association.
In July, this representative body warned that councils were struggling to meet increasing demand for essential services while also complying with the legal obligation to balance their budgets.
Immediate and Long-Term Budget Shortfalls
Last month, Birmingham City Council revealed budget shortfalls of £87.4 million for the fiscal year 2023-24, with projections rising to £164.8 million in 2024-25. To address these challenges and seek assistance from the UK government to stabilize their financial outlook, the council has committed to significantly reduce spending, focusing on essential services.
Other local councils, including Thurrock and Woking, have been compelled to take similar measures in recent months.
Birmingham City Council is under added strain due to a settlement it reached after a 2012 Supreme Court ruling. The ruling found that the council had discriminated against hundreds of female employees, depriving them of bonuses granted to male counterparts in traditionally male-dominated roles.
While the council has already disbursed approximately £1.1 billion due to this ruling, it announced in June that it had uncovered an additional liability ranging from £650 million to £760 million. The ongoing monthly costs related to these claims, between £5 million and £14 million, exceed the council's available resources, including reserves.
The Impact on Birmingham's Future
Birmingham City Council, in recent years, has overseen a massive regeneration plan funded by public and private investments. This initiative has revitalized former industrial areas, contributing to the city's economic growth, particularly in the technology sector.
However, the financial challenges now faced by the council threaten to undermine the progress made during this "golden decade" of opportunity. Overspending by the Labour leadership and delayed action on historic pay claims have led to concerns about service cuts and reduced investment, impacting residents and businesses.
Jonathan Carr-West, chief executive of the Local Government Information Unit think-tank, emphasizes that Birmingham's situation is a sobering reminder of the need for careful decision-making. He also questions the consistency and sustainability of the funding system for local authorities, which has pushed many councils toward financial difficulties nationwide.
** Section 114 Definition
"The chief finance officer of a relevant authority shall make a report under this section if it appears to him that the expenditure of the authority incurred (including expenditure it proposes to incur) in a financial year is likely to exceed the resources (including sums borrowed) available to it to meet that expenditure"