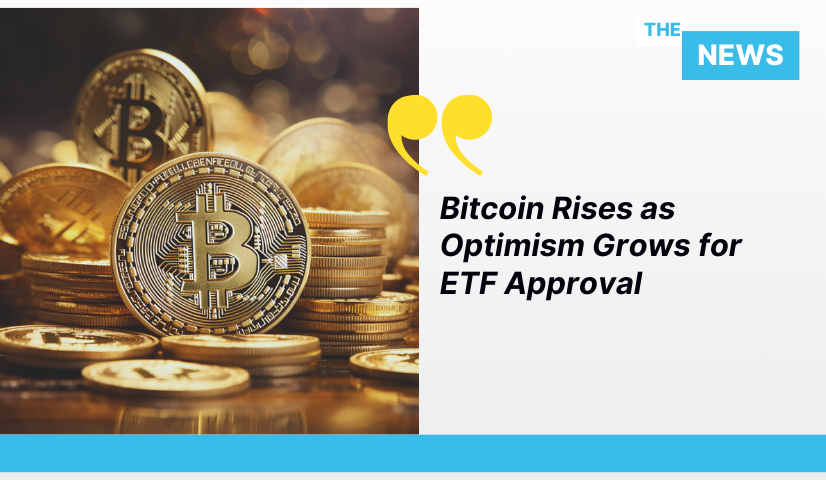 Key Takeaways
Bitcoin's price rises by approximately 5% to $31,384.51, marking its best week since June, driven by growing optimism around the approval of a bitcoin ETF.
High volatility and recent positive comments from industry figures like BlackRock CEO Larry Fink contribute to the cryptocurrency's upward momentum.
Bitcoin has started the week on an upward trajectory, with its price rising approximately 5% to reach $31,384.51, according to Coin Metrics. This surge builds on its recent momentum, making it the cryptocurrency's best-performing week since June. Although Bitcoin has touched the $30,000 level at various points in 2023, it has faced challenges in maintaining that level or making substantial gains, primarily due to increased regulatory scrutiny in the United States, which has impacted liquidity and trading volumes.
Investors are becoming increasingly optimistic about the approval of a bitcoin exchange-traded fund (ETF), with expectations that significant changes may occur by the end of this year or in the first half of 2024. Several firms have recently modified their ETF filings to address earlier concerns raised by the U.S. Securities and Exchange Commission (SEC). These actions are perceived positively by investors, signaling constructive engagement between regulatory bodies and the cryptocurrency industry.
Rise in Volatility and Trading Activity
High volatility in the cryptocurrency market last week played a pivotal role in driving the recent surge in trading activity. A notable event was the occurrence of approximately $100 million in liquidations, which followed the dissemination of a false report claiming the approval of the BlackRock bitcoin ETF. The week's volatility ended with Bitcoin's price reaching the $30,000 mark, boosted by growing optimism regarding updated ETF filings and positive remarks from influential figures like BlackRock CEO Larry Fink and hedge fund manager Paul Tudor Jones.
According to Matteo Greco, a research analyst at Fineqia, the cumulative daily trading volume on centralized exchanges between October 16 and October 22, based on a seven-day moving average, was the third-highest it has been in the past 60 days. This signifies a substantial increase in trading activity within the cryptocurrency market.
Positive Momentum Across the Cryptocurrency Landscape
The recent price surge in Bitcoin has also had a positive impact on other cryptocurrencies. Ether, another prominent digital asset, experienced a 4.4% increase on Monday, reaching $1,708.60. Additionally, the Solana token, one of the top performers last week, gained 4% in value.
In the stock market, shares of cryptocurrency services provider Coinbase surged by 3.42%, reflecting the overall positive sentiment within the crypto industry. MicroStrategy, a company often viewed as a proxy for Bitcoin investments, saw an impressive 8.46% advance in its stock value.
Furthermore, Bitcoin miners, who frequently benefit from rising cryptocurrency prices, have witnessed gains. Marathon Digital and Riot Platforms, two of the largest mining stocks, reported increases of 12.76% and 9.02%, respectively, contributing to the overall positive momentum in the cryptocurrency market.