Key Takeaways

Billionaire investor Tim Draper's prediction that bitcoin would reach $250,000 by June 2023 did not materialize.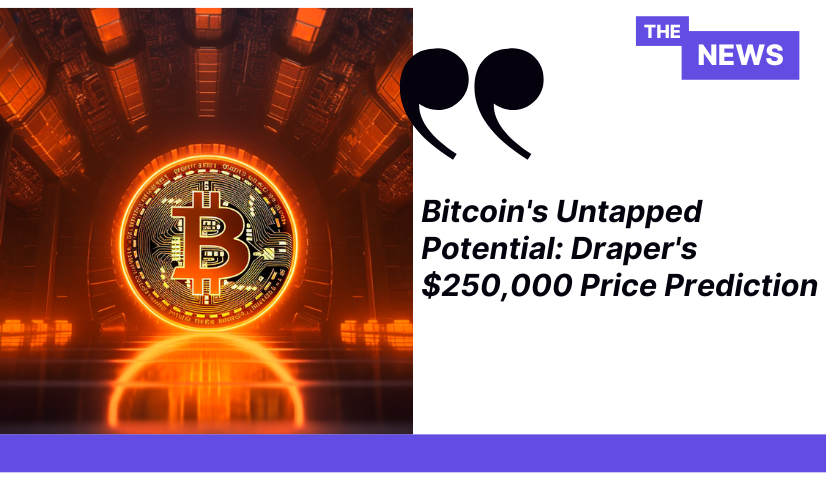 Renowned investor Tim Draper is doubling down on his belief in bitcoin's intrinsic value and revolutionary potential. Despite recent setbacks, Draper remains steadfast in his conviction that the cryptocurrency and its underlying technology hold immense value. In this article, we explore Draper's early recognition of bitcoin's significance, his vision for its future, and his ongoing commitment to shaping the crypto industry.
Draper's Vision for Streamlined Operations
According to Draper, bitcoin is not just a currency but a game-changer in the way operations are conducted. He praises its efficacy and efficiency, envisioning a future where he can exclusively utilize bitcoin for fundraising, investments, payments, and even taxes. By leveraging blockchain technology, Draper foresees a streamlined process that eliminates the need for traditional accounting, auditing, and bookkeeping. This approach ensures transparency and integrity throughout the entire system.
Early Recognition of Bitcoin's Significance
Draper's involvement in the cryptocurrency space dates back to 2013 when he astutely recognized the significance of bitcoin following the infamous collapse of the Mt. Gox exchange. In a revealing interview in 2014, he disclosed that he purchased 30,000 bitcoins after the incident, displaying his foresight and confidence in the cryptocurrency. Since then, Draper has emerged as a staunch supporter and investor in bitcoin and various related projects. He has actively led multiple funding rounds for startups operating in the crypto industry.
Optimism for Bitcoin's Future
Despite the current market disparity from Draper's earlier bitcoin predictions, he remains undeterred in his optimism for the cryptocurrency's future. While regulatory challenges have presented obstacles, Draper's unwavering belief in bitcoin's intrinsic value and revolutionary potential remains unshaken. His continued involvement in the crypto space and ongoing investments in related ventures underscore his commitment to driving the growth and success of the industry.
Tim Draper's unwavering faith in bitcoin's intrinsic value and revolutionary power sets him apart as a prominent figure in the crypto space. His vision for streamlined operations and commitment to shaping the industry's future showcases his dedication to bitcoin's untapped potential. Despite the challenges, Draper's ongoing involvement and investments demonstrate his conviction that bitcoin will continue to revolutionize the way we conduct financial transactions and reshape traditional systems.