Key Points
Reports have emerged that BlackRock, the world's largest asset management company, is preparing to submit an application for a Bitcoin exchange-traded fund (ETF).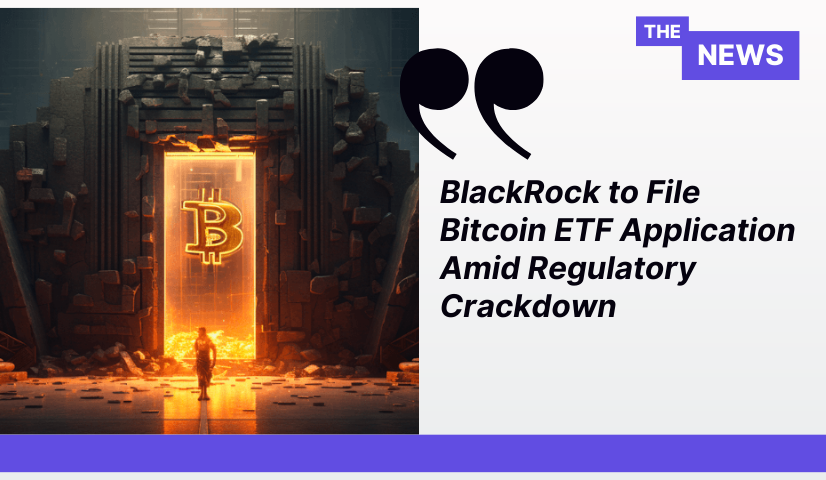 BlackRock's Bitcoin ETF Application
BlackRock plans to utilize Coinbase Custody to hold the assets for this ETF, and the pricing will be based on the spot market data from cryptocurrency exchanges. The partnership between BlackRock and Coinbase began in mid-2022, enabling institutional investors to directly engage with cryptocurrencies.
The Nature of the ETF and Regulatory Background
The specific nature of the proposed ETF, whether it will be based on the spot market or futures contracts, remains unclear at this stage. It is worth noting that the SEC has rejected all applications for Bitcoin spot market ETFs but has approved several Bitcoin futures ETFs.
Navigating Regulatory Challenges
The regulatory landscape surrounding cryptocurrencies has posed significant challenges for market participants. The SEC has been cautious about approving ETFs directly tied to the spot market due to concerns over market manipulation and investor protection. However, the approval of Bitcoin futures ETFs indicates a willingness to engage with cryptocurrency products in a regulated environment.
BlackRock's Move: A Vote of Confidence
BlackRock's decision to pursue a Bitcoin ETF application signifies its confidence in the future of the crypto market, despite regulatory hurdles. As the largest asset manager globally, BlackRock's involvement in the crypto space is likely to have a substantial impact and could potentially attract more institutional investors.
The Potential Benefits of a Bitcoin ETF
If approved, a Bitcoin ETF would provide investors with a regulated and accessible vehicle to gain exposure to Bitcoin's price movements without directly owning the underlying asset. This could potentially open the doors for a broader range of investors to participate in the cryptocurrency market.
The Role of Coinbase Custody
Coinbase Custody's involvement in BlackRock's ETF venture further solidifies its position as a trusted and reliable custodian for digital assets. The partnership highlights the growing integration of traditional financial institutions with cryptocurrency infrastructure providers.
The Impact on the Crypto Market
BlackRock's entry into the crypto market through a Bitcoin ETF could have a positive effect on market sentiment. It may help to legitimize cryptocurrencies further and pave the way for increased institutional adoption, potentially leading to increased liquidity and stability in the market.
The approval of a Bitcoin ETF would offer investors a regulated avenue to engage with Bitcoin, potentially attracting a broader range of market participants. As the crypto market evolves, navigating the regulatory landscape will be crucial to ensure the continued growth and integration of cryptocurrencies into traditional financial systems.