Investors React, Bond Yields Soar, and Williams Hints at More: What's Shaking the Market?
Key Points

June's ADP report reveals a significant surge in US job numbers, surpassing expectations with a robust increase of 497,000. However, there is a slowdown in wage growth in consumer-facing service industries, raising concerns about sustained hiring and economic momentum.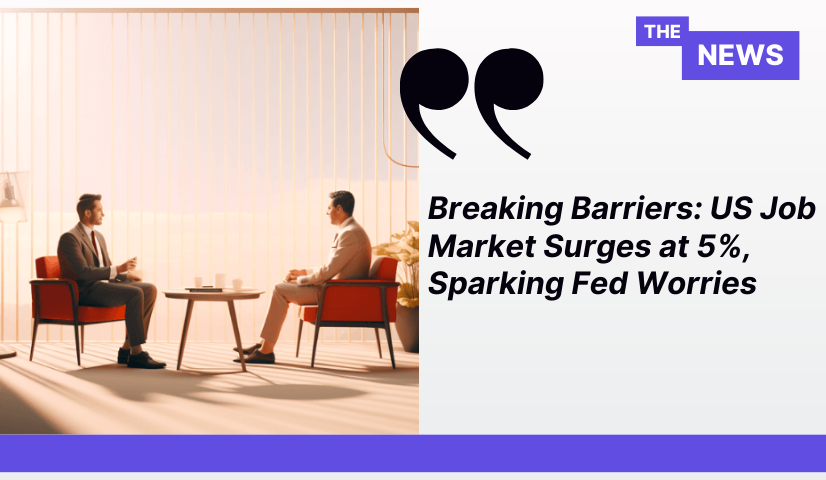 In the fast-paced world of finance and technology, recent events have sent shockwaves through the US job market and the Federal Reserve, leaving investors on the edge of their seats. Let's dive into the exciting details and see how these developments are causing a stir in the market.
Market Frenzy: Bond Yields Skyrocket, Investors React
The release of the latest employment data has sent investors into a frenzy, with expectations of a bolder stance from the Federal Reserve. Anticipating higher interest rates, investors wasted no time in offloading their sensitive assets. The yield on the US two-year Treasury note, which reflects rate expectations, surged to an astonishing 5.084%, hitting levels not seen since 2007. As if that wasn't enough, the yield on the ten-year Treasury note broke through the psychological 4% barrier, rising by 10 basis points to reach 4.05%.
Fed's Bold Move: Williams' Hints and Surprising Consensus
When it comes to the Federal Reserve's outlook, things are heating up. The minutes from the June meeting showed a surprising consensus among decision-makers. While the federal funds rate remained unchanged, the majority of officials voiced their support for continued rate hikes throughout the year. Tight labor market conditions and stronger-than-expected economic growth were key factors driving this hawkish sentiment. Notably, John Williams, the Vice Chair of the Federal Open Market Committee (FOMC), spoke out, emphasizing that the decision to hold rates steady in June was the right call. He even hinted at the possibility of future rate hikes, highlighting the central bank's ongoing efforts to balance supply and demand and mitigate inflation risks.
Strong Job Market, Lingering Concerns
Despite the US job market displaying strength, thanks to robust job growth in June according to the ADP employment report, concerns are looming. The Fed's hawkish tone in the June meeting minutes has raised worries about the potential for an extended period of higher interest rates. This apprehension, coupled with rising bond yields and discussions of future rate hikes, has left a mark on major stock indices. Clearly, the Fed faces the daunting task of managing the delicate balance between economic growth, employment, and inflation.
In this ever-evolving landscape, investors are anxiously watching the job market and the Federal Reserve's every move. With bond yields soaring and the prospect of further rate hikes on the horizon, it's clear that the market rollercoaster ride is far from over. Stay tuned as we continue to unravel the twists and turns that shape the world of finance and technology.