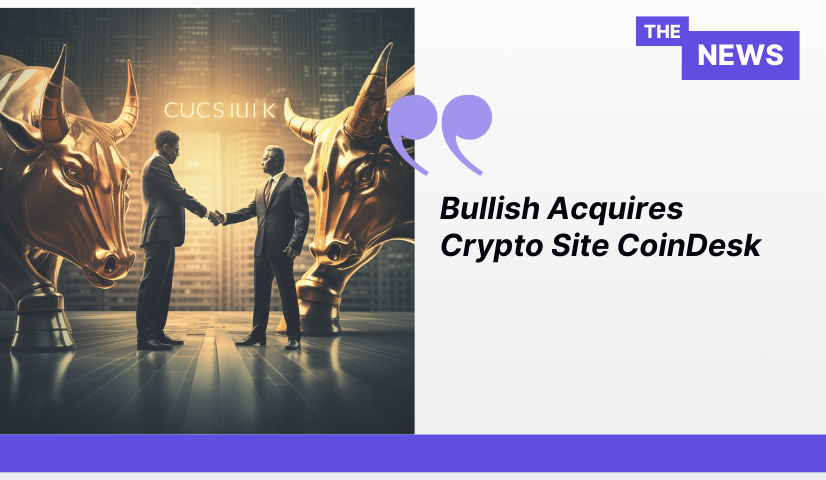 Key Takeaways

Bullish, under ex-NYSE head Tom Farley, buys CoinDesk from DCG.
The deal reflects the changing landscape in the crypto industry.
Acquisition of CoinDesk by Bullish
CoinDesk, a prominent cryptocurrency news site, has been acquired by Bullish, a digital asset exchange spearheaded by former New York Stock Exchange president Tom Farley. The purchase from Barry Silbert's Digital Currency Group (DCG) signifies the ongoing disintegration of Silbert's crypto empire.
Under the new ownership, CoinDesk will function as an independent subsidiary of Bullish. Although the financial details of the all-cash deal were not disclosed, reports suggest a significant value, considering DCG's earlier acquisition of CoinDesk for $500,000 in 2016.
Turbulence in CoinDesk's Sale History
CoinDesk's journey to the sale witnessed several twists, including a failed $125 million purchase agreement and the dismissal of around 16% of its staff. Farley's Bullish plans to infuse capital into CoinDesk to aid its expansion, highlighting the site's strategic importance.
Barry Silbert lauded CoinDesk as one of DCG's most successful investments. The acquisition includes measures to ensure CoinDesk's journalistic independence, with Matt Murray, a former editor-in-chief of The Wall Street Journal, leading a new editorial committee.
CoinDesk's Impact in the Crypto Universe
CoinDesk gained prominence for exposing discrepancies in Sam Bankman-Fried's Alameda Research, a revelation that triggered the downfall of the crypto exchange FTX. This reporting significantly influenced the broader crypto industry.
The fallout from the FTX crisis adversely affected Genesis, a DCG-owned crypto lender, leading to its bankruptcy filing. Genesis is also embroiled in legal challenges, including a lawsuit against DCG to recover substantial unpaid loans.
Challenges at Grayscale Investments
DCG's flagship, Grayscale Investments, faces its struggles managing the Grayscale Bitcoin Trust (GBTC). The firm is grappling with converting GBTC into a spot bitcoin exchange-traded fund, amidst concerns about future profitability.
Silbert and Farley: Contrasting Fortunes
As Barry Silbert's influence in the crypto sector wanes, Tom Farley's stature appears to be ascending. Bullish's acquisition of CoinDesk and its bid for FTX's remnants signify Farley's growing prominence in the industry.
SEC Chair Gary Gensler's comments underscore the need for legal compliance and ethical practices in the crypto space, highlighting the importance of trustworthy leadership in revitalizing platforms like FTX under new management.