Key Points

Central bank chiefs worldwide prioritize curbing inflation for resilient growth. Powell remains open to consecutive rate hikes, Lagarde confirms upcoming eurozone hike. Bailey focuses on tackling UK price growth, while Kuroda maintains rates due to low inflation. Resilience hinges on inflation control.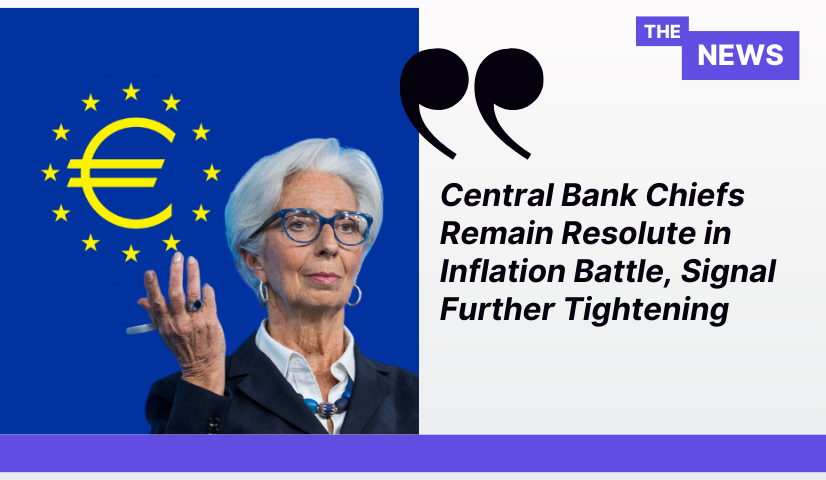 Leaders of the world's top central banks expressed their unwavering determination to combat persistent inflation during the recent European Central Bank (ECB) forum. Federal Reserve Chair Jerome Powell, ECB President Christine Lagarde, and Bank of England Governor Andrew Bailey all emphasized their confidence in reining in rising inflation rates. However, Bank of Japan Governor Haruhiko Kuroda took a different stance, citing low inflation as the reason for maintaining unchanged interest rates. In this article, we delve into the central bank leaders' perspectives and their strategies to achieve their inflation targets.
Powell Leaves Room for Consecutive Rate Hikes
Federal Reserve Chair Jerome Powell maintained an optimistic outlook on curbing inflation, stating that the current monetary policy might not be sufficient in both degree and duration. He did not rule out the possibility of consecutive rate increases in two consecutive meetings. Powell also expressed concerns about the risks associated with prolonged periods of sustained inflation, predicting that the core Personal Consumption Expenditures (PCE) price index would not decline to 2% until 2025.
Lagarde Confirms ECB's Plan for Rate Hike
ECB President Christine Lagarde cemented expectations for the ninth consecutive rate increase in the eurozone, scheduled for next month. Lagarde stressed the need for more evidence of stabilizing and decreasing domestic prices, indicating that the fight against inflation is far from over. While acknowledging the possibility of a recession, Lagarde clarified that it was not the ECB's baseline expectation for the flatlining eurozone economy.
Bailey's Commitment to Tackle UK Inflation
Bank of England Governor Andrew Bailey assured the public that the bank would take all necessary measures to address persistent price growth in the United Kingdom. With the UK facing the highest inflation rate among G7 countries, market expectations suggest that the Bank of England may raise rates to 6.25% by the end of the year. Bailey, however, expressed caution, stating that it remains to be seen if market bets would prove correct.
Kuroda's Contrarian View on Inflation
Bank of Japan Governor Haruhiko Kuroda offered a different perspective, citing low inflation as the reason for keeping interest rates unchanged. Nevertheless, Kuroda did not rule out adjusting monetary policy if the central bank became confident that the inflation rate would reach 2% in the next year. Kuroda's stance differs from his counterparts in the US, Europe, and the UK, who are actively tightening policies to combat inflation.
Central bank leaders remain resolute in their mission to tame inflation, even if it means enduring a challenging period. While Powell, Lagarde, and Bailey express confidence in their strategies, Kuroda's approach deviates due to the persistently low inflation in Japan. 
As the world watches the outcomes of their respective policies, it is clear that central banks continue to prioritize curbing inflation, ensuring stable economic growth and resilience in the face of potential recessions.