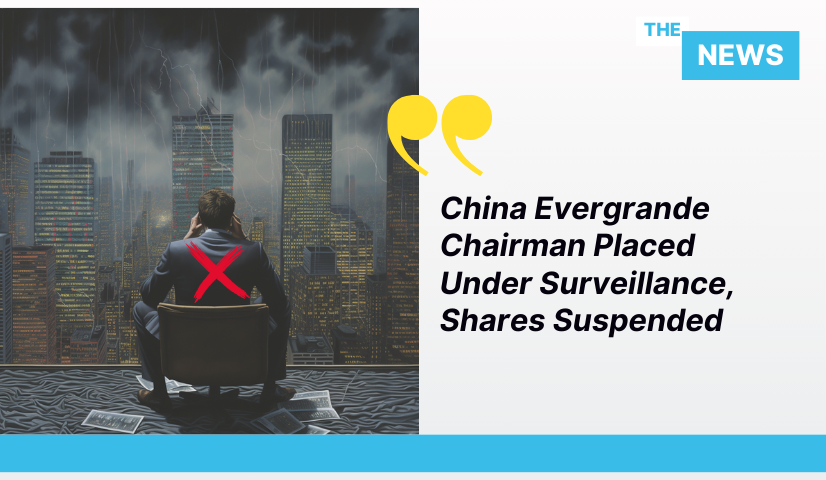 Key Takeaways
China Evergrande's shares were suspended after reports surfaced that its chairman, Hui Ka Yan, had been placed under police surveillance.
The property giant faces growing concerns about its future as it grapples with a massive debt crisis and an investigation into its main China unit.
China Evergrande's Trading Suspended
On Thursday, trading in shares of China Evergrande was suspended, adding to the company's mounting woes. This development follows reports that its chairman, Hui Ka Yan, had been placed under police surveillance. Evergrande, a major player in China's property sector, is already facing significant challenges, including a debt crisis and investigations.
Chairman Under Police Surveillance
The suspension of trading came in response to a Bloomberg News report revealing that Hui Ka Yan, who founded Evergrande in 1996, had been taken into custody by the police earlier in the month. He is reportedly under surveillance at a designated location. The reasons for this surveillance remain unclear, and Reuters has been unable to independently verify this information.
China Evergrande has been at the center of a deepening debt crisis, with liabilities exceeding $300 billion, roughly equivalent to Finland's GDP. This crisis has raised concerns about the stability of China's property sector, which contributes significantly to the country's economy.
Mounting Risks of Liquidation
The situation for Evergrande worsened this week when the company announced it couldn't issue new debt due to an investigation into its primary China unit. A group of offshore creditors is reportedly considering joining a liquidation court petition against Evergrande if a new debt restructuring plan is not submitted by the end of October. This adds to the growing risks of the company facing liquidation.
The suspension of trading in Evergrande's shares highlights the increasing uncertainties surrounding the property giant's future. With its massive debt burden and ongoing investigations, Evergrande's ability to navigate these challenges remains in question, impacting not only the company but also China's property sector as a whole.