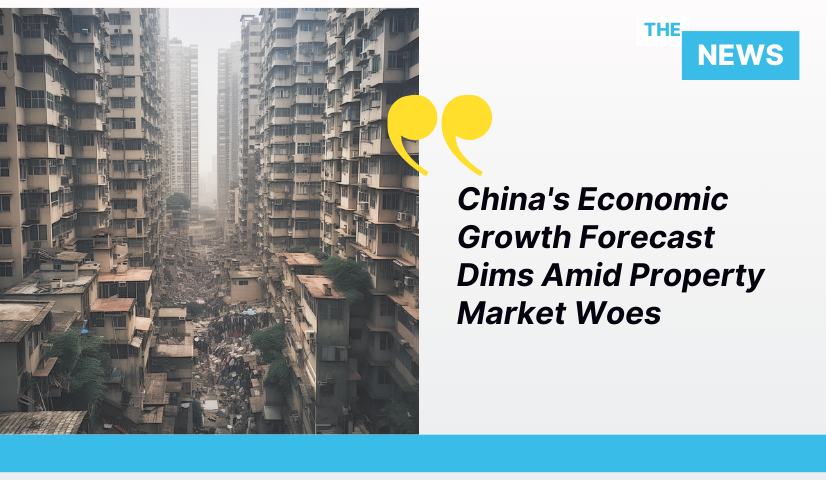 Key Takeaways

China's economic growth for this year is expected to be 5.0%, lower than the previous forecast of 5.5%, as the property market's downturn and other challenges persist.
The property sector, which plays a significant role in China's economy, is a primary factor contributing to the economic slowdown, posing risks to both domestic and global economic stability.
China's economic outlook has faced a notable downgrade, reflecting ongoing challenges in its property market and broader economic concerns. A recent Reuters poll of 76 analysts revealed that the world's second-largest economy is projected to grow by 5.0% this year, a decline from the previous forecast of 5.5% made in July. These adjustments come amid mounting uncertainties, primarily driven by the struggling property sector.
The property market in China has been a pivotal driver of its economic growth for years. However, this sector is now grappling with significant challenges, leading to its diminishing contribution to overall economic expansion. Julian Evans-Pritchard, Head of China Economics at Capital Economics, noted that "The primary culprit is the property sector. This source of growth has now evaporated and won't be coming back." This has resulted in a rapid deceleration of growth, which experts believe could continue further.
Challenges Facing China's Economy
China's economic challenges extend beyond the property market and include rising youth unemployment, weak consumer demand, and the reluctance of private firms to invest. Policymakers in China are facing considerable hurdles in their efforts to reignite economic growth. While some positive economic indicators have emerged, experts suggest that additional policy support, particularly for the property sector, may be necessary to stabilize the economy.
Economists participating in the Reuters poll anticipate China's economic growth to further decelerate in the coming years. Growth is forecasted to slow to 4.5% in the next year and 4.3% in 2025. In the short term, the economy is expected to expand by 4.2% in the current quarter and 4.9% in the next. However, this growth trajectory is projected to decline to just 3.9% in the first quarter of 2024, indicating potential prolonged economic challenges.
Downside Risks and Inflation
The downside risks to China's economic growth outlook are a concern among economists. Factors such as slow household consumption, the property market's slowdown, U.S.-China trade tensions, and shifting global supply chains away from China all contribute to the potential for further economic headwinds. Economists also revised their consumer price inflation forecasts, with expectations of 0.6% for this year and 1.9% for the next, down from previous forecasts.
Policy Response and Future
While there are calls for additional policy support, experts remain cautious about the feasibility of an aggressive economic stimulus package. Local governments, responsible for the majority of expenditures, are constrained by heavy debt burdens, limiting their capacity to provide significant stimulus without further straining their finances.