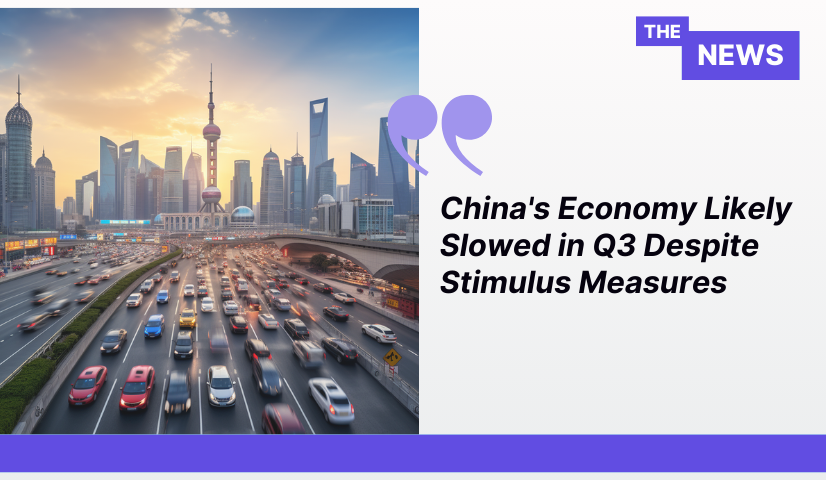 Key Takeaways
China's economy is expected to exhibit a deceleration in the third quarter due to persistent weak demand.
Despite the slowdown, Beijing's implementation of stimulus measures, including public spending, interest rate cuts, and property market support, could bolster the possibility of reaching the full-year growth target.
Data expected to be released on Wednesday is likely to show a slowdown in China's economy during the third quarter of this year. The persistent weakness in demand, coupled with factors such as a property downturn and a significant debt burden from long-standing infrastructure investments, contributed to the economic deceleration. After a brief post-COVID recovery, China's economy encountered challenges in the second quarter.
Stimulus Measures to Bolster Prospects
To counter the slowdown, the Chinese government has introduced a series of measures in recent weeks. These include increased public works spending, interest rate reductions, property market support, and initiatives to strengthen the private sector. These actions aim to stimulate economic growth and improve stability.
Economists polled by Reuters anticipate that China's Gross Domestic Product (GDP) likely grew at a rate of 4.4% in the third quarter, marking a deceleration from the 6.3% pace recorded in the second quarter. This anticipated slowdown is a reflection of the broader economic challenges that China is currently addressing.
Although recent economic data has shown signs of stabilization following modest support measures, economists maintain that additional actions are necessary to reinforce economic activity. Growth is projected to pick up to 4.9% in the fourth quarter, signaling optimism that the economy will recover.
Challenges and Future Prospects
China continues to face declining exports and imports, ongoing deflationary pressures, and concerns in sectors such as employment and household income. Some private firms also exhibit weak confidence. While Beijing has introduced measures to mitigate these challenges, it is maintaining a "wait-and-see" approach to assess the impact of these stimulus measures.
Economic growth for the full year is expected to reach 5.0%, aligning with Beijing's annual target. However, economists foresee a slowdown to 4.5% in 2024. This projection follows a significant contraction in 2020 when the economy grew only by 3% due to COVID-19 containment measures.
Analysts predict that China's central bank will maintain the current reserve requirement ratio (RRR) and benchmark lending rates throughout the remainder of the year. Beijing is also considering an increase in fiscal stimulus to further stabilize economic activity, although the full impact of such measures may only become apparent well into 2024. The central bank's capacity to ease monetary policy is somewhat limited due to concerns about currency depreciation
While China's economy is expected to reflect a third-quarter slowdown, the government's comprehensive stimulus measures offer hope for achieving the full-year growth target. The Chinese economy continues to address challenges in various sectors, with an emphasis on stability and recovery. The future trajectory of economic growth will depend on the effectiveness of these measures and the broader global economic landscape.