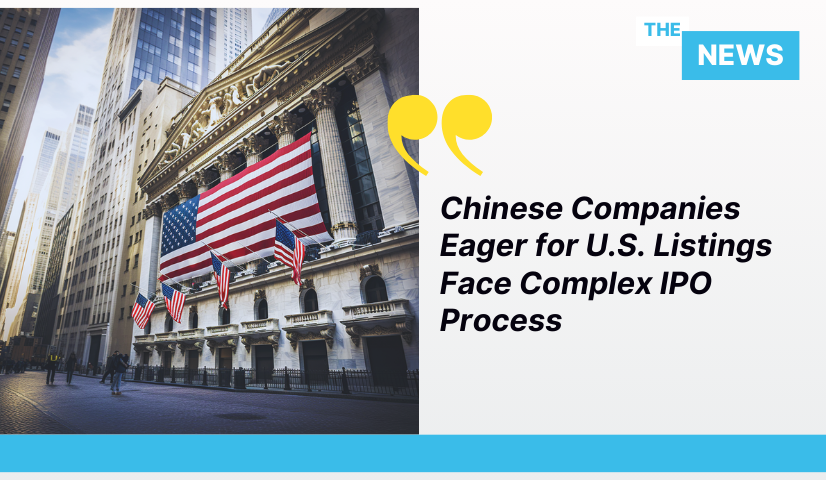 Key Takeaways
Chinese companies maintain a strong interest in U.S. listings despite COVID-19 restrictions and regulatory uncertainty.
New procedures and political tensions have made the U.S. IPO process more challenging for Chinese firms.
Navigating the U.S. IPO Landscape
Chinese companies continue to express a robust desire to list on U.S. stock exchanges, even as the IPO process has grown more intricate. According to Kobe Ge, Head of China at the New York Stock Exchange, despite challenges stemming from COVID-19 restrictions and U.S. regulatory uncertainties in the past, there is a strong interest among Chinese businesses in pursuing U.S. listings. He shared these insights at CNBC's East Tech West conference in Guangzhou, China.
However, Ge highlighted that the IPO process has become less straightforward. In the past, it would take approximately four-and-a-half to five months for Chinese firms to complete a U.S. IPO. Now, due to new procedures, companies need to allocate a 12-month preparation period. New rules by the China Securities Regulatory Commission, implemented since March 31, specify a filing process for domestic companies looking to list in the U.S. or Hong Kong. These measures require compliance with national security protocols and personal data protection laws before going public overseas.
Impact of Political Tensions
The increased complexity of the IPO process is further compounded by rising political tensions between the U.S. and China. Uncertainty regarding regulatory changes and their implications on Chinese companies and investors has become a significant concern. President Joe Biden's executive order in August, which aims to regulate U.S. investments and technology supporting China's development of sensitive tech, has added to the apprehension. These regulations, anticipated to take effect in the coming year, specifically target investment in semiconductors, microelectronics, quantum computing, and certain artificial intelligence capabilities.
Optimism and Focus on Strong Businesses
Despite the challenges, Ge remains optimistic that Chinese listings in overseas markets will rebound, provided that domestic firms focus on building robust businesses. Investors are now more interested in mature business models and predictable profits rather than just high growth. Building a strong business is akin to constructing a seaworthy ship, which can weather various conditions, including regulatory and geopolitical changes.
In addition to Chinese companies' interest in U.S. listings, there is a strong pipeline of firms intending to list on the exchange soon. The new process introduced by the China Securities Regulatory Commission has made these intentions more transparent, allowing a broader audience to track the progress of companies in the listing process.
As of January 2023, there were 252 Chinese companies listed on U.S. exchanges, comprising NYSE, Nasdaq, and NYSE American, with a total market capitalization of $1.03 trillion, as per official data. The U.S. IPO market is also expected to improve in the April to October period next year.
In conclusion, while Chinese companies remain eager to list on U.S. stock exchanges, the process has grown more complex due to new regulatory procedures and political tensions. Despite these challenges, a focus on building strong businesses and the transparency brought by new procedures gives hope for a rebound in overseas listings.