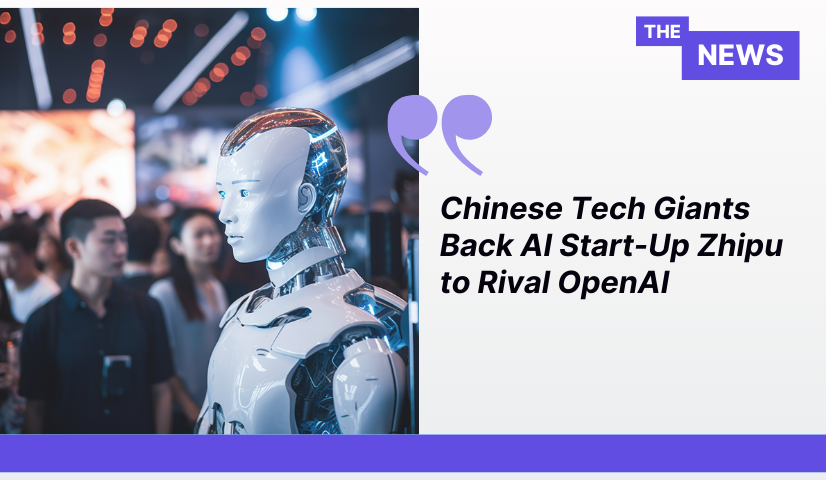 Key Takeaways
Chinese technology giants, including Alibaba and Tencent, are backing Zhipu, a promising AI start-up that aims to challenge OpenAI.
Zhipu has secured over 2.5 billion Chinese yuan ($341 million) in investments this year, with support from prominent venture capitalists and corporate investors.
Boosting China's AI Capabilities
Chinese tech titans, such as Alibaba and Tencent, have thrown their weight behind Zhipu, an ambitious artificial intelligence (AI) start-up seeking to rival the capabilities of American AI giant OpenAI. The company announced that it has successfully raised over 2.5 billion Chinese yuan (equivalent to $341 million) in investments during the current year.
Venture capital giants like Sequoia and Hillhouse have actively supported Zhipu's mission, while corporate investors, including smartphone manufacturer Xiaomi, Alibaba, and Tencent, have contributed to the funding drive. Zhipu represents one of China's most promising start-ups focused on creating AI models trained on extensive datasets, which can serve as the foundation for a wide range of applications.
In August, Zhipu made a significant stride by introducing a generative AI chatbot, leveraging its sophisticated AI models. Generative AI, a cutting-edge technology, enables AI systems to generate responses based on user prompts, enhancing interactions with users.
The Ongoing U.S.-China Tech Battle
This investment announcement by Zhipu coincides with an escalating technology rivalry between the United States and China, with artificial intelligence at the forefront of the competition. China has identified AI as a pivotal technology for its future development, with the potential to significantly boost economic output. As part of its strategic plan, the world's second-largest economy aims to increase its computing power by 50% by 2025, which will be instrumental in advancing AI applications.
Conversely, the United States has adopted measures to limit China's access to critical technologies required for AI model development. Last year, the U.S. implemented regulations that restricted Nvidia from supplying its top-tier A100 and H100 graphics processing units to China. In a recent development, Washington expanded these regulations to encompass additional Nvidia chips. Nvidia holds a dominant position in the graphics processing unit market, a type of semiconductor crucial for training AI models that demand extensive data processing capabilities.
Zhipu represents just one of several Chinese start-ups dedicated to nurturing the nation's AI industry. Many of these emerging companies have secured backing from China's tech giants, further reinforcing the country's position in the global tech race.
Another notable AI start-up, Baichuan, declared this week that it has secured approximately $300 million in investments from backers that include Alibaba and Tencent.
Simultaneously, tech behemoths like Alibaba, Tencent, and Baidu have actively ventured into AI research and product development, underpinned by their AI models. This concerted effort is propelling China toward greater prominence in the global AI landscape, and the support of emerging AI companies like Zhipu plays a crucial role in this advancement.