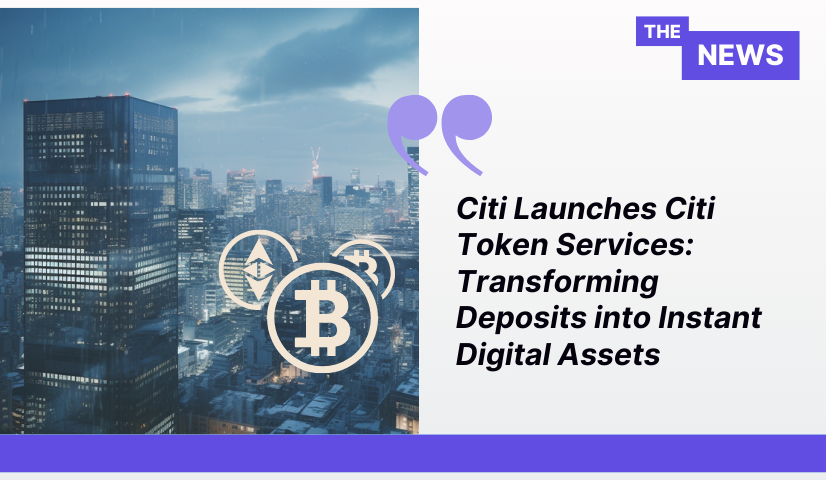 Key Takeaways

Citigroup introduces Citi Token Services to convert customer deposits into globally transferrable digital tokens.
The initiative addresses the delay issues in cross-border remittances, offering real-time settlement and increased efficiency.
Citi Token Services: Revolutionizing Digital Banking
Citigroup, a global financial institution, has unveiled Citi Token Services, a new digital asset initiative designed to convert customer deposits into instant global transferable tokens. This initiative aims to address the challenges of cross-border transactions, offering real-time settlement and enhanced efficiency.
Citi Token Services is housed within Citigroup's Treasury and Trade Solutions division, primarily utilized to optimize cash management and trade financing functions. The global head of this division, Shahmir Khaliq, stated that the service's objective is to provide real-time, cutting-edge transaction banking services to institutional clients.
Overcoming Cross-Border Remittance Delays and Advantages for the Shipping Industry
This innovative token service arrives at a time when the banking industry faces issues related to cross-border remittance delays. Often, transfers can take several days due to differences in working hours and bank holidays across countries. With this new technology, not only will friction be significantly reduced, but immediate settlement will also be assured, greatly enhancing efficiency.
The traditional shipping industry has long grappled with paper-based operations and manual processes. Citigroup has set its sights on trade financing, aiming to provide digital solutions for the industry. For instance, utilizing smart contract technology, shipping companies can now conduct transactions more swiftly without the hassle of cumbersome paperwork. Citigroup has already collaborated with the Panama Canal Authority and A.P. Moller-Maersk A/S to conduct successful tests, demonstrating the feasibility of instant token transfers based on smart contracts.
JPMorgan's Plans for Digital Deposit Tokens
Another major player in the financial sector, JPMorgan, has announced its exploration of digital deposit tokens as a means to enhance efficiency in cross-border payments and settlements. Internal sources suggest that while there is significant potential for efficiency improvement, regulatory approvals are still pending.
Citigroup's launch of Citi Token Services signifies a significant step toward digital transformation in the banking industry. By converting customer deposits into instant digital assets, Citigroup aims to streamline cross-border transactions and trade financing, overcoming delays and inefficiencies. With other major financial institutions like JPMorgan also exploring digital deposit tokens, the financial sector is poised for a transformative shift in the way transactions are conducted and settled across borders.