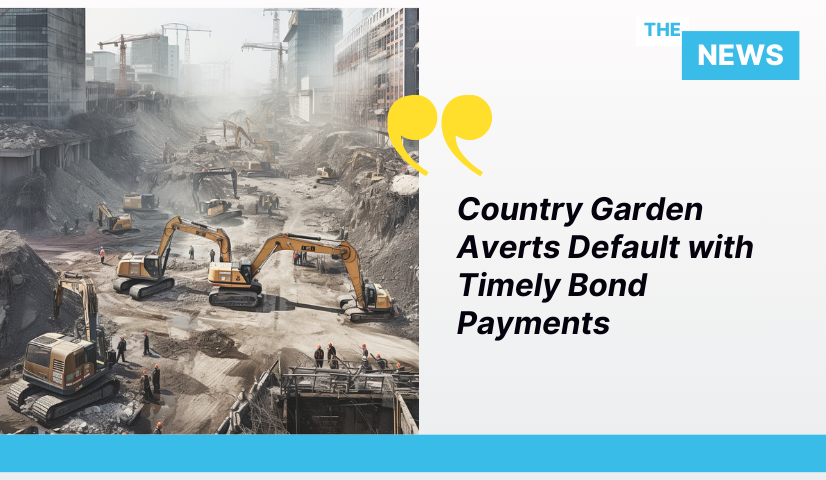 Key Takeaways

Country Garden successfully makes interest payments on U.S. dollar bonds just hours before a grace period deadline, preventing a potential default.
The company's financial struggles reflect the fragile state of China's real estate sector, which faces challenges amidst government efforts to reduce high leverage and a lackluster post-pandemic economic recovery.
In a crucial development for China's property sector, Country Garden, the country's largest private property developer, managed to avert a default by making interest payments on U.S. dollar bonds shortly before a grace period deadline. This timely action brings much-needed relief to a sector facing increasing challenges.
Narrowly Avoiding Default and Impacts on Fragile Markets
Country Garden had faced mounting concerns after failing to pay coupons on U.S. dollar bonds totaling $22.5 million that were due on August 6. The potential default exacerbated fears about the company's financial stability and raised questions about the broader property market's health. The bonds had been in a 30-day grace period, keeping financial markets on edge.
Although the defaulted amount was relatively small, it threatened to undermine the fragile confidence in China's financial markets. Investors had been hoping that the government's consistent policy stimulus measures would stabilize both the economy and the struggling property market. A default on these bonds could have led to further defaults on other dollar bonds and accelerated creditor demands, heightening concerns about spillover risks in the world's second-largest economy.
Country Garden took additional steps to address its financial challenges. On Tuesday, the company proposed extending the maturity of eight onshore bonds worth 10.8 billion yuan ($1.48 billion) by three years. This move is part of the company's efforts to manage its debt obligations and navigate the current economic environment.
Government Stimulus Measures and Ongoing Concerns
In recent days, the Chinese government has implemented various stimulus measures, including lowering mortgage rates and offering preferential loans for first-home purchases in major cities. These measures aim to stabilize the housing market and boost consumer confidence. However, some experts believe that more substantial support may be required to restore confidence in the real estate sector, especially given the weakened income growth in a slowing economy.
Country Garden's financial difficulties underscore the precarious state of China's real estate sector, which accounts for a significant portion of the country's economy. The sector has faced increasing challenges since the government initiated a campaign to reduce high leverage in 2021. The lackluster economic recovery following the COVID-19 pandemic has further complicated the situation.
Despite the government's efforts, concerns persist about the real estate sector's fragility, particularly in smaller Chinese cities where house prices are declining. These challenges underscore the need for more substantial support to restore confidence in the sector and provide stability to property firms facing exposure.
Country Garden's successful interest payments on U.S. dollar bonds have temporarily averted a potential default, providing a glimmer of hope for China's beleaguered property sector. However, the challenges facing the real estate market, coupled with the broader economic conditions, highlight the need for continued government support and innovative solutions to stabilize the industry and ensure its long-term sustainability.