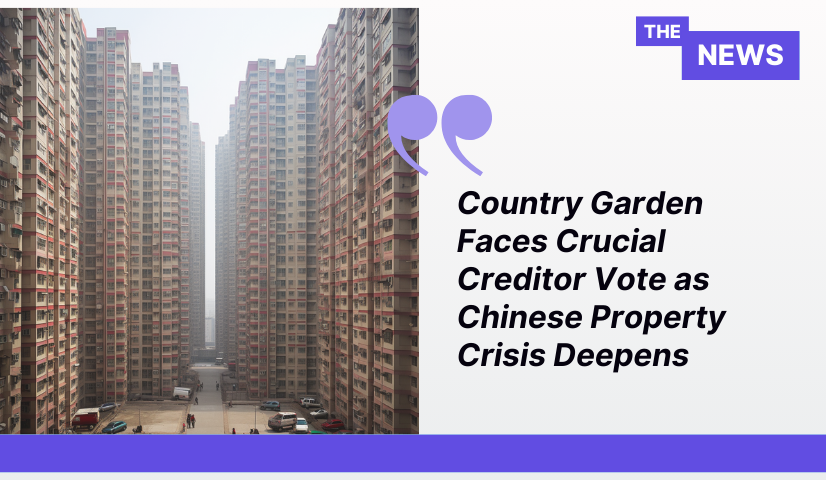 Key Takeaways

Country Garden, a prominent Chinese developer, faces a decisive creditor vote to extend debt repayments as it grapples with financial challenges amidst the country's property crisis.
The developer, which narrowly avoided defaults earlier this month, seeks to extend maturities on eight onshore bonds, with significant debts due within the next year.
Country Garden's Creditor Vote
Country Garden, a beleaguered Chinese property developer, is confronting a pivotal moment as it awaits the results of a creditor vote. The vote, scheduled to conclude by 10 p.m. Hong Kong time (1400 GMT), will determine whether Country Garden's proposal to extend the repayments of eight onshore bonds by three years gains approval from onshore creditors.
This vote follows Country Garden's recent success on September 1, when it secured approval from creditors to extend payments on a 3.9 billion yuan ($533 million) onshore private bond by three years. The proposal received support from 56.08% of participating creditors after experiencing two delays. Additionally, the company narrowly avoided default in the offshore market with a last-minute bond coupon payment.
Liquidity Pressures and Debt
Country Garden, one of the few large Chinese developers that have managed to avoid debt defaults, has been grappling with liquidity challenges due to declining sales, as indicated in its interim financial statements. The company currently faces approximately 108.7 billion yuan ($14.9 billion) in debts that are due within the next 12 months. However, its available cash stands at around 101.1 billion yuan as of the end of June.
In the offshore market, Country Garden faces several coupon payments this month, including two substantial dollar bond coupons worth $15 million due on September 17 and $40 million on September 27, each with a 30-day grace period.
Potential Consequences of Default
A default by Country Garden would significantly worsen China's ongoing real estate crisis, further strain its banking sector, and potentially delay the recovery of both the property market and the overall Chinese economy.
Nicholas Chen, an analyst at research firm CreditSights, notes that Country Garden has shown a stronger commitment to averting default compared to some of its peers. He expects the company to continue seeking extensions for bond payments, both onshore and offshore. Chinese regulators are likely closely monitoring the situation due to the potential contagion risk affecting other sectors and local governments.
Government Support and Economic Impact
In recent weeks, Chinese authorities have implemented various support measures for the heavily indebted property sector, including lowering mortgage rates and offering preferential loans for first-home purchases in major cities. The property sector plays a significant role in China's economy, constituting approximately a quarter of the country's GDP. A revival in this sector is essential for China's economic growth plans.
While China's stock market responded positively to government policies aimed at boosting investor confidence, shares in Country Garden fell by 7.5% ahead of the voting results.
($1 = 7.3490 Chinese yuan renminbi)