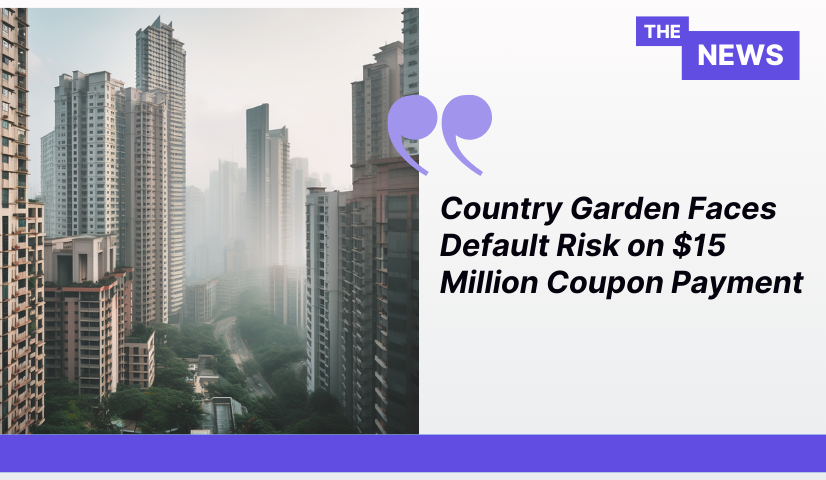 Key Takeaways
Country Garden, a Chinese property developer, may be at risk of defaulting on all offshore debt if it fails to make a $15 million coupon payment.
The company has been struggling with its debt obligations, and a default would add to the challenges faced by China's property sector.
Country Garden's Looming Debt Crisis
Chinese property developer Country Garden is on the brink of a severe debt crisis, with potential implications for the broader property sector. The company faces a critical deadline as it needs to make a $15 million coupon payment on Tuesday, marking the end of a 30-day grace period. Failing to meet this obligation could result in a default on all of Country Garden's offshore debt.
The embattled real estate giant issued a warning last week, indicating its uncertainty about making all offshore repayments, particularly concerning those denominated in U.S. dollar notes. The company's struggles with its debt obligations have been ongoing and have impacted its standing in the market.
In early September, Country Garden narrowly avoided a default situation by managing to pay $22.5 million in bond coupon payments. This successful payment allowed the company to navigate its financial challenges temporarily. In a move to buy more time, creditors voted to extend repayments on six onshore bonds by three years.
To alleviate its financial woes, the founding family of Country Garden reportedly provided the company with an interest-free loan of $300 million. Furthermore, the family has been exploring options to raise additional capital, including selling assets like a private jet.
Industry-Wide Debt Problems
Country Garden's financial troubles are not unique in China's real estate sector. Several large Chinese real estate developers, including Evergrande, have faced severe debt issues, leading to a loss of consumer confidence in the industry. These debt-related challenges have triggered concerns about the stability of the property market in China.
The potential default of a prominent real estate player like Country Garden may add further uncertainty and instability to an already fragile situation. Investors and stakeholders in the real estate sector will closely monitor the outcome of the upcoming coupon payment to assess the broader implications for the industry
In early trading, shares of Country Garden showed a 1.37% increase, in line with a 0.86% rise in the broader Hang Seng Index. This indicates that investors are closely watching the situation and may remain cautiously optimistic, given the uncertainty surrounding the company's debt obligations and the potential impact on the property market.
As Country Garden's coupon payment deadline approaches, the company's ability to meet its financial commitments will be a focal point for the industry and investors alike.