Dogecoin (DOGE) dropped after Twitter stopped using the cryptocurrency's mascot as its logo.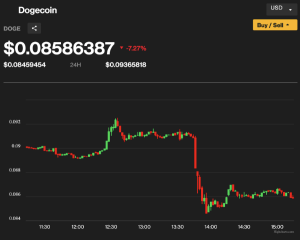 It was recently down 7.3% to about 8.6 cents and got as low as 8.5 cents earlier in the aftermath of the change.
DOGE surged as high as 10.5 cents on April 3 after Elon Musk's social-media company inexplicably shifted to using dogecoin's Shiba Inu as its logo instead of its iconic blue bird.