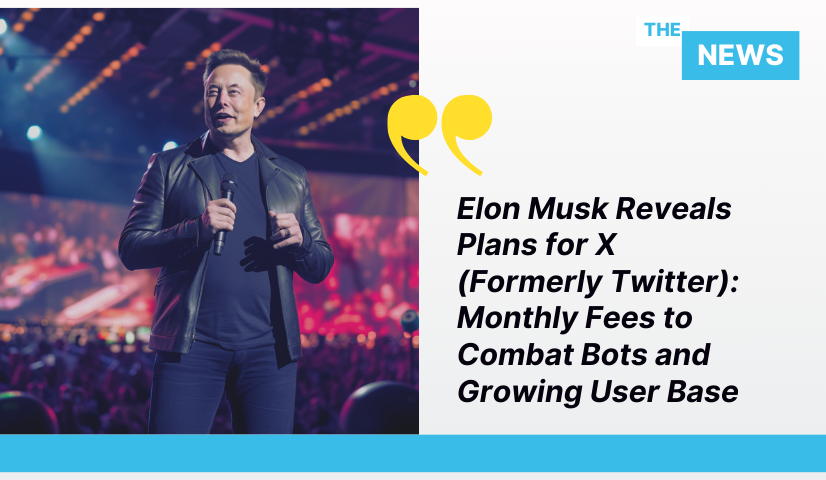 Key Takeaways

Elon Musk, discussing his vision for X (formerly Twitter), revealed plans to introduce a monthly payment system to deter bot activity on the platform.
X now boasts 550 million monthly users, generating 100 to 200 million daily posts, although the authenticity of these accounts was not disclosed. unanswered.
Elon Musk's Vision for X: Monthly Fees to Combat Bots
Elon Musk, the CEO of X (formerly known as Twitter), unveiled his strategy for the social network during a livestreamed conversation with Israeli Prime Minister Benjamin Netanyahu. One of the key announcements made during the discussion was the introduction of a small monthly payment for X's services. Musk emphasized that this move is aimed at countering the proliferation of "vast armies of bots" on the platform, although specific pricing details and included features for paying users were not disclosed.
The decision to implement monthly fees comes as X grapples with the challenge of tackling automated bot accounts, which can disrupt authentic conversations and spread misinformation. Musk's initiative seeks to enhance the user experience and ensure a more genuine and engaging social network environment.
Expanding User Base: X Claims 550 Million Monthly Users
Musk also shared new metrics related to X's user base, revealing that the platform now boasts a substantial 550 million monthly users. These users collectively contribute to the creation of 100 to 200 million posts per day, underscoring the platform's influence and reach.
However, the authenticity of these accounts, as opposed to bots, was not disclosed during the conversation. It remains uncertain how many of these users represent genuine individuals rather than automated or inauthentic profiles. Furthermore, Musk did not provide a direct comparison with the metrics reported by Twitter before his takeover. In May 2022, prior to Musk's involvement, Twitter reported having "average monetizable daily active usage" of 229 million.
Addressing Concerns Over Hate Speech and Antisemitism
While the primary focus of the discussion with Prime Minister Netanyahu was the theoretical risks associated with artificial intelligence technology and potential regulatory measures, Musk took the opportunity to address concerns regarding hate speech and antisemitism on X. The platform has faced criticism from civil rights groups for permitting and amplifying hate speech, including content from antisemitic accounts and conspiracy theories.
In recent weeks, Musk has been embroiled in controversy for his statements and actions on social media. He has even threatened legal action against the Anti-Defamation League (ADL), accusing them of adversely impacting X's revenue and business performance. Despite these claims, no formal lawsuit has been filed against the ADL by Musk or X Corp. Musk also targeted philanthropist George Soros and accused his foundation of seeking to "destroy" Western civilization, perpetuating unfounded conspiracy theories.
During the conversation, Musk emphasized his opposition to targeting any particular group and expressed a desire to promote unity, particularly in the context of humanity's aspirations to become a "spacefaring civilization." He underscored the importance of reducing infighting, hatred, and negativity to facilitate progress towards this goal.
Elon Musk's leadership of X has been marked by significant changes to the platform, including staff cuts, the return of suspended accounts, and the removal of Twitter's "blue check" system for verification of public figures.
X is also actively seeking licenses to become a money transmitter across the United States, with permissions already secured in eight states, as publicly recorded.