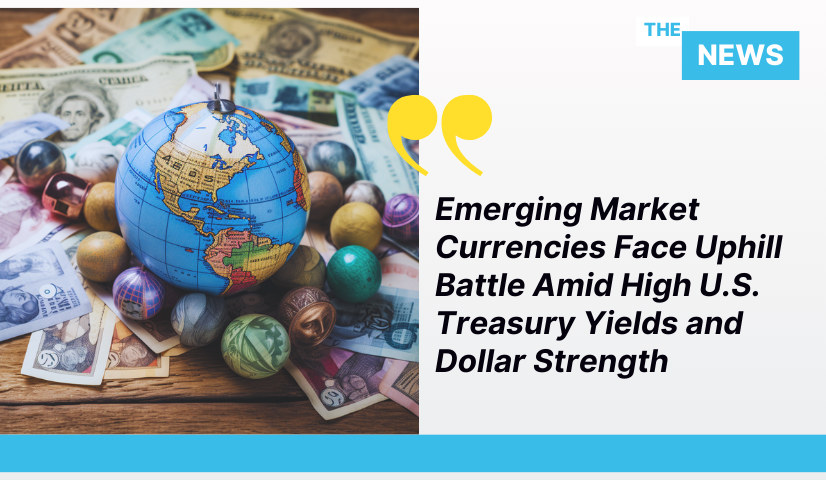 Key Takeaways

Emerging market currencies are anticipated to face challenges in reclaiming lost ground this year due to high U.S. Treasury yields and continued safe-haven demand for the dollar.
The strengthening dollar index and concerns about China's economic slowdown are pressuring emerging market currencies, hindering their recovery prospects.
Dollar's Surge Impacts Emerging Markets
Emerging market currencies are confronted with formidable headwinds as they grapple with the surging strength of the U.S. dollar. A stampede into the greenback recently drove the broader index of emerging market currencies to its lowest point in two weeks. This trend has been fueled by rising U.S. Treasury yields and increased demand for the dollar, primarily due to expectations of sustained high-interest rates.
The dollar index (.DXY) has witnessed a remarkable surge of more than 5.0% since its low point in July, exerting significant pressure on riskier emerging market currencies. This situation mirrors dynamics observed last year when the Federal Reserve initiated rate hikes.
Challenges for Emerging Market Currencies
In a recent Reuters poll conducted from September 1 to 6, analysts forecast that many battered emerging market currencies are expected to experience minimal movements or modest gains against the dollar in the coming year, with some showing marginal improvements over the next three months. However, it is crucial to note that most of these currencies are unlikely to fully recover from their substantial losses incurred earlier in the year.
Chris Turner, Head of FX Strategy at ING, highlighted the ongoing strength of the dollar as a key factor keeping emerging market currencies on shaky ground. He emphasized the potential risk posed by an extended period of high U.S. interest rates.
China's Impact on EM Currencies
The report attributes much of the challenges faced by emerging market currencies to the underperformance of China's economy. Earlier this year, analysts had expected China's economic resurgence to bolster the yuan and other emerging market currencies, particularly those involved in commodity exports to China. However, this optimistic scenario failed to materialize.
Instead, China's tightly controlled yuan experienced a depreciation of around 6% to reach a nearly 16-year low, driven by concerns about the end of the country's economic boom and its impact on commodity exporters.
Nick Bennenbroek, International Economist at Wells Fargo, noted that despite some volatility, most emerging market Asia currencies should see only modest depreciation due to their strong underlying fundamentals and central banks' ability to manage stability using foreign exchange reserves.
Regional Currency Outlook
Typically volatile Asian currencies are expected to maintain relative stability, thanks in part to central banks' efforts to preserve stability using their substantial foreign exchange reserves.
The Indian rupee is projected to trade within a narrow range of 80.88-83.18 per dollar for the next year.
The South Korean won is anticipated to gain about 2% against the dollar in the next three months.
The Russian rouble, despite a challenging year, is predicted to experience a 3% gain against the dollar over the next three months but is expected to weaken to 99/$ in a year.
South Africa's rand is forecasted to appreciate by approximately 4% in the next three months, benefiting from a likely reduction in power cuts and improved investor sentiment.
Turkey's lira, already down 30% in 2023, is set to face further depreciation, declining by approximately 13% in the next 12 months to 31.03/$.
As emerging market currencies navigate these complexities, the path to recovery remains uncertain, with the strength of the U.S. dollar and China's economic performance looming large as critical determinants.