Key Takeaways

The European Parliament officially approved the "EU Chips Act" on the 11th, aiming to significantly increase the supply of domestically produced semiconductors within the European Union (EU) and reduce reliance on Asia. This move comes as Europe has experienced a decline in chip manufacturing activities due to globalization and the rise of Asian manufacturing.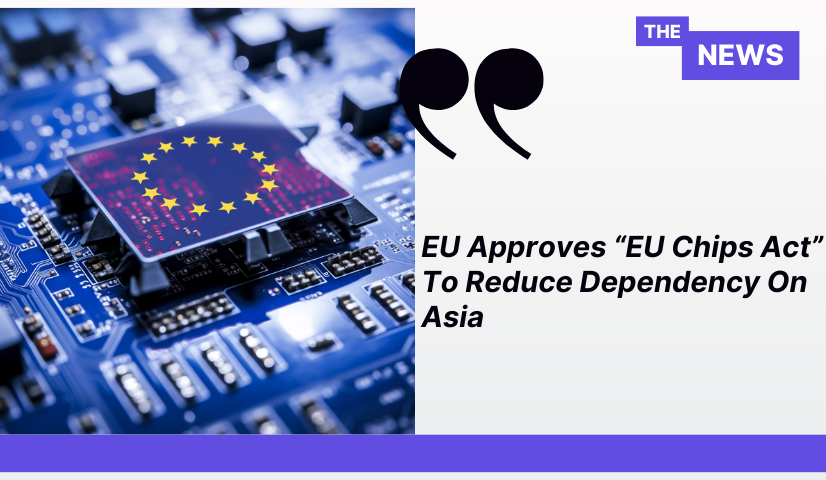 Developed by the Instagram team, Threads has become a new competitor to Twitter. Since its launch on July 6th, it quickly reached 100 million registered users by July 10th, even surpassing the record set by AI chatbot ChatGPT earlier this year.
The EU Chips Act received overwhelming support in the European Parliament, with 587 votes in favor and 10 votes against. The goal of the act is to quadruple chip production by 2030, aiming for the EU's share in the global semiconductor market to reach 20%.
A Tool for Technological and Industrial Leadership
Thierry Breton, the EU Internal Market Commissioner, stated in a tweet on the 11th that the EU Chips Act will serve as a tool for the EU to achieve a leading position in technology and industry. He emphasized that without factories and semiconductors, there can be no industrial policy, and the EU is determined to make a strong comeback.
Dominance of Taiwan and South Korea in the Chip Market
The chip market is primarily dominated by Taiwan and South Korea, with about 90% of the world's most advanced chips being produced in Taiwan. However, the COVID-19 pandemic in 2020 disrupted the Asian supply chain, leading to severe chip shortages, particularly affecting the European automotive industry.
Importance of Semiconductors
Semiconductors are crucial not only for smartphones and household appliances but also for expanding data storage and green technologies that reduce carbon emissions.
Significant Investment Required
To achieve the ambitious goal of increased chip production, the EU will need to invest over €43 billion (approximately $47.4 billion) in public and private funding. The EU Chips Act also calls for a budget of €3.3 billion (approximately $3.6 billion) for semiconductor research and innovation. This budget will be used to develop semiconductor research, reduce vulnerabilities in the supply chain, and strengthen cooperation between the EU and strategic partners to ensure a competitive advantage.
Industry experts point out that Europe currently ranks fifth in the global semiconductor industry, with a market share of less than 8%, lagging behind the United States, Taiwan, South Korea, and Japan. Achieving the target of a 20% market share by 2030 will be challenging for Europe due to factors such as high establishment costs, high energy prices, strong labor unions, and limited focus on advanced semiconductor processes. Allocating relevant resources will also require time-consuming discussions.
Investment and Coordination
Another industry expert emphasizes the importance of investment willingness from various wafer fabs. Additionally, as the EU is composed of multiple countries, each country desires semiconductor fabs to be established within their borders to benefit from proximity, increase employment, and enhance high-tech capabilities. Coordinating between multiple countries poses a greater challenge compared to single countries like the United States and Japan.
Environmental and Regionalization
Strict environmental assessments, water resources, and environmental protection regulations in the EU pose future challenges for establishing semiconductor fabs. Countries within the EU are actively building self-sufficient supply chains. As competition intensifies in mature processes, semiconductor supply and demand will become regionalized, resulting in increased costs.
The approval of the EU Chips Act reflects the EU's commitment to strengthen its semiconductor industry and reduce dependence on Asian suppliers. However, the road to achieving self-sufficiency in chip production will require substantial investments, coordination among EU member states, and overcoming various challenges in terms of costs, environmental considerations, and regional competition.