Key Points
On the 14th of June, the European Parliament approved the "AI Act," a flagship version of AI legislation that encompasses a wide range of measures.If the EU reaches an agreement by the end of the year, it will become the world's first comprehensive legal framework governing AI, serving as a global model.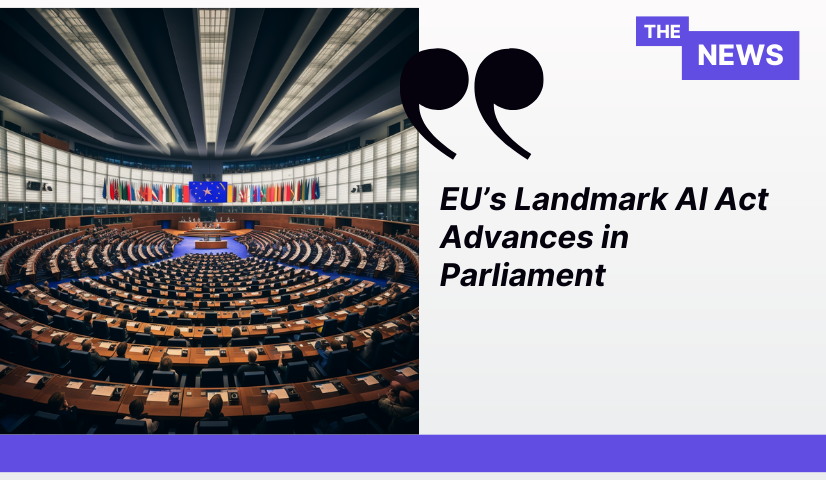 The AI Act received a resounding endorsement in the European Parliament, with 499 votes in favor, 28 against, and 93 abstentions. This legislation aims to establish global standards for AI technology, covering diverse areas, from automated medical diagnoses to certain types of drones, AI-generated videos, and chatbot applications like ChatGPT. Thierry Breton, the EU Internal Market Commissioner, emphasized that AI raises numerous societal, ethical, and economic concerns but underlined the need for swift action and responsibility rather than hitting the pause button.
Path to Implementation and Potential Challenges
The AI Act now enters a trilateral negotiation phase involving the European Council, the European Commission, and the European Parliament. The provision within the legislation that prohibits the use of real-time facial recognition technology by law enforcement in public places may face opposition. Many European countries' police forces are keen on utilizing facial recognition to identify potential criminals. The largest party in the European Parliament, the center-right European People's Party, has argued that facial recognition technology is crucial for crime prevention, counterterrorism efforts, and locating missing children. However, proponents of the legislation argue that authorities can still utilize biometric data from surveillance footage to apprehend criminals.
Ensuring Safeguards and Mitigating Surveillance Risks
The AI Act emphasizes the need for clear safeguards to mitigate the risk of widespread surveillance. It includes provisions to prohibit the use of emotion recognition technology, employed in certain regions of China to identify truck drivers' fatigue levels, within European workplaces and schools.
Addressing Copyright Infringement Risks
The legislation also introduces requirements for AI chatbot developers to disclose all works used for training the AI, including those of scientists, musicians, illustrators, photographers, and journalists. They must also demonstrate the legality of all actions taken during the AI training process. Failure to comply could result in immediate application removal or fines of up to 7% of their revenue. For tech giants, this could amount to billions of euros.
Timeline and Interim Agreements
If the EU successfully reaches a consensus by the end of the year, the AI Act is expected to come into effect no earlier than 2026. During the interim period, the EU will need to negotiate voluntary temporary agreements with tech giants.
The AI Act sets the stage for a new era of scrutiny, ensuring ethical, responsible, and transparent deployment of AI technologies. As the EU moves closer to implementing this groundbreaking legislation, it will shape the global standard for AI regulations and lay the foundation for a future that balances innovation and societal well-being.