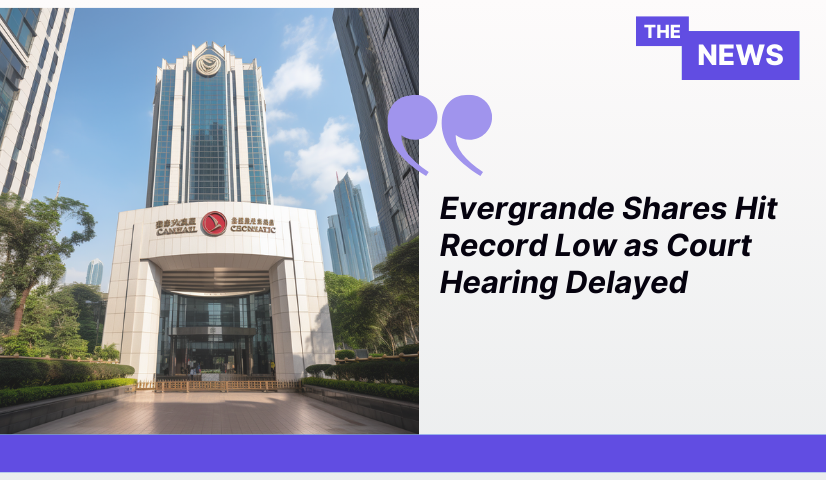 Key Takeaways

Embattled property giant Evergrande sees its shares hit an all-time low following a court hearing delay in Hong Kong.
The judge's decision further pressures Evergrande, which has been grappling with various challenges, including debt issues and legal proceedings.
Evergrande's Share Price Reaches Historic Low
The ongoing turmoil surrounding China's embattled property developer, Evergrande, reached a new low as the company's shares plummeted to an all-time low of 18.8 Hong Kong cents, equivalent to 2.4 U.S. cents. This significant drop followed a Hong Kong court's decision to postpone a crucial hearing regarding a winding-up petition.
Court Hearing Delay Adds to Evergrande's Woes
According to reports by Reuters, Justice Linda Chan from Hong Kong's High Court announced the delay, pushing the hearing from the initial date of October 30 to December 4. This postponement has added to the uncertainty surrounding Evergrande's future. Notably, the December 4 hearing is expected to be the last before a decision is made on the winding-up order.
Justice Chan emphasized that Evergrande must present a revised restructuring proposal before the rescheduled hearing. Failure to do so could lead to the company's winding up.
The winding-up petition against Evergrande was initially filed in June 2022 by Top Shine, an investor in Evergrande unit Fangchebao. However, in light of Evergrande's restructuring efforts, the petition had been temporarily put on hold.
Evergrande's Ongoing Challenges
This latest development represents another setback for Evergrande, once China's largest private sector developer by sales. In late September, Evergrande disclosed that its director and executive chairman, Hui Ka Yan, was investigated for suspected crimes. The company stated that Hui Ka Yan had been subjected to mandatory legal measures due to these suspicions.
Additionally, Evergrande had previously postponed a debt restructuring meeting and reported that the group's sales figures fell below expectations following a March announcement about debt restructuring. In response, Evergrande considered it necessary to re-evaluate the terms of the proposed restructuring to align with the company's financial situation and creditor demands.
Further complicating Evergrande's struggles, the company faced difficulties issuing new notes under its debt restructuring plan. This hurdle emerged due to an investigation into its subsidiary, Hengda Real Estate, in September.